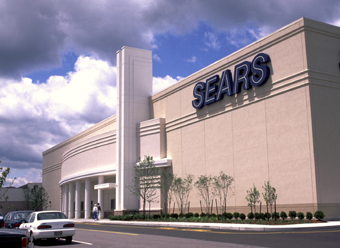 Image courtesy of Sears Holdings
Sears & Kmart to Close
20 Additional Stores This Year
| published June 24, 2017 |
By Thursday Review staff writers
Troubled retail chain Sears Roebuck, which had earlier this year announced the closer of scores of stores in the U.S., announced this week that it will shutter at least 20 more locations between now and the end of 2017. The stores include 18 Sears retail properties and two Kmart stores.

According to most business news sources, this will bring the total closures for 2017 to roughly 235—approximately 17% of its total retail locations in the U.S. and Canada.

In a statement to investors and to regulators, Sears officials described the move as necessary to "actively manage our real estate portfolio to identify additional opportunities for reconfiguration and reduction of capital obligations," a polite way to say it must close stores to pay its bills.

The Sears-Kmart chain—facing problems for more than a decade—has been aggressively downsizing since the start of 2014, when its first wave of store closures made news. Recently, it made the decision to shutter most of its Kmart-based pharmacies, and earlier began closing Sears Auto centers at some 50 locations.

Though Sears was specific on the number of additional stores being closed this year, as of early Saturday it had not offered any clues to the locations of the 20 stores now added to the list.

The U.S. announcement comes just two days after subsidiary Sears Canada, Ltd., which was spun-off five years ago, filed for bankruptcy protection in Canada—announcing that it will close 60 stores this year and shed about 2,900 jobs out of its total workforce of 17,000.

The problems for Sears are deep and possibly irreversible, according to many business analysts and Wall Street observers, but the iconic company's troubles are part of a larger shift by consumers—especially in the U.S. and Canada—away from walk-in stores. Instead, shoppers have crossed the tipping point into online sales, now spending more than half of their disposable money among scores of growing web-based retail operations, most notably Amazon.

That sea change, according to retail experts, places almost all major brick-and-mortar retailers in jeopardy, as millions of shoppers migrate to the convenience and low cost of making purchases online. The impact had placed dozens of retailers against the ropes, including JC Penney, Kohl's, Gap/Old Navy, and Macy's, all of which have faced rapid downsizing as foot-traffic decreases. Even retail giants like Target and Walmart—both of which have admitted to being late to adapt to the threat from Amazon—have faced significant declines.

Walmart is in a brutal war with Amazon for customer loyalty, as the brick-and-mortar giant—the largest retailer in the world—fights bitterly with Amazon for a shifting grocery market. Amazon has begun overtaking several of the major grocery chains in overall sales, and last week agreed to buy Whole Foods for staggering $13.5 billion—a move which shows that Amazon intends to aggressively expand its reach into the food business. Walmart has fired its own salvos, buying up online retailer Jet—a significant competitor to Amazon—for $3.3 billion, and scooping up men's clothing chain Bonobos for $300 million.

Sears is also suffering as shoppers spend less time in malls. Many Sears locations are anchored to shopper centers and malls—once the staple of heavy spending for Americans. But malls have seen their fortunes fall in recent years, especially as consumers make the majority of their purchases—shoes, clothing, books, music, entertainment—online, rather than in walk-in locations.

Related Thursday Review articles:

Amazon to Buy Whole Foods; R. Alan Clanton; Thursday Review; June 18, 2017.

JC Penney to Close 140 Stores in 2017; Thursday Review staff; Thursday Review; February 25, 2017.