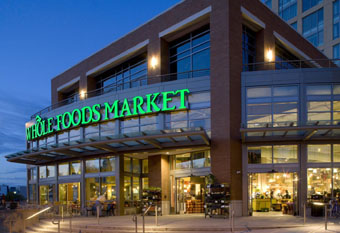 Image courtesy of Whole Foods
Amazon to Buy Whole Foods
| published June 18, 2017 |
By R. Alan Clanton, Thursday Review editor
In a deal exceeding $13.5 billion, online retailer Amazon has agreed to buy grocery chain Whole Foods, a move most Wall Street and business analysts say is Amazon's latest volley in its fierce wars with retail giant Walmart.

The move comes amidst massive disruption within the grocery and retail world, as many major retailers face major downsizing or bankruptcy—from Sears to Kmart, from Kohl's to JC Penney—and as the grocery world continues to reel under pressure from shifting demands and the evolving tastes of consumers.

Walmart, which has seen its fortunes falling in recent years and is already in the middle stages of downsizing, last year closed hundreds of stores, most notably more than 100 so-called Neighborhood Markets. In 2016 Walmart also put the brakes on further expansion in many regions, and began the process of shedding more than 10,000 positions.

Like scores of other major store front retailers in the aught years, Walmart was been slow to react to the massive shift in consumer purchasing—a sea change which has, in less than five years, redirected the majority of buying power from brick-and-mortar stores to online retail venues. Amazon, the largest of the web-based retailers, has dominated this enormous shift in buying power—in many cases offering more options and lower prices, but also the irresistible convenience of delivery to the door.

But the brick-and-mortar department stores are just one front in the war for control of how consumers deploy their cash. The grocery business has been reeling from swift changes in buying habits and radical new shifts in technology.

Food giant Kroger—which also owns City Markets, Food 4 Less, Dillon's, and Fred Meyer Foods—has experienced a tough 18 months which has seen profits fall and the value of its shares suffer mightily. Kroger acknowledges that it has been slow—like Albertson's, Winn-Dixie, and Walmart—to adjust its prices and adapt to the changes which have drawing some customers toward the internet, or toward grocery stores with an eye for healthier eating and organically-grown products, such as Whole Foods and Sprouts Markets.

Amazon's massive purchase of Whole Foods can be viewed as strategically key to both challenges as it attempts to stay ahead of Walmart, which remains the largest store front retailer in the world even as Amazon channels millions of consumers toward its convenience and variety.

Amazon also hopes to remain on the leading edge of home delivery—already its ace-in-the-whole for the majority of its loyal customers. Most challenging of all hurdles now in the path of the major grocers: how to adapt quickly to the swelling demand by consumers that ordering groceries be easy online, and that food be delivered quickly to the door. Even more challenging: making it easy for customers to browse fresh food choices from their phones or mobile devices while also meeting the low cost of Amazon's offerings.

Amazon's big purchase of Whole Foods also demonstrates the online giant's commitment to go the distance in its rapidly-escalating war for control of consumer preferences, and its new desire—seemingly counter-intuitive—to also move into retail store front operations of its own. Amazon recently opened brick-and-mortar book stores and music stores in numerous locations in the U.S.—a sign that the tidal shifts between store purchasing and web-based buying have not fully settled. Amazon seeks to maintain a powerful presence on both sides of the equation.

Walmart, though late to the threats posed by web-based buying, recently ramped up its online operations through its August 2016 buyout of Jet—an online competitor to Amazon—for more than $3.3 billion, and through its purchase, only days ago, of men's clothing chain Bonobos for more than $300 million. Clearly, business analysts say, the already hot war between Amazon and Walmart is just heating up in time for summer.

Related Thursday Review articles:

Kroger Faces Falling Profits, Intense Competition; Keith H. Roberts; Thursday Review; September 10, 2016.

J.C. Penney to Close 140 Stores in 2017; Thursday Review; February 25, 2017.