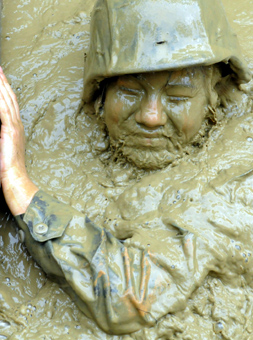 Photo courtesy U.S. Navy
Seabee in the Mud
| published April 29, 2015 |
By Thursday Review staff
Navy construction specialists and engineers—also known as Seabees—undergo their own forms of rigorous physical training, much of it designed to prepare them for the intense realities of combat situations. In this photo, Electrician Constructionman April Schwertman, assigned to the Naval Mobile Construction Battalion, trains under waters filled with mud and sand at a jungle training facility in Okinawa, Japan. This phase of training is called "pit and pond."

The course, which this year time includes 60 Seabees, is supervised by U.S. Marine instructors, and is normally taught to Marines, Navy Seals, and U.S. Special Forces personnel. Schwertman's unit, NMCB 5 is deployed to Japan and other Pacific Rim countries to be available for both military operations involving engineering and construction, and also humanitarian work where needed.

The extensive facilities in northern Okinawa, which is the U.S. Department of Defense's only full scale jungle training center, offer the conditions of intense jungle terrain and heat which military personnel might not otherwise be prepared to face until thrust into combat operations—tropical insects, thickets of jungle foliage, treacherous jungle terrain, extreme heat and humidity, soaked equipment and weaponry, and extreme challenges ranging from diet to wet feet to sleep deprivation. Jungle trainees are also conditioned for the difficult task of carrying heavy loads of weapons, tools and field equipment through mud, swamps, streams, and a bug-infested environment.

This digital photo of Schwertman emerging from mud and stream was taken by mass communications specialist 1st class John P. Curtis.

Related Thursday Review articles:

Friendly Football Fire; Thursday Review staff; Thursday Review; March 22, 2015.

Military Exercises, Korean Waters; Thursday Review staff; Thursday Review; March 17, 2015.