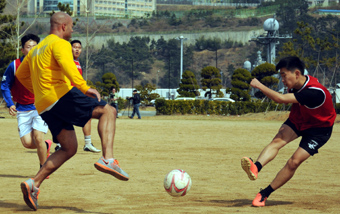 Photo courtesy of U.S. Navy
Friendly Football Fire
| published March 22, 2015 |
By Thursday Review staff


U.S. Navy electrician's mate 1st class Joseph Hickeyhall (in the gold jersey) attempt to intercept the soccer ball from a player on the Navy team of the Republic of Korea (South Korea) during a friendly game in Busan. The match pitted the best soccer players from the crew of the American ship USS Frank Cable and the team representing ROK sailors stationed in Busan, and came near the end of weeks of military drills and exercises between the United States and South Korea.

The military and naval exercises are held annually, and are designed to sharpen the defensive posture of the U.S. and its allies in South Korea, but North Korea considers the drills to be provocative: Pyongyang often complains that the military moves are a prelude to outright war.

Related Thursday Review articles:

Military Exercises, Korean Waters; Thursday Review staff; Thursday Review; March 17, 2015.

North Korea's Nuclear Offer; Thursday Review staff; Thursday Review; January 11, 2015.