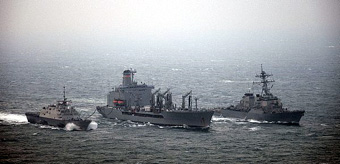 Photo courtesy of U.S. Navy, Department of Defense
Military Exercises, Korean Waters
| published March 17, 2015 |
By Thursday Review staff


Somewhere in international waters in the North China Sea, sometimes referred to with delicacy and diplomacy as "the waters off the west coast of the Korean Peninsula," U.S. and South Korean ships conduct exercises designed to sharpen the skills of naval personnel and improve the defensive stance of both countries' military responsiveness.

In this photo, the USS Fort Worth (left) and the guided-missile destroyer USS John McCain (right) take on replenishment from the supply and oiler ship USNS Pecos (center). This year's exercises are titled "Foal Eagle 2015," and are meant to test the readiness of all military forces in the event of combat on the Korean Peninsula.

Though the United States, the Republic of South Korea, and other allied countries conduct the exercises each year—often against the backdrop of complaints by North Korea that the drills are provocative in nature—this year's exercises raised the level of rhetoric from Pyongyang even higher. Korean leader Kim Jong-Un called the joint exercises an act of war. So far the military preparedness drills have been executed without incident.

U.S. Navy photo by mass communications specialist 2nd class Daniel Young.

Related Thursday Review articles:

Russian Bombers Stray Into British Airspace, Again; Thursday Review; February 19, 2015.

North Korea's Nuclear Offer; Thursday Review staff; Thursday Review; January 11, 2015.