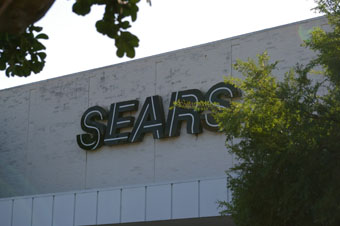 Image courtesy of Thursday Review
Weak Holiday Numbers Force
Layoffs for Macy's, Sears, Kmart
| published January 6, 2017 |
By Thursday Review staff writers
Three major U.S. retailers are feeling the pinch from a slower-than-expected holiday season, their slumps the direct result—industry experts suggest—of a still larger share of American buying habits moving toward online shopping.

Macy's says its sluggish three year stretch hit its worst quarter in late 2016 when sales fell much more deeply than even its pessimistic projections from four months ago. Macy's says it must close more than 100 stores and layoff at least 10,000 workers during 2017, and to drive home the urgency the company released a list of 68 stores now on that dreaded closure list. More store locations targeted for closings will follow soon.

The announcement pushed Macy's stock price down more than 9 percent. Along with the list of stores it plans to shutter during 2017, the company also says it will immediately begin to downsize management—releasing some 200 to 250 mid-to-upper level supervisors and managers during January, February and March.

The move comes months after the company first proposed closing stores as a strategy to stanch the bleeding and reverse the company's long downward slide.

But Macy's is not alone among brick-and-mortar retailers now facing extremely difficult times. Sears Roebuck—which also owns Kmart—says it too must close stores immediately in order to maintain black ink.

Sears says it must close 108 Kmart locations and 42 Sears retail locations by the end of March, and with those closings layoff some 4,500 workers, including both managers and rank-and-rile cashiers and sales staff. Sears/Kmart, which has faced difficult times for nearly a decade, says that the move is urgently needed to remain viable and keep its cash flow in the positive range. The closings will impact Kmart or Sears locations in almost every U.S. state. About half of the Sears closings will impact retail locations in malls or major shopping centers.

Some 10 percent of the Kmart closings will take place in Florida, and cities on the target list include Sarasota, Ft. Pierce, Crystal River, Jacksonville, Kissimmee and Fort Myers. Another 10 stores will be closed in hard-hit Michigan, where towns impacted will include Garden City, Lansing, Roseville and Plymouth.

All told, the current list of Sears and Kmart locations on the chopping block bring the grand total retail closings for Sears to more than 200 in just one year—the sharpest cutback the company has ever been forced to deploy, and exceeding even its darkest days in the 1930s Great Depression. In 2011 Sears maintained more than 3,550 retail locations; by mid-summer of 2017 the 140 year-old retailer will have only about 1,500 stores still operating.

Despite a robust and expensive advertising campaign during October-December 2016, Sears saw a 13% decrease in revenue over last year during the same quarter—one of the company's biggest drops in sales during a holiday season.

Sears also took the drastic step of selling its time-honored and profitable Craftsman line of tools and hardware to Stanley-Black & Decker—a move which some analysts regard as a signal that the company needs the cash to remain operating its remaining retail locations.

Sears and Macy's are not alone in the widespread retail meltdown.

Kohl's also says it must close locations to cope with massive losses which its analysts say have come as a result of the great migration by Americans to online shopping. Kohl's had one of its worst holiday season sales periods ever, and its management says the losses came as a result of the retailer's inability to challenge giant online retailers like Amazon.

Like Sears and Macy's, Kohl's attempted a blizzard of television and print advertising meant to attract customers, accompanying those ads with a combination of deep discounts, direct mail coupons, and at-the-register incentives such as instant discounts for customers who sign up for a Kohl's credit card. Still, despite these robust efforts, Kohl's saw its worst quarter yet as millions of Americans chose to spend their Christmas shopping cash by purchasing online. Kohl's says it must begin to downsize, beginning with the closure of underperforming retail locations.

Unlike Sears and Macy's, however, Kohl's has not indicated which stores it plans to close, or whether any layoffs will include managers. It has stressed however that layoffs will accompany store closings, which will target underperforming retail locations.

The three big announcements come amidst indications of another severe drop in retail on-site buying in the United States, where the shift toward online purchasing—with its lower prices, ease-of-ordering, and direct forms of delivery—has grown substantially in recent years. The impact of Amazon and other huge web-based operations has caused a sea change in retail thinking and marketing, and has had a direct impact even on mega-stores like Wal-Mart, Target, Sam's Club and Best Buy—all of whom have been forced to adapt to the technological changes in shopping preferences.

Wal-Mart is in the process of closing at least 62 locations in the U.S. and another 35 in Canada, and both Target and Wal-Mart have slowed or halted the construction of new locations. Last month, CVS announced it was closing some 70 locations—a move consistent with Walgreen's plans to slow or halt development of new locations during the next 24 months.

JC Penney, also, intends to continue to close locations it deems underperforming, several years after a financially disastrous attempt to makeover all its U.S. locations accelerated the company's downward slide.

Related Thursday Review articles:

Ralph Lauren to Layoff 1000 and Close Stores; Thursday Review staff; Thursday Review; June 12, 2016.

Twitter Announces Possible Layoffs; Kills Vine; Keith H. Roberts; Thursday Review; November 1, 2016.