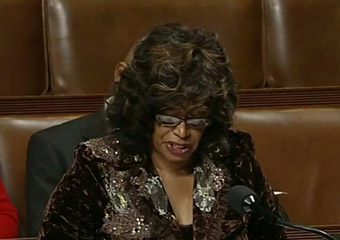 Image courtesy of C-Span
Ex Congresswoman's Legal
Options Running Out
| published November 6, 2017 |
By Earl Perkins, Thursday Review features editor
Her options may be running out.

Former U.S. Rep. Corrine Brown has possibly made her last stand in a long and complex legal fight, one which may very soon end with her being sentenced to begin serving time in prison. Hoping seek a postponement in her sentencing, Brown's attorney filed at least two motions for a delay within the last 10 days. The presiding judge quickly brushed aside each motion.

On Friday, U.S. Circuit Court Judge Timothy Corrigan denied Brown's lawyer's attempted postponement of sentencing on 18 convictions for mail fraud, wire fraud, and tax fraud. After breaking laws, rules and guidelines designed to specifically prevent a political career of egregious acts, the lifelong Democrat's attorney had filed more court papers, claiming she needed additional time because her home was severely damaged by Hurricane Irma.

Hoping to delay a November 16 sentencing hearing until at least February, attorney James Smith also claims his client has undergone medical testing not previously performed, thus not allowing the court to fully vet her medical state or her mental condition, and probation officers may not have properly delineated her charitable works.

This is the second time in two weeks that this delaying tactic has occurred, allowing Smith additional time to gin up more support for Brown, with the ultimate goal of shortening his client's potential punishment. The private sentencing report "recommends a significant and lengthy prison time," and although no specific sentence length is noted, legal observers said Brown probably faces seven to nine years. Her birthday is just days before the hearing, which means the longtime Jacksonville politician will be 71.

The requests for postponement came as no surprise to legal observers, ot to those following the long saga of Brown's political demise. After she was found guilty last May, attorney Smith scoffed at the notion that his client would spend any time in prison. And before the ink was dry on the documents from Smith's first request for delay weeks ago, he was already planning another maneuver in an attempt to extract Brown from her corruption morass.

"While we are disappointed with the judge's decision, we will continue to press forward and prepare for sentencing," he said.

Judge Corrigan ruled the way most observers thought he would, quickly denying the defendant's requested delay.

"(The) defendant has not articulated why a continuance of 'at least four months' is justified," the judge's decision read. "While the court is sympathetic to Ms. Brown's circumstances following the hurricane, it is in the interest of justice for the sentencing to go forward as scheduled."

Brown's present legal difficulties stem from One Door for Education, a Virginia-based non-profit company that she and two top aids consorted to use as a personal slush fund. Prosecutors clearly showed the trio created the organization and then widely solicited donations, claiming it was a charity designed to help underprivileged youths with scholarships. But in actuality, more than $800,000 was donated from well-meaning companies and individuals, with only $1,200 being directed to a single student. The only other beneficiaries of the fundraising effort were the three people who created the non-profit.

Among the evidence used to torpedo her defense: videos from bank ATM cameras which captured funds being improperly moved in and out of accounts by the defendants. Prosecutors leaned on the former legislator's co-conspirators, threatening them with substantial prison sentences, fines and restitution. In short order those same once-loyal associates rolled over, implicating Brown as the ringleader in a conspiracy which redirected the charitable donations into Brown's pockets—cash that was then spent on lavish shopping trips, tickets to concerts and sports events, and glittering parties.

Corrine Delivers! Indeed. Ironically, Brown may be entering the federal courthouse for her final sentencing even as her backers claim that she should still be revered for her crowning achievement: bringing massive amounts of cash home to Northeast Florida, first from Tallahassee, then from Washington D.C.

I have no clue as to whether she will ultimately be incarcerated or merely receive a slap on the wrist, but those who followed her career since a teaching gig at what is now Florida State College at Jacksonville must certainly acknowledge the evening news will be boring as the Corrine Brown Era fades out.

Still, Brown and her attorney vow to fight on, even as the odds begin to look very long indeed.

"Although, the report makes reference to certain medical diagnoses, the defendant is still undergoing testing and evaluation by physicians at a local facility mentioned therein, for which additional suspected medical conditions have not yet been fully diagnosed," Smith said in the court filing.

Not that Smith has placed all his legal eggs in the basket of Brown's medical or mental state. Claiming interviews need to be conducted to properly delineate the scope of Brown's charitable works, Smith says additional time is necessary because "documents indispensable to establishing such information were destroyed in the defendant's home," he said.

Brown's supporters frequently use a default position regarding her 25-year penchant for bending, braiding, or otherwise breaking the law: Brown's extensive community work and incalculable service to the people of her district and city outweighs the petty grievances of a few rogue police officers, vindictive FBI agents, and pesky Justice Department suits. Now, her attorney says, the full extent of her charitable work can never be fully measured after the file cabinets in her home were damaged by a vengeful Hurricane Irma.

That's one viewpoint. But there is another.

Betraying those who needed her most, here's a memo to Corrine: Millions were impacted by Irma worse than you, and the legal system has spoken, hence your November 16 sentencing date. Additionally, any exculpatory files or papers stored in your home should have, at least according to our legal analysis, been extracted and placed squarely on the desk of attorney Smith long ago—months before Irma smashed through Florida. Smith hopes a judge will pervert the legal system to bypass justice for a lifetime of egregious acts, so we are either electing soulless and greedy legislators, or the temptations and lack of punishment are inadequate.

Massive and permanent punishment needs to be instituted, including lengthy prison sentences, followed by some high-profile public humiliation. We used to have people placed in stocks, with the adversely effected public allowed to hurl objects at the perceived guilty. Inconvenience is one the few things in life that people actually fear, so I suggest forcing convicts to appear annually following their release, causing them to face those they have wronged. I understand this may technically run awry of the constitution, but we should let all involved say whatever they want, which gives the accused a forum, but also allows us to hear how others have fared since they were physically or financially damaged. How else will we be able to improve as a society without true dialogue?

She and her legal counsel have almost certainly been dragging their feet and using legal maneuvering to postpone a trial or punishment for many months more than any other felon in Florida, and the legal system in the Sunshine State stretches back to 1845. The lifelong Democrat and Northeast Florida power broker has made a history of skirting laws, rules and guidelines set down by the political system to specifically avoid the shenanigans she has perpetrated for several decades.

First she claimed problems with obtaining adequate defense, which bought her several postponements. Then Brown attempted to sway public opinion with hired sign wavers outside the courthouse at each appearance. She's been using the world as props in a choreographed circus, and when all else fails she pulls out the race card and claims she's being unfairly admonished.

Her last stand was having Smith file for a postponement of sentencing for at least four months, claiming Hurricane Irma displaced her from a Trout River residence which affected her ability to prepare a proper defense. It is true Irma brought historic flooding and devastation to the city, inundating numerous homes in St. Johns River area neighborhoods like Brown's, but I fail to see what that has to do with sending her to prison. Corrine may get the last laugh, knowing America is being forced to put a roof over her head and provide free medical care for the remainder of her life. She is evidently looking at less than a decade behind bars, while American citizens she pilfered money from will spend the remainder of their existence struggling to replace the funds she absconded with under false pretenses.

Stealing from needy children is a bad look for anybody, but high-profile politicians should be extremely mindful of perceived impropriety, let alone openly flaunting your ability to disregard laws and rules. Nevertheless, her attorney plugs away at blunting punishment leveled at his client, claiming Brown has been unable to live in her home since September 9.

The pair had four months to object to the pre-sentence investigation report, which was compiled by a probation officer, following extensive research and analysis designed to help the court determine appropriate sentencing. However, although her age and lack of criminal history would usually help sway the feds in her favor, Brown's lack of contrition and position as an elected official could cause Judge Corrigan to strongly punish her. Brown actually faces more than 300 years in prison, which is highly unlikely, but attorney Rhonda Peoples Waters, a long-time friend of the ex-congresswoman, helps shed light on the possibilities.

Peoples-Waters, after representing Brown during a meeting with a probation officer, spoke primarily of her demeanor and what will happen at sentencing. Unable to discuss specifics of the case, Peoples-Waters said Brown hopes for just probation, but sees that option as highly unlikely.

"It affected you to be able to see someone that you've seen for so long in such a strong state and now to see them in a very weak position," she said.

The trial itself was a presentation of witnesses and questions, with both sides presenting their case and asking questions. A sentencing hearing will be the opposite. A parade of Corrine backers will sing her praises and show every perceived good deed she's been associated with for decades, but if she is sentenced to prison, she will almost certainly be immediately remanded to custody. Other Brown supporters have already suggested relevant comparisons to former Donald Trump campaign manager Paul Manafort, recently detained by the FBI and now under house arrest, charged with many of the same serious infractions hurled against Brown: tax fraud, wire fraud, mail fraud, conspiracy to defraud. Also charged with money laundering, Manafort has many millions in assets, which he has now suggested can be used as bond to leverage his temporary freedom from monitoring devices and a total ban on travel. The judge had declared Manafort a "flight risk."

But that comparison aside, there will in fact be losses all around for Northeast Florida and its residents. Whether you are a taxpayer or not, Brown and her seniority in Congress allowed massive amounts of money to stream into local pocketbooks. Say what you want about Corrine, but she delivered the bacon and we'll be starting over with new politicians sucking up to legislators nationwide who control purse strings. These are the people who decide whether we receive money from the federal government, and I guarantee the area will suffer financially for decades.

However, if there is severe punishment, Brown will hopefully be unable to individually damage those who reside in the United States. And maybe others will think twice before taking from those unable to defend their own interests. a veritable plethora of accusations, impropriety and lawbreaking populates her political resume. But where to start?

Whether it's moving Heaven and Earth helping Foutanga Sissoko, a millionaire Gambian businessman who attempted to bribe U.S. Customs officials for massive financial profit, or more minor wrongdoing, I just wish she had made better decisions concerning her own life and those of others. Sissoko evidently directed an associate to gift a luxury automobile to Brown's adult daughter, which approximated the woman's annual salary. Although blurring the lines of propriety, the Congressional Subcommittee investigating Brown found insufficient evidence to issue a Statement of Alleged Violation, probably deciding she would shed light on the political improprieties of others or bring financial damage to their constituency.

Back in 1998, Brown improperly removed funds from an account, funding a bus trip from Jacksonville to Tallahassee, rallying people who railed against the state of Florida for having the temerity to re-draw her gerrymandered congressional district, which was designed specifically for her and resembled a fistful of spaghetti flung against a wall. At the time, it embroiled her in controversy with the Florida Election Commission and the House of Representatives Ethics Committee, highlighting her longtime friendship with Henry Lyons, National Baptist Convention leader and Brown's longtime friend, who is himself no stranger to serving lengthy criminal incarcerations. Google his name, but be forewarned that there are so many bad acts that it could crash your computer.

Getting rebuked by the House of Representatives in 2004 for making unseemly remarks concerning the disputed 2004 presidential election pales in comparison to the 2016 brouhaha, highlighted by Brown and Ronnie Simmons, her longtime aide, pleading innocent to what became the One Door for Education fiasco. There were other wrongdoings, but you can only beat a dead horse for so long. Suffice it to say, these are just snippets of bad acts from a lengthy political career, but they go a long way toward attempting to understand Brown and what happened over the last few decades. "Why?" is the only question that may never be fully answered.



Related Thursday Review articles:

Corrine Brown Takes Her Legal Fight to Next Step; Earl Perkins; Thursday Review; August 8, 2017.

Former Congresswoman Guilty on 18 of 22 Counts; R. Alan Clanton; Thursday Review; May 11, 2017.