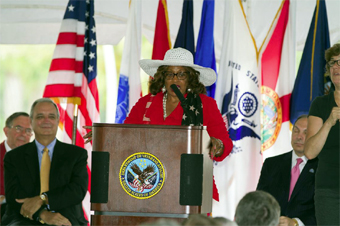 Corrine Brown at an event in 2016/image courtesy of U.S. House of Representatives
Brown Takes Her Legal Fight
to the Next Step
| published August 8, 2017 |
By Earl Perkins, Thursday Review features editor
Infamous race-baiter Rev. Jesse Jackson walked alongside former U.S. Rep. Corrine Brown as she entered the Federal Courthouse in Jacksonville, accompanied by attorney James Smith. Smith pleaded her case, seeking either a new trial, or seeking to have convictions overturned, following her recent conviction on 18 charges of mail fraud, wire and tax fraud, and conspiracy, according to News4Jax, the Florida Times-Union and other media outlets.

For several decades, Jackson—a political organizer who ran for President in 1984 and again in 1988—has made a profession of stirring up malcontents, using his political leverage in high profile legal cases, and threatening large employers with blackmail and boycotts if they don't pay him and his followers to go away, while also changing their business practices to suit his whims.

Whether Jackson's substantial political clout will carry sway with the legal challenges now facing Corrine Brown has yet to be seen. Brown has had the deep support of powerful Democrats in the past—from Bill Clinton to Hillary Clinton to Barack Obama—but her own capital has melted away in dramatic fashion in the last 18 months.

In May, the 12-term Florida congresswoman was convicted of taking money raised through the One Door for Education Foundation, a fake charity she and two co-conspirators used as a slush fund, converting almost $800,000 which was used for tickets to a concert, NFL games, lavish parties and events, and even shopping sprees. Her posse included Ronnie Simmons, her longtime chief of staff, and his former girlfriend, Carla Wiley, one-time president of One Door for Education.

The stated purpose of One Door was to raise money—through a variety of charitable events and philanthropic sources—in order to enable deserving minority students to attend college. But instead of scholarships, for which the never-incorporated charity awarded only one, the cash was instead systematically channeled for personal use—mostly by Brown herself. To make matters worse, the charitable group was never properly registered in any of the states in which it operated, and few avenues of accountability were ever established to track where the money went.

Brown and her various attorneys (her legal representation has shifted numerous times since the start of her troubles with federal investigators) have made the case that she was hoodwinked by disloyal staffers Simmons, Wiley and others, and that she had no complete understanding of what was really happening with the cash flowing so easily into the coffers of One Door. But last spring prosecutors produced receipts, checks and other documentary evidence demonstrating the ease with which money flowed from One Door to Brown's pocket, and video surveillance imagery released last May shows photographic proof of Brown withdrawing the cash at ATM locations in North Florida.

Brown has for more than a year maintained that the case against her is purely political—a vendetta by prosecutors with a hostility toward her agenda and her success as a legislator in Tallahassee and later in Washington. She has repeatedly called the federal case a political witch hunt, this in spite of the fact that the original charges against her were brought by a Justice Department then helmed by Democrats answerable to then-President Barack Obama.

After three long weeks of testimony and evidence, a federal jury took three days to bring back their verdict in the case: Brown was found guilty on 18 of the 22 charges.

Only minutes after her conviction last May, Smith told reporters that he intended to reverse the decision, either through a retrial or by escalating the matter to a higher court. Smith has also indicated that he feels that the case against Brown was built almost entirely upon the plea bargaining worked out between prosecutors and Simmons. Both Simmons and Wiley, who were themselves facing decades behind bars for their roles in the conspiracy, instead received lighter sentences in exchange for their testimony against Brown.

Smith has also said he will do everything in his power to keep Brown from spending even one night in prison, and has vowed to use every legal stratagem available to reverse the conviction, which came only months after Brown lost her final reelection battle in a dramatically redrawn congressional district.

In his request for a new trial or a reversal, Smith has made the argument that Brown was denied her Constitutional rights—specifically within the context of a controversy surrounding so-called "juror 13," who was overheard to say that the Holy Spirit had directed him to find Brown innocent. There had also been minor fracases between the media and the judge back in May when some reporters were rumored to have been overly aggressive in their attempts to contact members of the jury—a tempest which was quickly proven inconsequential to the outcome. Still, Brown and Smith have vowed to fight on until the blind scales of justice tilt in their favor.

But under the circumstances, the cost of proceeding with such legal battles can be epic and daunting, especially when the case brought by federal prosecutors seems—at least on the surface—so compelling and ironclad. Brown has been semi-quietly visiting numerous predominantly African-American churches in Northeast Florida, ginning up support for her cause and seeking donations to defray extensive legal expenses. Although she claims attorney James Smith will do the talking in her defense right now, in the near future she will almost certainly have plenty to say concerning the high-profile case and how the justice system dealt with her.

"She's everything to us, and for them to railroad her like that and to try to put her in jail, it sends a bad message," Brown supporter Datra Purcell said. "It's just bad. The system is bad."

On Monday, the lifelong Democrat arrived at the Courthouse almost an hour before the 3 p.m. hearing, backed by Jackson and an entourage of enthusiastic Brown supporters. U.S. District Judge Timothy Corrigan took both motions under advisement and will issue written responses after reviewing all information made available to him. Brown has said she will continue to seek ways to raise money for her mounting legal expenses.

Related Thursday Review articles:

Corrine Brown's Tainted Political Legacy; Earl Perkins; Thursday Review; June 5, 2017.

Former Congresswoman Guilty on 18 of 22 Counts; R. Alan Clanton; Thursday Review; May 11, 2017.