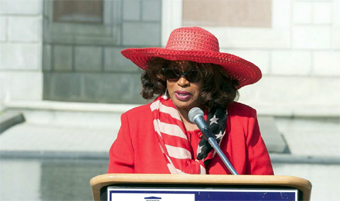 Images courtesy of U.S. House of Representatives/Flickr
Former Congresswoman Guilty on
18 of 22 Counts
| published May 11, 2017 |
By R. Alan Clanton, Thursday Review editor
Former U.S. Representative Corrine Brown, who served in Congress for decades, has been found guilty on 18 of the 22 charges brought against her by federal prosecutors in a case which included accusations that she used a charitable organization to raise money from well-meaning contributors, but in fact syphoned off almost all the cash for personal use and a lavish lifestyle.

The jury came in with its verdict shortly after 2:00 p.m. on Thursday, after three days of deliberations and only one day after one juror was replaced by an alternate. Brown was found guilty on charges which included wire fraud, mail fraud, falsifying tax records, the concealment of material facts, and obstruction of IRS laws. Brown was found not guilty on only four of the charges in the original indictment: two counts of mail fraud and two counts of wire fraud.

Brown's attorney, James Smith, told reporters that he intends to file motions for a retrial, but offered scant information as to how he would implement that strategy. He said he plans to file the requisite motions quickly, before the case proceeds to sentencing. He also scoffed at the notion that his client—a career politician who has served in the Florida legislature and in the U.S. House of Representatives—would spend any time in jail.

Brown issued her own statement soon after the verdicts were read.

"While I respect the jury's decision," Brown wrote, "I disagree with it, and want to make clear that I maintain my innocence. I did not commit these crimes, and I intend to file a motion for a new trial." Brown also said that she stands upon her reputation as a public servant and elected official, and asked that she be judged instead on her decades of community service and hard political work.

Brown and her attorney have long maintained that the former Congresswoman is innocent of the specific charges leveled against her by federal investigators, and have said that the case against her has been built upon plea bargains by two of her former colleagues, chief of staff Ronnie Simmons and employee Carla Wiley. Smith has repeatedly told reporters that Simmons was the mastermind of the various financial schemes, and said that Brown's overly trusting nature emboldened Simmons to take advantage of Brown's reputation and goodwill.

At the heart of the legal case: a charitable organization called One Door for Education. The non-profit, for which the stated purpose was providing funds to deserving teens and young adults for educational costs, raised more than $800,000 over a period of several years. But One Door only awarded one single scholarship during the period when the organization was active. The rest of the money, according to prosecutors and investigators, was syphoned or channeled out of One Door, with the majority of that cash making its way into Brown's bank account. Some of the money was taken out in cash and used to pay for shopping sprees, while still more money was used to pay for lavish parties, receptions, vacations, and tickets to sporting events.

Jurors deliberated for about 11 hours throughout Wednesday and part of Thursday after the panel was reconfigured by Judge Timothy Corrigan. A juror was replaced by an alternate, and Corrigan told the resynthesized jury to dismiss all previous deliberations and instead start over.

Brown, who started her career as an educator, has held elected office for more than 35 years. She was first elected to the U.S. House of Representatives in 1993, and lost for the first time in 2016 after her district—a reliably safe Democratic congressional district whose serpentine boundaries stretched from the northern parts of Jacksonville to rural areas east of Gainesville, and from parts of Palatka to just north of Orlando—was successfully challenged in federal court. Redistricting ensued, and much of Brown's new district shifted west into the Florida panhandle, greatly changing the political and racial make-up of her constituency. Brown lost to seasoned politician Al Lawson in the Democratic primary in November 2016.

But political pros also say that Brown's loss cannot be blamed completely on that radically redrawn map. Throughout much of 2016, Brown faced a steady barrage of negative media reports after her indictment on a long list of corruption and conspiracy charges, most of them springing from her financial missteps through the One Door for Education foundation. Among other issues One Door, as investigations would quickly discover, was never properly set-up as a non-profit in either Florida or Virginia (nor any other state, for that matter) from the beginning, thus establishing a pattern of impropriety and fundraising shenanigans which would dog the charitable group throughout much of 2015 and 2016.

Prosecutors say that Brown operated One Door as a front—a phony charity whose stated goal was financial assistance in the form of scholarships, but whose real purpose was to line the pockets of Brown and her closest associates and friends. The feds say that the stream of cash flowing through One Door enabled Brown to live a lifestyle well beyond her means, and may have also served as a slush fund to help her woo important dignitaries into the orbit of the phony charity, thus fueling the cycle of additional donations and more cash.

The verdict marks the end of what may become only one leg of a long legal journey for Brown and her attorneys. Though Smith has promised to request a new trial, many legal experts suggest he may find that task a challenge considering he must effectively demonstrate—among other things—that Brown was not able to receive a fair trial on this go-round. Smith may also attempt other options, including appealing the case to a higher federal court. Some legal analysts suggest that considering the stakes, it would not be unthinkable that the case might wind its way all the way to the U.S. Supreme Court.

Brown has frequently maintained that her often—and famously—adversarial relationship with the press has made the possibility of fair trial impossible. She has also taken this reasoning one step further, in several cases accusing the media of colluding, wittingly or unwittingly, with her political adversaries to bring her long political career crashing down. She has called the current federal investigation a witch hunt.

Prosecutors had provided the court with a 49-page analysis of how Brown and her colleagues used One Door as an open cash register, and Assistant U.S. Attorney A. Tysen Duva presented dozens of documents showing how the money flowed all-too-easily from One Door's coffers into Brown's bank account—tens of thousands of dollars never claimed or listed on tax returns and never disclosed as a gift as required by all members of Congress.

Related Thursday Review articles:

Awaiting the Verdict: A Tale of Two Corrines; R. Alan Clanton; Thursday Review; May 7, 2017.

Corrine Brown's Indictment; Earl Perkins; Thursday Review; July 23, 2016.