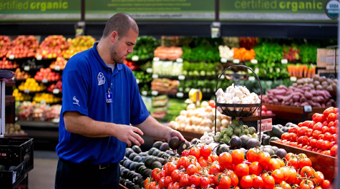 Image courtesy of Kroger
Kroger Faces Falling Profits,
Intense Competition
| published September 10, 2016 |
By Keith H. Roberts, Thursday Review contributor
Food giant Kroger, telling investors that low food prices and over-supplies are impacting day-to-day cash flow, is advising Wall Street that it may not meet its profit and financial projections for 2016.

Shares of Kroger have fallen about 25% just this year, and dropped another 1% in just the last week. Kroger says it may soon be forced to cut some of its workforce, though it offered no timetable for that process to begin.

Kroger spokespersons also acknowledge that the iconic company has been slow to react to intense competition from newer, upstart grocery chains, such as Whole Foods, which stocks primarily natural and organic foods, as well as customer friendly chains Publix and Wegman's, two companies which routinely top consumer lists as friendly and popular. A recent survey by Market Force concluded that Wegman's and Publix topped the list nationally of favorite grocery stores.

But even Publix, Whole Foods, Albertsons, Winn-Dixie and Sprouts Markets have faced varying forms of declines in profits as the price of foods from farmers and suppliers drops and as competition increases. Many major grocery stores raised long-term expectations during the severe winters of 2014 and 2015, when analysts predicted shortages of foods from North American suppliers in the wake of extreme cold and snow. But newer more efficient growing methods overcame the minimal impact of the severe winters as supplies continued to ramp up.

Kroger also says it has been previously reluctant to adjust to technology trends—most notably online grocery sales and web-based ordering and delivery, shares of the market which grown dramatically on recent years in harmony with direct-to-the-door delivery services such as Birmingham-based Shipt. Several major grocery chains—including Wal-Mart, the world's biggest retailer—have been slow to react to technology and internet-based forms of food shopping.

Grocery analysts suggest that food prices may continue to drop throughout the remainder of 2016 and much of 2017, linking at least part of those drops in price to falling oil and gas prices—a major factor in distribution and supply.

Kroger—which currently operates more than 2,700 stores in 35 states—also owns and operates numerous subsidiaries and other grocery chains, including City Markets, Food 4 Less, Dillon's, Fred Meyer, Jay C Food Stores, and Fry's Food Stores. The first Kroger store was opened in Cincinnati in 1883.

Related Thursday Review articles:

Wegman's, Publix Top List of Favorite Grocery Stores; Keith H. Roberts; Thursday Review; April 14, 2016.

Wal-Mart Closing 269 Stores, Cuts 16,000 Jobs; Thursday Review staff; Thursday Review; January 17, 2016.