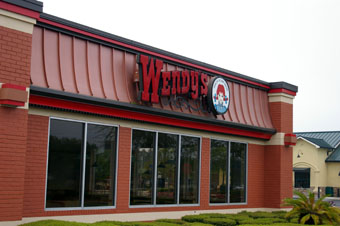 Photo by Thursday Review.
Wendy's Will Roll-Out
Ordering Kiosks This Year
| published May 15, 2016 |
By Thursday Review staff
Get ready for more robots, kiosks, and automated, customer-driven processes in your retail experience.

Wendy's corporate officials have announced that in the near future, possibly beginning as early as later this year, the restaurant retailer will begin installing ordering kiosks in many of its 6,500 locations in the United States.

The move is meant to counter the possibility many states may soon adopt a much higher minimum wage, possible as high as $15 per hour—already now the minimum in several states. Wendy's says that since it cannot afford to pay its employees $15 per hour, it must quickly develop the tools and technologies to keep customers coming to its restaurants without the use of as many employees. Though the technology will be available and ready to install later this year, the company says it has not yet made the process mandatory for franchise owners.

McDonald's is already tinkering with just such a system—experimenting with kiosks and robotic ordering systems in some of its many locations in the U.S.

Wendy's chief financial officer Todd Penegor said that the introduction of the ordering kiosks will be preferable to passing along the extreme costs of higher hourly wages to customers.

"We continue to look at initiatives, and how we work to offset impacts of future wage inflation through technological initiatives," Penegor said, "whether that's self-serve kiosks, whether that's automating more in the back of the house in each restaurant…you'll see a lot more of that coming from us this year."

By keeping the kiosk and automated processes voluntary for franchise owners, Wendy's says, it is adapting to the patchwork of changes in wages state-by-state. Wendy's says many of its 250-plus California locations are already struggling with a $10 per hour minimum wage, and it expects some of those restaurants to face difficult times once the state's mandatory $15 per hour wage kicks-in later this year.

In New York State, the majority of Wendy's franchise owners say they cannot cope with the state's new $15 minimum wage, and many of the Empire State's fast food restaurants report that they are now regularly operating in red ink. Discussion is currently underway at the Federal level to increase the national minimum wage to at least $10, though some Democrats in Congress are pushing for a minimum wage of $15 no later than 2018.

Related Thursday Review articles:

Federal Judge Orders McDonald's to Produce Emails; Thursday Review staff; Thursday Review; October 31, 2015.

Wegmans, Publix, Top List of Favorite Grocery Stores; Keith H. Roberts; Thursday Review; April 14, 2016.