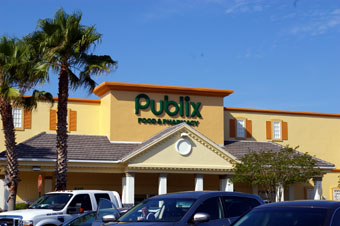 Photo by Thursday Review
Wegmans, Publix Top List of
Favorite Grocery Stores
| published April 14, 2016 |
By Keith H. Roberts, Thursday Review contributor
According to extensive research surveys and an opinion poll conducted by Market Force Information, the most popular grocery store chain in the United States is Wegmans, followed very closely by Publix. Trader Joe's, for four previous years the dominant winner of the same survey, fell to number three.

Market Force says it surveyed more than 10,000 people to develop its data.

The rankings are based on various factors: quality of the products and the food, quality of specialty items and specialized departments (deli, bakery, meat department, etc), quality of customer service and friendliness, speed and efficiency of checkout, and overall buying power.

Wegmans landed the top spot by slam-dunking the specialty items and specialty departments, but the Rochester, New York-headquartered grocery chain also scored extremely well in terms of fast checkout (a common complaint for the superstore mega-chains like Wal-Mart, Sam's and Target is the often slow checkout process). The news is in fact great news—and fortuitous timing—for Wegmans as the company celebrates its 100th birthday this year.

Publix also scored extremely well in customer service and customer friendliness, as well as overall quality of food and merchandise. Publix also performed well when it came to speedy checkout, and scored best in those markets where its closest competitors are Wal-Mart and/or Target.

Wegmans had recently ranked number four in the category of "2016 Best Companies to Work For" on a massive list composed each year by Fortune magazine. Business experts and people who work in the human resources field suggest that Wegmans high ranking in the Fortune survey explains the relatively small grocery firm's exceedingly high score in the Market Force poll: a happy employee base generally translates into a superior customer service experience, with one reinforcing the other.

But Publix ranked a very close second, meaning it may be seeking to challenge Wegmans in next year's surveys. Publix has also grown rapidly in recent years, expanding to become one of the nation's largest grocery store chains, and lands—depending on one ranks these things—at about 8th or 9th in terms of overall size, though it has rapidly expanded into dozens of states. Based in Lakeland, Florida, Publix employs nearly 180,000 people and maintains roughly 1,112 stores.

Though it may come as no shock to many TR readers, the world's biggest retailer, Wal-Mart, is also the least popular in the Market Force poll. The Arkansas-based giant ranked dead last among the 15 stores used in the national survey. Among Wal-Mart's leading problems: it ranked poorly in several categories, including speed and efficiency of checkout (last place), quality of food and merchandise (dead last) and customer service.

According to retail experts, just as Wegmans and Publix can attribute their high rankings in customer service to happy employees, the link between Wal-Mart's relatively poor customer service experience and its unhappy employees (it ranked near the bottom for companies to work for in 2016) are almost certainly factors very closely linked.

Related Thursday Review articles:

Wal-Mart Closing 269 Stores, Will Cut 16,000 Jobs; Thursday Review staff; Thursday Review; January 17, 2016.

A&P Files for Bankruptcy Protection; Thursday Review staff; Thursday Review; July 22, 2015.