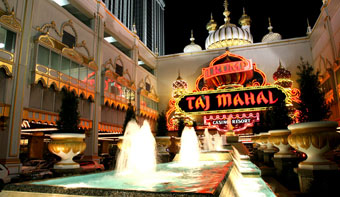 Photo courtesy of Trump Entertainment Resorts, Inc
Trump Versus Trump
| published October 6, 2014 |
By Thursday Review staff


Sometimes the value of the namesake trumps all other considerations, including bankruptcy. Investor and financier Donald Trump won his pending case against a separate company, Trump Entertainment Resorts, which owns the bankrupt Trump Plaza hotel and casino in Atlantic City, New Jersey.

Donald Trump, along with his daughter Ivanka Trump, had asked that the "Trump" name be immediately removed from the property, which has fallen into disrepair amid Atlantic City's economic meltdown. The company which uses the Trump name had failed to comply with Donald Trump's request, which was based on previous arrangements and agreements—dating back to 2008 and 2009—about how the huge casino, hotel and restaurant complex would be maintained and marketed. Donald Trump and daughter Ivanka have also requested that the Trump name be removed from all signage and materials related to the Taj Mahal casino and hotel, which is also facing bankruptcy.

"It was pretty cut and dry," Ivanka Trump told reporters on Monday of this week, "[because] when we gave them a license to use our name, it was contingent on quality control and performance. They did not meet the high standards of luxury in every other asset in the Trump brand."

Trump Entertainment Resorts, which has paid Donald Trump for the use of his name, is currently in bankruptcy proceedings in Delaware. The company is closing one casino and hotel, and has said it must close all of its New Jersey properties within the next 45 days if it cannot win further concessions from the union which represents most of Trump's employees. The union has repeatedly rejected any further cuts in pay or in benefits, and last week a judge in Delaware disallowed the company's plan to terminate the employee pension program.

A large portion of the stock in Trump Entertainment is owned by billionaire financier Carl Icahn, who has already injected millions into the properties in the last 18 months. Icahn has said he will not provide any further cash unless certain provisions are met, including huge tax cuts by the city and the county. Atlantic City officials—and some state officials—have said publicly that they can do little more to ease the financial pressures now facing the Trump Entertainment properties in New Jersey. The Taj Mahal employs about 2800 people.

Atlantic City has seen its once grand economic power diminish greatly in the last few years as other states and other cities in the U.S. have liberalized laws regarding casino gambling—once limited to only a handful of U.S. towns. Once crowded with visitors, most Atlantic City casinos and hotels are largely empty. Within the last 18 months, several other major hotel-casino operations have closed. Since January of 2014, more than 5000 people have lost their jobs with casinos, hotels, restaurants, gift shops and related businesses. Another 1500 employees of Atlantic City vendors, suppliers and support contractors have been tossed into unemployment.

Donald Trump made it clear he considered it a simple business decision, and he regretted being forced to take the action.

"I am saddened," Donald Trump said, "to see that the current managers and owners of the Trump Plaza and the Trump Taj Mahal were unable to operate these properties to the highest standards of luxury and success as required under the license agreement and consistent with my name and reputation."


Related Thursday Review articles:

Atlantic City's Deep Recession; Thursday Review; August 31, 2014.

Trump Entertainment in Bankruptcy; Thursday Review; September 10, 2014.