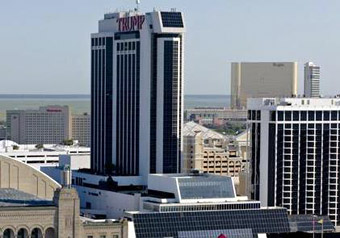 Photo courtesy of New Jersey Casino Control Commission
Trump Entertainment in Bankruptcy
| published September 10, 2014 |
By Thursday Review staff


Atlantic City's economic meltdown may be accelerating this week with the announcement that Trump Entertainment Resorts, Inc.—owner of several major hotel and casino properties in a town built on gaming and entertainment—is filing for bankruptcy protection. The owners of the Trump Entertainment properties say that they plan to close not only the Trump Plaza next week, as previously scheduled, but also the nearby Taj Mahal within months.

The closure of the Taj Mahal would bring the total number of hotel/casino shutdowns in Atlantic City to five since the beginning of 2014—six total since this time last year. Trump Entertainment says it has been unable to negotiate salary and benefits concessions from employees and the union which represents casino workers. The union has said it was not willing to concede any further ground on health insurance and pension compensation, and has said it cannot go any lower on wage offers.

Trump's cash flow problems have been serious for over a year, and alongside the recent slump in hotel, casino and restaurant business, which has deeply inhibited Trump's cash flow, it can no longer make payments on its taxes—already overdue—nor its interest payments to lenders and creditors. The company is also behind on payments to a variety of vendors and suppliers, and some business partners have already cancelled their arrangements with Trump Entertainment—including several online gaming services which pay for the use of the Trump name.

Trump Entertainment reported in U.S. Bankruptcy Court in Delaware that it has liquid assets of less than $50,000.

Though the Taj Mahal may continue to operate for a matter of weeks, perhaps months, Trump explained in its filings and in media statements that it will close all facilities no later than mid-November. If its Atlantic City properties close completely, it would place an additional 2800 people in unemployment—adding to the thousands who lost jobs last week and in the weeks prior to Labor Day.

Financier Donald Trump, who owns a small stake in the company (but not enough to intervene in its current set of problems) is suing Trump Entertainment Resorts, Inc. to immediately remove the name "Trump" from all properties, correspondence and logos. Donald Trump says that the company is not living-up to agreed-upon, contractual standards of maintenance and decorum. Excruciating examples of the deterioration of both the Trump Plaza and the Taj Mahal can be found in photos posted online by visitors to the area; these include photos of the Trump signage with only some of the illuminated letters working, damaged carpets, non-functioning bathrooms, and rooms and casinos in disrepair.

Trump Entertainment has been selling off pieces of its Atlantic City properties for several years in an effort to stave off further cash flow problems. Last year, in what was described by some as a fire sale, Trump sold the Trump Marina casino/restaurant facility to Landry's for $38 million. Landry's rebranded it to the Golden Nugget. Trump Entertainment has also sold off nearly all of its related properties, including corporate and administrative offices, storage facilities, and a warehouse. When the Taj Majal closes, Trump Entertainment Resorts will have no remaining properties in Atlantic City.

Mass layoffs have affected the city adversely over the last weeks as two other major hotels have shuttered their doors, sending thousands into unemployment. Some business analysts have suggested that there is light at the end of the tunnel, and that Atlantic City—perhaps overbuilt at a time of economic pressure—may rebound with fewer hotels and casinos. Atlantic City has also faced extreme competition from dozens of other states, including neighboring Pennsylvania and New York, where casino gambling has been legalized and expanded.


Related Thursday Review articles:

Atlantic City's Deep Recession; Thursday Review staff; Thursday Review; August 31, 2014.

Can Sea World Stay Afloat?; Thursday Review staff; Thursday Review; September 1, 2014.