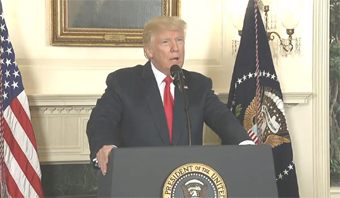 Photo courtesy of White House press office
Sekulow: Trump Georgia Deal
Off-Limits for Mueller
| published August 18, 2017 |
By Thursday Review staff writers
In an interview with the New Yorker magazine this week, Jay Sekulow—an attorney for President Donald Trump—said that if special counsel Robert Mueller is planning to look into the details of a Georgia real estate and business deal brokered by a Kazhak oligarch with links to Russian President Vladimir Putin, such a probe would be considered by the White House and Trump's lawyers to be an overreach by the counsel's office.

Sekulow said that any such investigation into the 2011 Georgia deal would be far beyond the scope of or Mueller's investigation into connections between the Trump campaign and top officials in Moscow.

The New Yorker interview brought to light what may be the official White House and Trump position on the ever-expanding reach of Mueller's investigation—that Mr. Trump and his attorneys would consider it a breach of the special counsel's mission if the probe begins to cross into areas not related to the Russia-Moscow probe, or into areas in which there is concern that Moscow interfered in the 2016 U.S. elections.

The Batumi, Georgia real estate project was to be brokered in large part with Timur Kulibayev—son-in-law to the President of Khazakstan and someone with a major stake in several large banks in Khazakstan and Georgia. In the end, the deal collapsed, but not until after major discussions and negotiations between Kulibayev and Putin.

But Trump attorney Sekulow made it clear in the interview he regards any attempt by Mueller to examine the details of the Kulibayev negotiations to be little more than an unwarranted invasion of business privacy. Sekulow says he will initiate a discussion with deputy attorney general Rod Rosenstein if Trump feels that the special counsel is exceeding his authority in investigations beyond the Russia probe.

Echoing that viewpoint were the words of White House counselor and presidential assistant Kellyanne Conway, who has called Mueller's probe "a fishing expedition." In response, Rosenstein batted the same phrase back into play, telling reporters that Mueller's investigation is most assuredly "not a fishing expedition."

Mueller's team has been moving slowly but steadily in recent weeks with its investigations into allegations that the Trump campaign colluded with top officials in Moscow during the U.S. presidential campaign. Mueller has been particularly interested in June 2016 meetings between Russian attorneys—some of them with close connections to Putin—and members of Trump's inner circle, including Donald Trump, Jr., then-campaign manager Paul Manafort, and others.

In those meetings, it is alleged, the Russian attorneys discussed with the Trump officials the release of damaging information about Trump's main political rival, Democratic front-runner Hillary Clinton. The source of that information, some cyber experts have suggested, may have been email accounts belonging to the Democratic National Committee, hacked by Russian cyber sleuths.

Mueller has also requested extensive interviews with some current and former members of the white House staff, notably Reince Priebus, whom it is alleged may have spoken to former FBI director James Comey only moments before President Trump asked Comey to back off of investigations into National Security Advisor Michael Flynn.

Last month, Mueller empaneled a grand jury to begin hearing testimony and examining evidence in the case. Mueller's office also issued subpoenas to at least a dozen people.

Among the most dramatic steps taken by Mueller: a pre-dawn raid of the home of Paul Manafor by FBI agents earlier in the month. The agents may have seized computers, flash drives, papers and correspondence relating to the case.

Related Thursday Review articles:

Mueller's West Wing Q&A Raises Stakes in Trump-Russia Probe; Keith H. Roberts; Thursday Review; August 15, 2017.

Comey Testimony Transfixes Capital and Nation; R. Alan Clanton; Thursday Review; June 8, 2017.