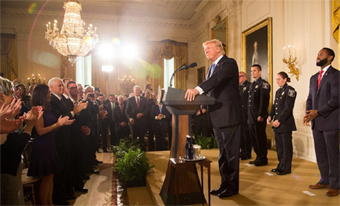 Image courtesy of White House
Mueller's West Wing Q&A Raises
Stakes in Trump-Russia Probe
| published August 15, 2017 |
By Keith H. Roberts, Thursday Review contributor
Questions about Russian interference in the 2016 elections in the U.S. appear to remain a serious problem for the administration of President Donald Trump, as special counsel Robert Mueller begins negotiations with the White House over access to notes and transcripts of meetings, as well as the possibility of extensive interviews with West Wing staff, both current and past.

Mueller is also seeking details about the chain of events leading up to the dismissal of FBI director James Comey—an attempt, some investigative experts believe, to determine whether Trump and others at the White House engaged in obstruction of justice in dismissing Mr. Comey.

Among those who Mueller wants to interview: recently fired White House chief of staff Reince Priebus, who may have had access to private discussions regarding President Trump's early strategy to deal with questions of the Russia probe. Priebus may have also been warned by Comey to wave off Trump or others from directly asking the FBI to back off of its investigations into Russian interference in the 2016 election, and most especially the bureau's probes into the links between retired general Michael Flynn and Moscow.

The widening scandal has posed a continuous problem for the White House and its spokespersons and surrogates—all of whom have sought to minimize the connections between the Trump campaign and top level Moscow political operatives. Mueller has continued to push the investigation forward, even amidst rumors that Trump may fire the special counsel.

Then there are those questions about former national security advisor Flynn.

Sergey Kislak, the former Russian ambassador to the U.S. and now one of the figures at the center of a widening investigation in Washington, told reporters for the Moscow-run TV channel Russia 24 that his meetings with the embattled Michael Flynn were of no consequence and included no discussions of secret topics or high security matters. Kislak also said that those talks, which took place before candidate Donald Trump was elected President, included no discussions of sanctions against Russia.

Kislak, who also offered a timeline of meetings which does not square with the analysis of American intelligence agencies, did acknowledge that in those meetings he and Flynn touched upon subjects of mutual—and critical—importance to both the U.S. and Russia, such as terrorism, which Kislak said requires cooperation and coordination.

The former ambassador defended the meetings as being "proper, calm, and absolutely transparent." When pressed by Russian reporters to provide a more detailed accounting of those now infamous meetings, Kislak demurred, suggesting that Moscow policy limits his latitude on specifics.

Kislak did, however, stress that there were no discussions about U.S. or European sanctions against Russia—the topic most central to the still-developing controversies surrounding questions of possible collusion between the Presidential campaign of then-candidate Donald Trump and officials in Moscow.

Flynn, who was a supporter of Trump during the campaign, was tapped to serve as White House national security adviser despite warnings by officials both within the Obama administration (including Obama himself, who personally recommended Trump consider dumping Flynn from consideration) and several top Republicans and key members of Trump's inner circle. Trump, however, famously offered praise for Flynn.

Mueller, appointed in May to investigate charges of collusion between the Trump campaign and evidence of interference by the Russian government in the 2016 U.S. elections, late last month issued subpoenas regarding critical June 2016 meetings between Trump family members and a Russian attorney. Word of the subpoenas was accompanied by news that a grand jury had already been assembled to hear the evidence in the widening case, which includes investigations into what at least a dozen agencies—including the FBI, NSA, CIA and Justice Department—have said is direct and strong evidence of Russian meddling in the November elections.

Days after the grand jury was convened, FBI agents staged a pre-dawn raid at the home of Trump confidante and former campaign manager Paul Manafort. Rumored to be among the things seized as evidence were computers and laptops, as well as documents related to the investigation. The FBI raid, which would have required the written approval of a federal judge, demonstrates—experts suggest—not only that the investigation is moving forward at a systematic and robust pace, but that those law enforcement officials who have questioned Manafort have doubts about either the truthfulness or the thoroughness of his claims.

At the center of the storm is a June 2016 meeting between Donald Trump, Jr, Trump son-in-law Jared Kushner, then-campaign manager Manafort, and a Russian attorney with deep connections inside the Kremlin. At that meeting, it has been alleged, all parties discussed potentially damaging information about Trump's chief political rival, former Secretary of State Hillary Clinton.

Moscow has repeatedly disavowed any attempts to meddle in the 2016 U.S. elections, but numerous intelligence and law enforcement agencies in the U.S. have concluded that there is clear evidence of Russian hacking, including attempts—successful or otherwise—to breach the election systems in at least 40 states and in hundreds of counties. After a congressional resolution imposing sanctions on Russia for the meddling, Moscow responded with its own battery of sanctions, including the seizure of some U.S. diplomatic properties and an order to expel some 700 U.S. government employees from embassies and consulates across Russia.

The White House initially downplayed the grand jury and the subpoenas, telling reporters that Mueller's moves were simply one step in a complex legal process. Some White House surrogates also took to the media to explain that the subpoenas were proof of nothing, expect that investigators have more detailed questions which require a legal venue.

White House special counsel Ty Cobb told reporters that the administration welcomes the grand jury.

"The White House favors anything that accelerates the conclusion of [Mueller's] work fairly," Cobb said, adding "the White House is committed to fully cooperating with Mr. Mueller."

But other legal experts have stressed that by convening a grand jury, Mueller and his team must surely have uncovered critical information regarding those alleged meetings between top Trump campaign officials and Moscow.

White House supporters such as Trump attorney John Dowd have said that Mueller is overstepping his authority, especially through the search of Manafort's home and his private materials. Dowd has suggested that the raid on Manafort's home was a combination of fishing expedition and raw intimidation.

"The search warrant here," said Dowd, "was obtained by a gross abuse of the judicial process by the special counsel's office." Dowd called the search of Manafort's home an act conducted solely for "shock value."

Some legal experts suggest, however, that the combination of the various legal processes at work—the grand jury, the search of Manafort's home and computers, and plans to grill Priebus—demonstrate the seriousness of the problems now facing President Trump and his team at the White House.

Members of a grand jury—which operates behind closed doors—are generally drawn from a pool of ordinary citizens. Their role, typically, is to merely hear testimony and consider evidence, then, decide whether criminal activity has taken place. Members of a grand jury also consider whether there is sufficient evidence of wrongdoing for a prosecutor to proceed to charging someone with a crime. In this case, the core issue to be examined by the grand jury is whether that meeting—between Trump, Jr, Manafort, Kushner and the Russians—was a decision reached to encourage the Moscow to present damaging information about Clinton in the worldwide press, including information and data believed hacked from the DNC and the Clinton campaign between 2015-16.

Related Thursday Review articles:

Comey Testimony Transfixes Capital and Nation; R. Alan Clanton; Thursday Review; June 8, 2017.

Leaked Documents: Russian Hacking Was More Serious; Keith H. Roberts; Thursday Review; May 6, 2017.