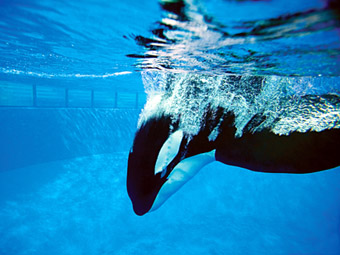 Photo courtesy of Sea World San Diego
Can Sea World Stay Afloat?
| published September 1, 2014 |
By Thursday Review staff


Sea World is facing a tsunami of problems. Not only has the company endured nearly 12 months of bad press and searing negative publicity regarding its treatment of animals, but the company's financial losses have been so severe as to drive Wall Street to dump Sea World stock overboard. Its once proud brand name and its once potent profit value have been sinking to the bottom of the sea.

Sea World owns water and ocean-themed parks in San Diego, Orlando and San Antonio, along with other entertainment and theme park venues around the country. But social media and two documentaries produced by independent filmmakers, coupled with several lawsuits which sprang out of accidents and fatalities, have damaged Sea World's reputation.

The documentaries did a lot of damage to a theme park which was already beginning to face the specter of protests outside its gates. The more prominent of the two films, "Blackfish," has as its central story the problem of keeping killer whales in captivity. Release in 2013, the film met with moderate success at the box office—not uncommon for documentaries—but has done astoundingly well through Netflix and a variety of online streaming content services (opening weekend in July 0f 2013 brought in about $76,000 in revenue; but it has earned millions since leaving the theaters).

Writer and director Gabriela Cowperthwaite combines a script prepared in part by anonymous sources (presumed to be former Sea World employees) to tell the sordid and often unpleasant story of Sea World's animal population, in particular Tilikum—a killer whale responsible for three deaths and a multitude of injuries. Killer whales, who—despite their fearsome name—are not known for injuring humans in the wild, nevertheless develop aggressive, even lethal, pathologies when held in small tanks in captive environments. The film also shows disturbing footage of Tilikum's handling when not in the presence of the public, and provides compelling evidence that Sea World managers and executives have gone to unusually complex and dark lengths to cover up the problems and the hazards.

Using dramatic and striking footage, the film packs an emotional wallop for audiences—though one can make the entirely fair complaint is that the film is notably one-sided. Sea World declined to cooperate with the making of the documentary.

Already battered by animal rights groups, the effect of the film on Sea World attendance has been extreme, to say the least. Sea World lost not only major sponsors and corporate sponsors, who fled the toxic conversation surrounding the treatment of Sea World's animals, but the theme parks have lost scores of major appearances by rock, jazz, country and R&B musicians—most of whom publicly explained their reasons for cancelling performances.

As a result of the fracas, in December 2013 Sea World prepared a length statement defending itself and offering an explanation of its practices when it comes to handling sea animals. Though its statement, which is available on the Sea World website, does not mention the name of the documentary, it does attempt to address what Sea World sees as the worst misinformation, and among its assertions Sea World says that its research with orcas in captivity benefit whales in the wild. Sea World also says that its killer whales live just as long as those in the wild. For Sea World's part, it says it has not collected a killer whale from the wild in 35 years.

But in the meantime, Sea World must contend with the damage—much of it the result of unanswered negative press in the months after the film's initial release.

Attendance, which has been steadily dropping, has actually made a tiny rebound this spring, but business analysts point to Sea World's recent heavy promotions—discounts, coupons, pricing specials, special rates for Floridians, and annual passes—as being the only reason gate numbers have not fallen more. On the whole, Sea World's pattern of poor attendance remains unchecked—a slide which, if unchecked, will continue to damage profits.

Another ray of sunlight for Sea World came after its long, complex litigation with the Occupational Safety and Health Administration finally came to an end in late April. Sea World and OHSA had been tied up in an expensive court battle over charges that Sea World employees were being placed in harm's way when they climbed into tanks with orcas. Though Sea World ultimately lost its case, it decided to drop the notion of an appeal, and said it would not likely engage in more court action—moves designed to make the legal publicity go away and, hopefully, regain control of its narrative.

Corporate profits, however, are still way down. And investors are worried that the damage may be fatal.

So a few weeks ago, Sea World also struck back with a dazzling public relations counter-offensive. Among other major changes: an expensive redesign of all orca tanks at all Sea World parks. Killer whales and some other large fish will have new, high tech tanks with roughly twice the capacity and twice the space—a major move which Sea World hopes will blunt criticism that its orcas suffer from dangerous psychoses related to sensory deprivation and claustrophobia. Sea World's San Diego facility will get the first make-over, followed by Orlando and San Antonio. If all goes well, the San Diego reconfiguration will be completed in late 2018.

But will the reconstruction of the whale tanks be enough to quell not just the protests but also the larger, viral theme of a corporation engaged in cruelty to huge sea animals? Many animal rights groups suggest that larger pools are not enough. Killer whales and other large sea animals should be released into the open waters where they can engage in natural forms of hunting, socializing and long-distance migration.

In its statement on its website, Sea World defends its long tradition of animal rescue and animal research—education and research, it says, which would otherwise not be possible in the wild.

"More than 400 million guests have visited Sea World," the statement says. "We are proud that their experiences here have a lasting and positive impact on them, and on the world in which we live."


Related Thursday Review articles:

Stormy Waters: Sea World's Blues; Thursday Review staff; Thursday Review; August 14, 2014.

Atlantic City's Deep Recession; Thursday Review staff; Thursday Review; August 31, 2014.