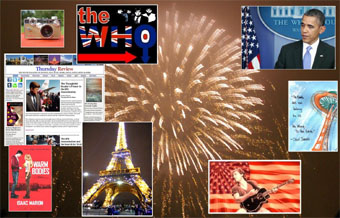 The Top Ten Stories at
Thursday Review: 2013
By Thursday Review editors | Tuesday, January 7, 2014 |

As many of our regular Thursday Review readers and followers know, our web magazine went from zero to 60 in a very short stretch of 12 months in 2013. Our readership increased greatly as we expanded the variety of our content, added new writers and artists, and extended our reach into social media. Though our forte has always been politics and books, we were often surprised at which articles gained immediate traction or went viral on the social media platforms.

In keeping with the traditional of making pithy lists of top ten things from a just-closed year (such as "Top 10 Reasons to Not Care if Miley Cyrus has a Wardrobe Malfunction"), here is our list of the top most-read, most-shared items from the pages of Thursday Review:*

Keeping Those Lighters Aloft: Lynyrd Skynyrd 40 Years After "Pronounced": This was by far one of our most frequently shared articles on Facebook and other social media. Earl Perkins' retrospective of this iconic southern rock band struck a chord among rock and roll fans but especially across Florida (the band's origins are in Jacksonville). This article also received a heavy response on Word Press and generated a lot of passionate comments from readers across the U.S. South and among rock fans everywhere.

Fifty Years After the JFK Assassination (two articles, actually; The JFK Assassination and the Search for Truth by Kevin Robbie and another the next day The Thoughtful Reader's Primer to the JFK Assassination by Alan Clanton): This pair of articles, 24 hours apart, together drew an astonishing number of clicks and page views. We'd like to selfishly think it was our reportage and our timeliness, except for the fact that two thousand other media outlets were doing the same thing that week, including endless hours of documentary programming and continuous live reports from Dealy Plaza. A screenshot of the Front Page from that weekend, then shared on Facebook, went viral within hours, and resulted in some of the heaviest traffic we had ever experienced.

The American Working Man's Rock & Roll: Greetings From Asbury Park, N.J., 40 Years Later: This retrospective looked at the importance of Bruce Springsteen's first album release in 1973. He did not become a sales phenomenon until 1975, but his first record nevertheless became one generally regarded as one of the greatest debuts in rock history. Many early Springsteen fans were clustered in the northeast, especially in New Jersey and New York, and this article gained enormous feedback and positive response from people who recall their early memories along the Jersey Shore. It also received a huge response on Word Press. Great accompanying art from Rob Shields.

Joyland, by Stephen King (book review by frequent literary contributor Kristy Webster): This short, straightforward book review rang the bell on our Click-O-Meter within days. Who knows? Maybe it was the name Stephen King which drew in a thousand clicks. King, after all, has a substantial and loyal following of readers and fans. Maybe it was the tre retro pulp cover image, featuring the candy-colored theme park and the dazzling red-haired woman with the astonished and terrified expression. Maybe it was the idea of macabre forces of horror turned loose in a theme park that drew the readers. Something mysterious, and maybe a bit creepy, drew the visitors.

I Believe That Rock Can Do Anything (book review of Who I Am, autobiography of Pete Townshend): This article quickly gained traction and travelled widely across several countries, including the U.K., Ireland and Australia. We received many responses to it on Facebook and Word Press, and its presence on social media helped us quickly pick up a following in Britain and across the world of music fans everywhere. The cool art by Rob Shields also helped to generate discussion.

Paris is Always a Good Idea (three book reviews by Sarah Herrin in one article): Between mid-summer and late summer, this trio of book reviews led the pack in activity on Word Press. It was written by frequent TR art contributor Sarah Herrin, who has also provided us with articles on her time spent in France, as well as some dazzling images of Paris by day and night. This was one of our most talked about book reviews.

More Bayonets, More Horses: How to Agree Disagreeably (Road Show column): This is an odd one, being as the article dates from October 23, 2012, and was written and posted the morning after the last of the face-to-face debates between President Barack Obama and his Republican challenger Mitt Romney, this one in Boca Raton, Florida. The article—one in a series of over fifty "Road Show" political reports—was posted and shared exactly two weeks prior to the Election Day 2012. Still, we had many hundreds of clicks and views well into 2013. Anyone care to offer a reasonable explanation? Somebody call somebody.

Your Best Secrets Worth Tracking, and Keeping: This long-form article, written and posted a couple of days after it was revealed that the NSA had been engaged in an extensive program to collect the personal data of millions of Americans, gained immediate traction on the internet. Many TR readers forwarded the article and its link to others via email, Facebook or Google +, insuring that this investigative piece received wide readership. The article did not receive uniformly good reviews from some conservative ranks at the time, and we lost a small handful of followers on Facebook. But our belief that personal privacy trumps national security is rooted in a straightforward read of the Constitution, and there can be no more conservative an interpretation than that.

The Brussels Sprouts Controversy; Michael Sigler. One of Michael's frequent contributions to TR, and they are not always about food, this one struck some kind of nerve, or taste bud, or funny bone with a lot of readers. An excerpt from Michael's recent book Tales from the Frying Pan, the article may have picked up a large following because of its quirky and complex lists of food and culinary combinations, which may have increased its value in search engine requests. Or at least that's the story we are sticking with in our non-stick frying pan.

A Zombie Tale, With Heart (review of the book Warm Bodies by Isaac Marion): Perhaps it was the timing of Kristy Webster's book review, or perhaps it was the striking red movie poster, or both—for the film version of this tale of a love affair between a zombie and a young woman assigned to fight the walking dead had just arrived in theaters and had become an instant hit. One of our busiest book reviews.


*A note about these rankings: there was no easy way to calibrate all of this since it required comparing actual page views with clicks (though our webhost), and shares and likes on social media, as well as email volume at Word Press and other email venues. In other words, we were comparing apples to oranges, bananas to kiwi fruit, and prunes to bagels. We took a sort of composite of all those factors to create this list, which means this list is scientifically and statistically questionable.