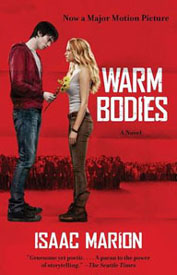 A Zombie Tale, With Heart
By Kristy Webster
Thursday Review Contributing Writer
I've had the pleasure of meeting with Isaac Marion, author of Warm Bodies and Hungry Mouths twice now. First, I had the honor of introducing him at a local book store reading, and secondly I had the privilege of teaching a fiction workshop with him at the annual Field's End Writer's Conference in Bainbridge Island, Washington. He is most definitely a writer to watch. Now that Warm Bodies, has been released at the theaters, garnering along the way much praise from audiences and critics nationwide, I thought I would remind viewers to read the novel that brought this new zombie myth to life.
Warm Bodies is a must read for zombie fans everywhere. If you're one of those people who cringe at the mention of zombies, it is still a must read. Why? Because Warm Bodies is not just about zombies. It's about humanity and what it really means to be alive. Marion takes us to places no other zombie story has taken us before. Highly original and profound, Warm Bodies is a literary take on the zombie genre. It is a zombie tale with...heart.
"R" is a zombie who's just a little bit "fresher" than the rest. When R meets Julie, a Living girl, a light flickers in R, a slight shift that instigates a startling evolution among both the Living and the Dead. Readers will fall in love with R and be rooting for him the whole way. His voice is beautifully empathetic, and as his conscience expands, the depth of the novel does as well. It has all the gore and suspense you would hope for in a zombie novel, with story-telling that is both lyrical and meticulous. It's really the best of both worlds.