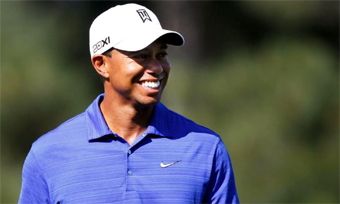 Photo courtesy of Tiger Woods.com
Golf Without Tiger
| published April 6, 2015 |
By Earl Perkins
Thursday Review features editor
Tiger Woods was bigger than the game of golf itself, rocketing to superstardom soon after joining the PGA Tour in 1996. We'll probably never see the likes of him again.

He expanded the sport's television audience, fan base, tournament purses, and sponsorship deals, enthralling fans worldwide and drawing-in millions who might have otherwise been bored with golf. But at least we'll be honored to see Tiger tee it up for another shot at Augusta this week.

"I'm playing in the Masters," Woods told reporters Friday. "I've worked a lot on my game and I'm looking forward to competing."

Woods has won 14 major tournaments, with the last victory occurring at the 2008 U.S. Open. He's chasing his fifth green jacket, but Rory McIlroy is driven by the opportunity to complete a career Grand Slam and win his third consecutive major. Plagued by injuries, a flagging game, and sex scandals throughout the last several years, the 39-year-old Woods hopes to hang on for four more victories to catch Jack Nicklaus, golf's all-time record-holder.

I give Woods 50-50 odds for catching The Golden Bear, because he will not settle for anything less than perfection. After all, he took three sabbaticals in less than a year. Tiger's a clutch golfer and practices relentlessly—but there's just something wrong with his physical well-being and mental state. Still, he won't tolerate falling back in the field and failing to qualify at events.

When Tiger steps off the golf stage, we probably won't realize the true financial implications for a decade. The multibillion-dollar industry doesn't have anyone capable of taking Tiger's place. Oh, there's McIlroy, Bubba Watson, Rory Sabbatini, Sergio Garcia and Jim Furyk. But there is only one Tiger.

Last March 31, Woods underwent a microdiscectomy procedure on his back to alleviate pain, causing him to miss the Masters for the first time in his pro career.

Since then, Woods made seven worldwide starts, including his withdrawal from two tournaments. He also finished tied for last in his Hero World Challenge in December, and missed the cut at the PGA Championship and Phoenix Open. Woods' second-round 82 at Phoenix was a career worst.

At age 39, Tiger Woods is considered relatively young for the game of golf. But it was his early career that changed golf forever. After several years as one of the best college golfers, Woods went pro in 1996 at the tender age of 20. Within a year he had already begun breaking records, including his April 1997 win at the Masters when he won by 12 strokes and walked away with nearly half a million dollars. By June the same year he was universally ranked as the world's best golfer, and he then set records off and on thereafter for weeks spent at number one. Woods also soon became one of the highest paid athletes in the world. Woods is only the second golfer in history to achieve the coveted Grand Slam three times; Jack Nicklaus is the other.

Related Thursday Review articles:

Miracle 1980: Cold War on Ice; Kevin Robbie; Thursday Review; February 22, 2015.

Charlie Sifford, Rest in Peace; Earl Perkins; Thursday Review; March 3, 2015.