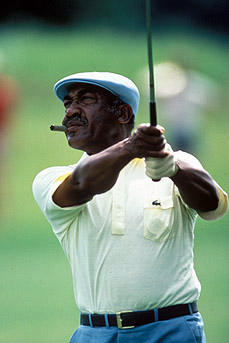 Photo courtesy of USGA.org
Charlie Sifford, Rest in Peace
| published March 3, 2015 |
By Earl Perkins
Thursday Review features editor
Charlie Sifford was born in 1922, light years away from today's world, and even further from any opportunity to play top-flight golfing competition, according to The Sporting News and website Sportzedge.

The Charlotte, North Carolina, native was enthralled by a game many say was developed in Scotland during the Middle Ages. Starting his career with a caddy job at 13, four years later Sifford began playing against other black golfers when his family moved to Philadelphia.

His life spanned the Roaring 20's, the Great Depression and World War II, and rocketed through the space age and a fair piece of the 21st Century. Sifford, 92, passed away February 3 in Cleveland.

Growing up when African-Americans were separated from whites, and one of their only opportunities was working for whites in subservient roles, Sifford emerged as a hero to millions. The golf and country club set had always held themselves above blacks and the common folk. Blacks were regularly barred from service, and only allowed to enter establishments at the back door.

Hate, venom, and animus were heaped upon Sifford through much of his career for pursuing his goals, but this is more a story of inspiration and overcoming obstacles. He reacted with dignity and class, eventually paving the way for Lee Elder, Tiger Woods and numerous other golfers.

Sifford broke the color barrier on the Professional Golfers Association Tour in 1960, following a lawsuit by the California Attorney General. The next year, the PGA's Caucasians-only clause was dropped, and Sifford was awarded full PGA membership in 1964.

Legions of fans were drawn to Sifford and his electrifying style—a man attacking the little white ball with a vengeance, while chomping on a big cigar. But The Charlotte Observer's Scott Fowler remembers the cane. It was a sunny, breezy day in May 2011, where Sifford was the guest of honor at a modest Charlotte course.

"It was the first time I met him. He looked at me, raised his cane in his right hand and pointed to a creek running alongside the course," Fowler wrote at the time.

"If I wanted to make a living, I had to get some balls out of there," he said.

The year was 1935, America was plunged into the Great Depression, and Sifford received 60 cents for caddying 18 holes at all-white courses. However, if he forced the creek to give up a barely-used ball that was a name brand, he might receive a quarter from another golfer.

"I'd give 50 cents to my mother, and then I'd go get me a cigar," Sifford cackled.

The men were chatting prior to a dedication for what is now the Dr. Charles L. Sifford Golf Course at Revolution Park.

Oh, the stories and incredible history this iron-willed gentleman witnessed. And Sifford's persistence inspired Earl Woods to play golf, thereby causing him to encourage his son Tiger to pursue the sport.

"It was a tough time for Charlie to go through what he went through, but he paved the way for a lot of us to be where we're at," said Woods, at a news conference before the 2013 U.S. Open at Merion "I know my dad probably wouldn't have picked up the game if it wasn't for what Charlie did.

"I've always called him my grandpa, the grandpa I never really had. I've gotten to know him through the years and it's been fantastic. We owe a lot to him and all the pioneers that have paved the way for us to be here."

After receiving the unfortunate news concerning Sifford's passing, Woods tweeted a message the following morning.

"Terrible loss for golf and me personally. My grandfather is gone and we all lost a brave, decent and honorable man. I'll miss u Charlie."

Sifford's passing evoked memories of his landmark victory at the Greater Hartford Open on the Wethersfield Golf Course in 1967. Well past his prime, Sifford was five strokes behind going into the last round, and hope for his first regular PGA victory was quickly fading. Then the gallery started pulling for him. Then several others in the field were inspired by his play—Arnold Palmer, Gary Player, Lee Trevino, Tom Weiskopf, Ray Floyd, Dan Sikes, Doug Ford, and Al Geiberger.

Geiberger, who won the 1965 PGA Championship was paired with Sifford that day.

"I was pulling for Charlie," he said. "It took my mind off my game."

Bobby Cole, the other member of the threesome, said "He was tremendous."

Sifford finished with a 12-under-par 272, receiving $20,000 in prize money for the victory. Not bad for the youngster who used to be thrilled pulling down wins a quarter at a time.

Looking back on the 2001 triumph, Sifford addressed a pre-tournament audience at the Hartford Radisson.

"The people may have cheered hard for Arnold Palmer, but I know that year they were all pulling for me," he said. "I guess there were 20,000. It was my golf course."

In 2004, Sifford became the first black inducted into the World Golf Hall of Fame in St. Augustine, Florida, in the Lifetime Achievement category. He also received the Presidential Medal of Freedom from President Barack Obama in 2014.

"If you try hard enough, anything can happen," he said.

Related Thursday Review articles:

Ernie Banks, Rest in Peace; Earl Perkins; Thursday Review; January 27, 2015.

The Bird Takes Flight: The Season of Mark Fidrych; Kevin Robbie; Thursday Review; May 6, 2014.