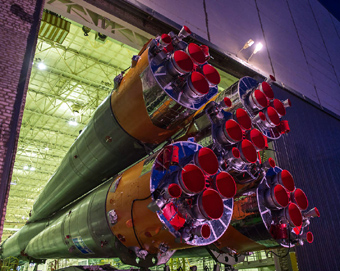 Photo courtesy of NASA and Russian Space Agency
Assembly Completed, Preparing for Launch
| published March 25, 2015 |
By Thursday Review staff

More long-duration stays in the International Space Station are scheduled to begin in a matter of days when American astronaut Scott Kelly and Russian cosmonauts Mikhail Kornienko and Gennady Padalka lift off of the massive launch pad at the Baikonur Cosmodrome in Kazakhstan this weekend. If all goes well, NASA and the Russian Space Agency hope that Kelly and Kornienko will spend as much as one year aboard the space station, returning to Earth in March of 2016.

In this NASA photograph, the giant rocket and its Soyuz TMA-16M spacecraft are carefully rolled by rail from its assembly building in Kazakhstan toward the launch pad. After up-righting and preparing the rocket, the spaceship will be launched into Earth orbit, and the Soyuz will navigate to the Space Station.

Related Thursday Review articles:

Photo Perfect Landing; Thursday Review staff; Thursday Review; March 12, 2015.

Gemini's 50th Anniversary; Thursday Review staff; Thursday Review; March 23, 2015.