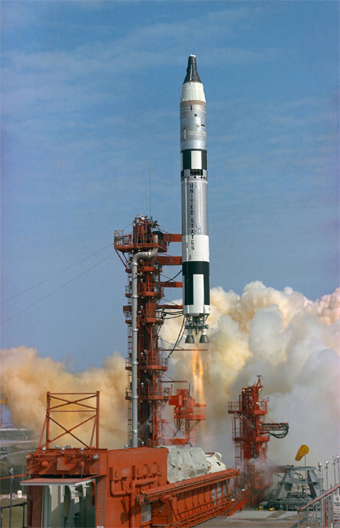 Image courtesy of NASA
Gemini's 50th Anniversary
| published March 23, 2015 |
By Thursday Review staff


The first manned Gemini mission was launched fifty years ago today, and this classic NASA photo shows that mission—Gemini III—lifting off Pad 19 at Cape Canaveral at 9:24 a.m., March 23, 1965. The anniversary is important in space travel history, as the Gemini program assessed and tested almost all the major technological challenges which would later be faced in the Apollo missions, developed as a way to take astronauts to the moon and back.

The Gemini phase of the U.S. space program was a busy stretch of time—roughly 20 months in which scores of major hurdles and challenges were resolved, including putting multiple humans in space, linking up separate spacecraft in rendezvous and docking procedures, making manual alterations to orbits, altitudes and flight paths, testing spacecraft maneuverability, assessing long-duration time spent outside the craft, and long-duration stays in space and in orbit.

Most importantly, those rendezvous and docking procedures proved to be the pivotal step in the increasingly complex and multi-segmented technology required to get to the moon, and the all-essential rendezvous and docking steps required to get those humans off the moon and back safely to Earth.

The Gemini program consisted of two-man missions, which was a key step toward the personnel requirements of any mission to the moon—all of which needed at least three astronauts.

The Gemini III crew consisted of astronauts Gus Grissom, a veteran of the Mercury program, and John W. Young.

Image courtesy of NASA

Related Thursday Review articles:

Apollo Launch, 39 Years Ago; Thursday Review staff; Thursday Review; March 5, 2015.

The View From Above; Thursday Review staff; Thursday Review; March 3, 2015.