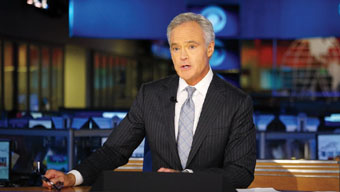 Image courtesy of CBS News/photo Sonja Flemming, CBS
Scott Pelley Out of CBS
Evening News Post
| published June 19, 2017 |
By Thursday Review editors
CBS newsman Scott Pelley, the longest tenured network anchor of the big three evening news shows, concluded his last broadcast with the CBS Evening News on Friday, ending six year run as anchor and chief news editor.

Pelley will remain with CBS News, but will make 60 Minutes his full time project—at least for now. CBS management says that veteran reporters Anthony Mason will take over the anchor spot on the CBS Evening News, but only as an interim occupant of that chair. No word has come from within CBS as to who might become the permanent replacement for a chair occupied in past decades by Walter Cronkite, Roger Mudd, Dan Rather, and Bob Schieffer.

CBS News president David Rhodes, in the official statement explaining the network's decision, said that Pelley's talents—previously divided evenly the Evening News and 60 Minutes—were needed full time at the network's longtime news magazine show.

The shake-up, if it can be called that, started suddenly and with little warning in late May, when—after more than two years of rumored internal tension—the decision to remove Pelley was made while the reporter was on assignment in Syria. Other media outlets began reporting on an imminent departure during the last few days of May, and confirmation came on May 30 when CBS said Pelley was to be gone from the anchor chair within weeks.

Pelley took over the job in June of 2011, replacing Katie Couric. Couric had taken over as anchor at CBS News in 2006 amidst great expectations, but ratings fell steadily as her performance faltered and as viewers migrated steadily toward ABC World News (then anchored by Charles Gibson), NBC Nightly News, or toward early evening cable news shows offered by CNN and Fox News. Over the following years, CBS News fell even further behind its rivals until CBS effectively forced Couric out in 2011 as she neared the end of her contract.

Enter Scott Pelley, one time White House correspondent for CBS, founding reporter for 60 Minutes II, veteran reporter of the Gulf War, and the first reporter to record a major interview with a Federal Reserve Chairman (then Ben Bernanke, at the height of the mortgage collapse and the start of the Great Recession). Though progress was slow, Pelley's arrival to the anchor chair improved the fortunes of CBS News and boosted morale among its reporters and editors.

While in the anchor chair, Pelley also valuable ground for the network which once prided itself on the independence of its news division, while at the same time attracting viewership. Pelley and his team of producers, writers, videographers and editors won scores of awards for their reporting on Syria, Afghanistan, the BP Deepwater Horizon disaster, and the Sandy Hook shootings.

It is not clear what led to the decision by CBS to pull Pelley away from the Evening News and push him into a full time role at 60 Minutes, though several CBS insiders have hinted at some internal matters. Also at stake: Pelley is badly needed at 60 Minutes, where the ranks of the veterans have been thinned dramatically and sadly—the deaths of Morley Safer (in 2016) and Bob Simon (in 2015)—and through attrition, despite the addition of CNN's Anderson Cooper, and where CBS has for the first time in decades seen genuine competition from NBC through its newly acquired star reporter Megyn Kelley.

Meanwhile, though Mason will serve as interim anchor, several names have been floated as permanent replacements for Pelley on the Evening News, including Elaine Quijano, Jeff Glor, and CBS News political director John Dickerson.

Related Thursday Review articles:

Bill O'Reilly Shifts to Podcast; Thursday Review editors; Thursday Review; April 24, 2017.

Pauley to Replace Osgood on CBS This Morning; R. Alan Clanton; Thursday Review; September 26, 2016.