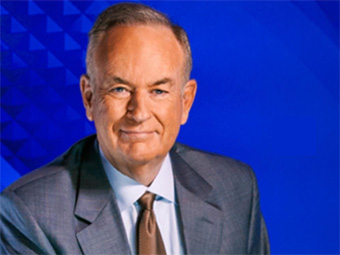 Image courtesy of Bill O'Reilly.com
Bill O'Reilly Shifts to Podcast
| published April 24, 2017 |
By Thursday Review editors
Starting this week, Fox News analyst and commentator Tucker Carlson takes the helm of the prime time slot once dominated by Bill O'Reilly, the Fox News stalwart and the network's biggest moneymaker since its inception decades ago.

O'Reilly, ousted by Fox a week ago amidst a widening scandal involving sexual misconduct and sexual harassment, will continue to offer cultural criticism and political discussion via his own website and a newly christened podcast called No Spin News beginning this week.

Aside from extensive legal fees and settlements expected to cost the network more than $25 million, O'Reilly's departure may greatly alter the playing field in cable news, possibly giving Fox News' closest competitors—notably CNN and MSNBC—an opportunity to lure viewers away from Fox and into their cable offerings instead.

No doubt many of O'Reilly's most ardent followers will tag along with his podcast, even as many millions more stick with Fox News at the start of its post-O'Reilly era. Still others may split the difference, TV analysts suggest, by remaining loyal to Fox News but traveling with O'Reilly on his live streaming podcast adventure.

O'Reilly occupied what is generally regarded as the most valuable time slot on cable television—the prestigious 8:00 p.m. block. And as Fox News' most valuable star, O'Reilly helped sustain the network's huge audience and high ratings for years. But in the wide wake of allegations of sexual misconduct, and amidst cultural struggles within the news network, O'Reilly—like his mentor Fox News founder and once-all-powerful CEO Roger Ailes—O'Reilly was effectively forced from the airwaves after weeks of discussion, drama, and rumors of the vast legal cost of the sexual harassment cases.

Whether Carlson can retain the same loyalty from Fox audiences once loyal to O'Reilly is unclear. Recent ratings show that for the first time, MSNBC's Rachel Maddow eked out a tiny lead in head-to-head ratings when pitted against Carlson. This may bode well for the third place cable news MSNBC, the line-up and content for which had been decidedly left-leaning since its inception—a sort of counter balance to Fox News but without the massive audience numbers commanded for decades by Fox News.

The debut of O'Reilly's new podcast will be the commentator's first major opportunity to talk to his wider audience since the start of his vacation—what some industry analysts suggested was more of a hiatus—during which time the legal and corporate machinery worked slowly but effectively until he was shunted from the Fox News line-up. At least a dozen advertisers had already fled the program amidst turmoil and protests.

Media experts suggest that O'Reilly will remain potent and solvent for years to come, perhaps moving eventually to another network or another broadcast venue, and possibly turning his online presence into a powerful profit center aside from the sale of his numerous best-selling books.

O'Reilly's departure from Fox News and his reincarnation with the podcast comes alongside several other cable TV changes, most notably CNN's move to shift popular anchor/journalist Jake Tapper from his daytime slot and into prime time, possibly at 9:00 p.m.

Related Thursday Review articles:

Bill O'Reilly Taking Hiatus From Fox News; Thursday Review editors; Thursday Review; April 14, 2017.

Roger Ailes Ousted as CEO of Fox News; Thursday Review writers; Thursday Review; July 21, 2016.