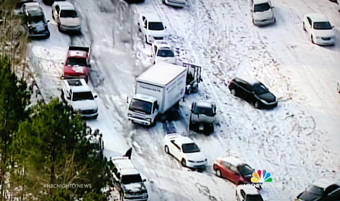 Image courtesy of NBC News
Polar Vortex Economy: Losers, Winners
By Thursday Review, staff | published Sunday, February 2, 2014|
Stock values plunged in January with about the same terminal velocity as the temperatures, and it was difficult to judge which was the more painful. Both will have an impact on the economy, spurring, at the least, a slow period as consumers and homeowners react to those energy bills (ouch), and money invested in stocks shows the impact of all that shrinkage.

The result could be a mini-recession as consumers and homeowners pull back their spending, at least long enough to catch up on the cost of home heating and all the unexpected spending associated with Polar Vortex I, II and III: car batteries, radiator repairs, tires, plumbing, winter clothing, window treatments, salt and deicing materials, snow shovels…the list goes on.

In cities like New York, Chicago and Buffalo, ancient water mains burst and pavement collapsed in urban areas with old infrastructure. Sturdy, weather-tested Midwesterners, no slouches when it comes to the extreme cold, were still largely unprepared for the ferocity of some of the coldest days ever in places like Minnesota, Michigan, Illinois and Indiana, where roads were closed, schools shuttered for days at a time, and people were generally advised to just stay home. And for the third time in less than six weeks, thousands of airline flights were cancelled, with thousands more delayed. Places like Fargo, North Dakota and Eau Claire, Wisconsin saw days after day of temperatures substantially below zero. As in 37 and 32 below, respectively.

Many states in the mid-Atlantic areas and the Midwest had their coldest January in over 40 years, and south of the Mason-Dixon Line record cold temperatures--all-time record lows--were being set almost every day.

The impact across the American South was perhaps the most striking. The greater Atlanta metro sprawl, which extends into a dozen densely populated counties, experienced some of the most dramatic chilly days of all, as freezing rain and sleet and snow, falling in copious volumes, turned with dazzling speed into black ice, a smooth liquid sheet so slippery that no tires can contend with the glassy, Teflon like surface. Cars literally came to a halt as traction vanished, and within 45 minutes the all-time largest U.S. traffic jam began in earnest.

The same thing was happening in places like Birmingham, Alabama and Athens, Georgia, but what made the Kodak moment so enduring is that Atlantans are unaccustomed to slowing down, for anything. When vast swaths of multilane corridors like Interstates 20, 75 and 85, and the great Atlanta perimeter I-285 (arguably the largest circular racetrack in the world) resemble instead parking areas for those giant ice fishing tournaments in Minnesota, one has indeed come to the brink of the apocalypse and gazed into the abyss. Many commuters abandoned their cars and walked, while many more slept in cars. Thousands of children slept in schools while hundreds of stranded drivers eventually found their way to retail stores where they slept on floors and in aisles. A few big retails stores adjacent to the interstate, like Home Depot and Lowes, chose to remain open to allow shelter for stranded motorists.

For a couple of days, Atlanta Mayor Kasin Reed and Georgia Governor Nathan Deal attempted to shrug off blame with the basic explanation that it all happened too quickly, and besides—how were we to know it would be that bad? (In fact, everyone in the south had been warned, by practically every meteorologist in North America). Finally, Governor Deal accepted responsibility and admitted that he and some other top officials had been asleep at the wheel as the worst of the Vortex approached. Reed took a mild political hit when it was revealed that in order to get to an interview on the Weather Channel, the mayor and his entourage used emergency lanes to navigate the treacherous Atlanta downtown traffic snarl—this while thousands of people were stuck in ice and snow.

But how much of the economy will take a hit? And how much might actually benefit?

Millions of Americans will be hit with higher energy bills as a direct result, and in some cases homeowners may see the largest monthly energy bill ever. In fact, Vortex I, which hit many weeks ago, is already having its effect on those billing cycles which close out in early-to-mid January. But February could be worse for some. In the hardest hit areas of the country, many homeowners had little choice but to run their heating systems—whether gas or electric—nearly 24 hours a day to contend with the cold. Shortages of natural gas were reported in many states, and there were even rumors (now being investigated) that some energy companies had deliberately raised prices as demand reached its crescendo at the start of the second and third waves of cold.

The big concern became those shortages of gas and propane. The demand this year has topped all previous years, and brought about a dramatic depletion of reserves of gas and propane. Bloomberg's estimate is that gas and propane inventories fell by 50% in less than 60 days. The good news is that most weather predictions now show a reprieve from the extreme cold in early February, and some models even show a warmer-than-average few weeks. This is good news for gas producers who can attempt to rebuild and restock.

Other parts of the economy saw significant slowdowns, including a few of the areas most susceptible to weather: auto sales, which a saw a very slow month, and both manufacturing and construction. Many residential, retail and business construction sites came to a halt as the Polar Vortex unleashed such severe cold that outdoor work could not be performed. Still, many analysts expect these components of the market to rebound as we move into early spring.

There were plenty of folks who made money. The Season of the Three Vortexes saw a record-breaking number of cold days and nights below freezing, which meant that hundreds of items sold in remarkably large quantities, from mittens and gloves to skull caps, from snow shoes to insulated jackets and thermal sweaters. Winter clothing was, in fact, one of the big sellers back in those last days before Christmas, especially as last minute Santa suggestions reached the sort of people who say "I just don't know what to get you." Spurred by a boom in online shopping (Amazon had their best Christmas yet), clothing bested electronics as one of the biggest sellers during the holidays. Winter boots for men and women sold in large numbers this year.

Outdoor winter tools and supplies also sold in unprecedented quantities. Snow shovels, salt and ice scrapers topped the list. Snow blowers are relatively expensive and can range from as low as $500 to as high as $1700, but they sold in huge quantities this year anyway, and for homeowners in the states most impacted by the heavy snows, these long-lasting power tools were a good investment.

You can bet also that the political fallout in cities like Birmingham, Atlanta and the other mid-south towns so dramatically affected by the ice and snow will create its own economy of services, in some cases immediately, as cities, counties and states are pressured by the public and the press to be better prepared for serious weather emergencies—even winter emergencies. This will mean cities and towns will maintain better supplies for extreme conditions: salt and chemicals for roads and bridges, snow blowers and plows, and a wide range of emergency items to contend with impassable roads.

Despite the Wall Street tumble in January, most economists see the next few months as more of the same—slow but measurable growth in jobs, spending and economic strength.


Related Thursday Review articles:

An Inconvenient Chill, Again; R. Alan Clanton; Thursday Review; January 4, 2014.

Cold Enough For You?; Thursday Review; January 5, 2014.

This article was prepared by several Thursday Review writers.