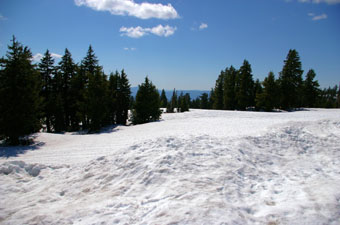 Cold Enough For You?
By Thursday Review staff | Sunday, January 5, 2014 |

For those Thursday Review readers who have already complained about our irreverent and politically-incorrect article from this weekend ("An Inconvenient Chill, Again"), a light-hearted look at the insistence of Global Warming advocates despite a nearly decade-long pattern of "historic snowfalls" and "record-breaking" cold weather across the U.S., we offer a few sidebar notices and updates.

Meteorologists are predicting with fair certainty that several states—Wisconsin, Minnesota, Michigan, to name but three—are expected on Monday and Tuesday to experience their coldest January in over 30 years. In fact, some areas of these states may set their lowest recorded temperatures in history.

The cold will be so severe that the governor of Minnesota has already announced the closure of all public schools statewide on Monday, with the possibility of school closures on Tuesday as well. Neighboring states are also considering closing schools and non-essential offices and facilities.

But Illinois and the Windy City are having none of this cowardice: in toasty Chicago, a foot of snow may fall between Sunday and Monday, and the chill factor may make it feel like it's 30 below outside, but state and city officials say they have no plans to keep children out of schools or bus drivers off the icy roads. Other states expect to have road and bridge closures due to both snow and ice.

Snow will fall across Missouri, Tennessee and Kentucky, with a chance of snow as far south as Birmingham and Atlanta. There will be so much cold, spread out across so many areas in the storm's wide path, over half the country could experience record-breaking lows between Monday morning and late Tuesday night. The list of icy horrors and potential hazards seems to include everyone except California and Hawaii. In Delaware, state officials warned of black ice and impassable bridges and overpasses. Chicago O'Hare airport had already cancelled over 1300 flights by midday Sunday (today).


And across the mid-south, and even into the Deep South, homeowners have been warned of substantial freezes that could damage plumbing and kills pets and farm animals within hours. In Iowa, another state usually unfazed by the winter cold, some schools will be closed due to temperatures well below zero, and a chill factor expected to drop to 50 below by tomorrow.

But there is good news, especially for football fans. The business of NFL playoffs is rarely disrupted by the weather (annoying or dangerous), and sturdy pigskin Midwesterners—not shy about the outside chill—still expected to show up in large numbers to attend today's game in Green Bay as the Packers host the San Francisco Giants (good luck you SF fans who have travelled from the Bay area to sit in the stands watching steam jets of your own breath!). It may become the chilliest pro game in football history, shattering the previous record set in 1967 when it was a balmy thirteen below. If you decide to watch the game from the safety of your sofa, make sure you watch for those guys with bare chests painted in vivid tempera colors.

Postscript: Unfortunately for those hardy Green Bay fans, the Packers lost their bid to move on to the next round of the playoffs. San Francisco scored a field goal in the last two seconds and stole from Green Bay that winning thunder...um...I mean snow.