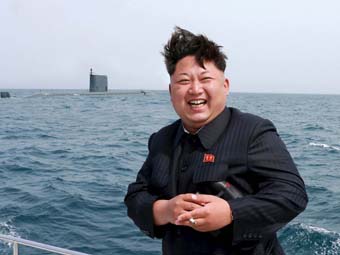 Kim Jong-un at a submarine launch test in 2015/
image North Korea media
Missile Test in North Korea Ends in Immediate Failure
| published April 16, 2017 |
By Thursday Review staff writers
Amidst heightened tensions and an escalating war of words between Washington and Pyongyang, a missile test ended in immediate failure early on Sunday when a North Korean rocket exploded only seconds of liftoff, according to the militaries of South Korea, Japan and the United States. Though not an ICBM similar to those used in other recent tests by North Korea, this smaller tactical rocket nevertheless is believed to have an effective range of about 400 miles, meaning it would be capable of reaching targets in South Korea or Japan.

Sunday's missile test took place at a launch facility in Sinpo, which is about 400 miles from the coast of Japan. Military analysts and U.S. military intelligence officials believe that the missile launch originated from a submarine—an opinion shared by military analysts in South Korea and Japan. Sinpo is, among other things, home to a large portion of North Korea's submarine fleet.

The Pentagon released a brief, terse statement late Saturday (in the United States) noting only that U.S. military officials and the White House were aware of the failed launch in North Korea (where it was already early Sunday), but offered "no further comment."

The missile failure is the second rocket launch test to end in disaster in as many months for Pyongyang, which began steadily accelerated its missile program in the early months of 2017, engaging in an unprecedented spree of rocket and missile tests, including a March 5 test in which four missiles were launched simultaneously from a facility in northern North Korea. Later in March the military of North Korea test-fired the engine for a ballistic missile believed to an ICBM—a heavy rocket with the range to carry a nuclear warhead for thousands of miles.

Some military analysts suggest that the sub-launch test may indicate that North Korean leader Kim Jong-un is seeking to accelerate his submarine program, since the launch of a missile from on board a sub is much more difficult to detect ahead of time, and may have the added advantage of rendering the U.S. developed THAAD (Terminal High Altitude Area Defense) anti-missile platform obsolete in some circumstances.

The failed test comes toward the final days of annual joint military exercises conducted by South Korea and the United States—drills and exercises meant to ready the combined forces of the two countries for any aggression from the North. Pyongyang has long decried the exercises as merely elaborate preparations for an invasion of the North. Sunday's test also comes just as vice-President Mike Pence arrived in South Korea for talks and discussions with South Korean and Asian officials, and only one day after North Korea staged a massive military rally and parade along the boulevards of Pyongyang.

The rapid expansion of missile testing in North Korea comes even as officials with the United Nations remind Pyongyang that such tests are banned.

The White House and the Pentagon have said that direct military options remain on the table, and that a strike against North Korean military or missile facilities could come at any time. Many news agencies are also quoting at least one British official who says that U.S. cyber-sleuths may have used digital forms of disruption to sabotage the missile test, a claim neither denied nor confirmed by any U.S. officials.

Analysts in South Korea and Japan say that all evidence shows that the missile launched on Sunday exploded only seconds after being fired from its launch tube on a submarine.

Related Thursday Review articles:

North Korea Rocket Engine Test May be Key Step Toward ICBM; Thursday Review staff; Thursday Review; March 22, 2017.

North Korea Launches Multiple Ballistic Missiles; R. Alan Clanton; Thursday Review; March 6, 2017.