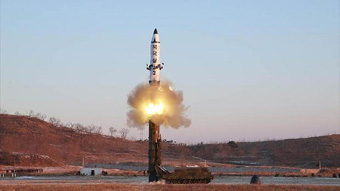 Image from North Korea media
North Korea Launches Multiple
Ballistic Missiles
| published March 6, 2017 |
By R. Alan Clanton, Thursday Review editor
The North Korean military fired several ballistic missiles early on Monday in direct violation of United Nations rules against such missile tests. The missiles, which were apparently unarmed, were launched from a missile site in North Korea's northern regions near the border of China, and were directed eastward into waters of the Sea of Japan.

The missiles, which according to South Korea and Japanese officials were not ICBMs, may have travelled as far as one thousand miles east-southeast before crashing into the ocean. The missiles were believed to be low-altitude rockets, and may have traversed a wide stretch of North Korea's northern regions near the border with China before crossing over the water.

According to analysts in South Korea, Japan and the United States, Pyongyang launched a total of four-to-five missiles, three of which landed only 190 miles from Japan's northwest coast in an area considered part of Japan's exclusive economic zone, so designated by official agreements among dozens of Asian nations.

Japanese Prime Minister Shinzo Abe has officially protested the North Korean missile launches as provocative and dangerous. Military and intelligence officials in South Korea, along with members of the U.S. military, are closely analyzing data regarding the missile launches.

The tests demonstrate North Korean leader Kim Jong-un's willingness to ignore international sanctions against such rocket tests, as well as his determination to create a first-strike capability for his country's fledgling nuclear weapons program. The tests also come after several days of threats by Pyongyang to retaliate to annual joint military exercises conducted by the combined forces of South Korea and the U.S., drills and exercises which began in early March. North Korea often protests the joint exercises as an act of aggression.

Monday's launches of ballistic missiles come after more than a year of active testing of rockets, missiles and small nuclear devices. Though U.S. and South Korean analysts doubt that North Korea has yet reached the critical technological stage of combining a nuclear warhead with a ballistic missile, Pyongyang's frequent testing show that Kim Jong-un hankers for the ability to threaten his perceived enemies across a wide arc of Asia and the Pacific.

North Korea has also attempted numerous submarine test launches, and as recently as last year fired a heavy rocket which put a small object into orbit. In mid-February, and only days after President Donald Trump met with Japanese Prime Minister Abe, North Korea test-fired an intermediate-range ballistic missile. That launch drew international condemnation and protest, and triggered even China—North Korea's only genuine ally—to issue a stern warning to its junior partner to tamp down the saber-rattling.

Recent missile tests by North Korea may greatly accelerate the development and deployment of the THAAD platform (Terminal High Altitude Area Defense System) in South Korea and possibly in Japan, where such a state-of-the-art radar and air defense system might offer sufficient protection against incoming missiles and rockets fired by North Korea. Although South Korea and Japan favor the deployment of the THAAD platform, China has been skeptical, suggesting that the high tech platform could be used for the purposes of spying on its own air defense systems and military activities.

China had no strong comment, except a condemnation by Foreign Minister Geng Shuang at a news briefing in which he urged all sides to exercise restraint and tamp down both rhetoric and provocative actions. Though he offered no specifics to the media, Geng confirmed that Beijing had detected and monitored the launches, and tracked the missiles while they were in flight.

Related Thursday Review articles:

North Korea Test Fires Ballistic Missile; R. Alan Clanton; Thursday Review; February 12, 2017.

North Korean Missile Test Draws Condemnation; Thursday Review staff; Thursday Review; September 6, 2016.