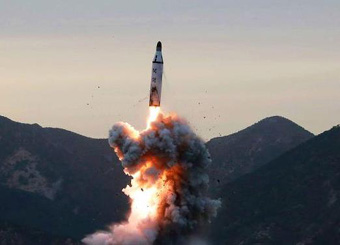 Image courtesy of Reuters
North Korea Test Fires Ballistic Missile
| published February 12, 2017 |
By R. Alan Clanton, Thursday Review editor
Only one day after new U.S. President Donald Trump met for the first time with Japanese Prime Minister Shinzo Abe, North Korea has launched a ballistic missile from a test site along its eastern coast, sending the medium-range missile over the Sea of Japan where it landed in the water about 400 miles off North Korea's coast.

Officials in Pyongyang have been talking of such a test for weeks, but Sunday morning's launch may be the first sign that North Korean leader Kim Jong-un intends to send a signal to both Washington and Tokyo. While campaigning for President, Trump delivered tough words toward North Korea, stressing that he would tighten both economic sanctions and military restrictions on the rogue country, which considers the U.S. a bitter enemy and regards Japan's alliance with the U.S. to be an overt military threat.

According to military and intelligence experts—in conjunction with some observations made in neighboring areas by South Korean and Japanese analysts—the missile was a medium-range Musudan-class rocket capable of striking targets within the north Asia region, including all of South Korea and most points within Japan. The missile, which is not an ICBM, could not reach any U.S. territory—at least at its current stage of development.

North Korean media has been suggesting for weeks that a full-scale test of an ICBM is in the works, and could occur as early as March or April.

The launch took place at 8:00 a.m. Sunday and, according to South Korean and American airspace observers and military analysts, reached a maximum altitude of about 550 km.

On early Sunday sources within the Trump administration have already indicated to some reporters that, although it expected this sort of provocation—typical for North Korea during times of international transition or shifts in policy and power in the west—neither the White House nor the Pentagon would engage in escalation—militarily or verbally. Instead, the U.S. will increase its discussions with China in the hopes that Beijing will pressure Pyongyang into de-escalation of its missile program.

Despite a decade of varying forms of sanctions and restrictions imposed by the United Nations, North Korea has continued to work toward the successful integration of its fledgling nuclear weapons program and its sometimes inconsistent missile and rocket programs. Though several missile tests have failed, including at least one misfire from a submarine last year, other rocket launches have gone smoothly for Pyongyang. But of the eight total Musudan-class missile launches during the last 14 months, only one has been judged by western military analysts to have been a complete success.

Sunday's test of an intermediate-range missile comes as no surprise to analysts at the Pentagon, the CIA or the White House, all of whom fully expected some form of high-profile military demonstration by North Korea during February.

The White House may consider a variety of possible responses, including public discussion of further tightening of North Korean economic interests and financial assets, as well as more forceful joint military exercises with partner state South Korea, which shares a border with the north. North Korea and South Korea have been separated since the end of the Korean War.

U.S. policy may also shift even more forcefully toward the rapid deployment and installation of the THAAD platform (Terminal High Altitude Area Defense system) in South Korea and possibly in Japan, where such a state-of-the-art radar technology could offer a defensive shield (similar to Israel's Iron Dome system) to incoming missiles. China has been opposed to the deployment of the U.S.-developed THADD in the region, where it fears such forward-looking platforms could be used to undermine its own security and secrecy.

Though China—North Korea's principal patron and its only ally—has attempted to put pressure on Pyongyang to back-off of its weapons development and its nuclear ambitions, North Korean leaders, all members of the Kim dynasty, have generally marched to their own drumbeat of rapid missile and rocket technology and nuclear weapons development.

Japanese Prime Minister Shinzo Abe called the test launch "intolerable," and demanded that North Korea abide by the conditions and terms set out by previous U.N. resolutions and Security Council requirements.

Related Thursday Review articles:

North Korean Missile Test Draws Condemnation; Thursday Review staff writers; Thursday Review; September 6, 2016.

North Korea Calls U.S. Sanctions Act of War; Keith H. Roberts; Thursday Review; July 7, 2016.