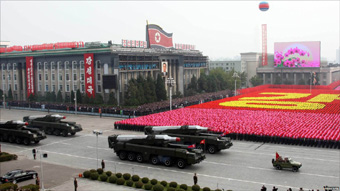 Image North Korea media
Australia, New Zealand Fire Back After North Korea Issues Threats
| published April 23, 2017 |
By Thursday Review staff writers
As U.S. Vice President Mike Pence wraps up a tour of several Asian countries this weekend, tensions continue to ratchet up on the Korean Peninsula and in those countries whose borders place them close to North Korea.

After Pyongyang issued threats to Australia and New Zealand—taunting those South Asian nations with a pre-emptive nuclear strike if either continued their policies of "blindly and zealously toeing the U.S. line," to quote North Korean state media, both countries fired back with rhetoric of their own.

Australia and New Zealand each warned North Korea that its rogue military actions would be intolerable for greater Asia. New Zealand officials said Pyongyang is engaged in military action with "evil intent." Australian officials have called North Korea's current spate of weapons testing "a serious threat," and have also said that North Korea's actions have been "reckless and dangerous."

The war of words comes as the world braces for what intelligence and military experts expect will be North Korea's sixth test of a nuclear device—a detonation which could come at any time during the upcoming week. The Asian fracas also comes after months of test launches of various missiles and rockets by North Korea, including the simultaneous launch of four medium range missiles and the test firing of a massive engine believed capable of enabling an ICBM to reach the United States.

A test last week of a sub-launched missile apparently failed, but weapons experts point out that such failures can be expected when the development pace accelerates and as the glitches and bugs are worked out of the complex and volatile processes required to launch missiles.

Pence is concluding a series of meetings in several Asian countries, including South Korea, Japan and Australia. On his Asian tour, Pence has been careful to strike a balance between the threat of pre-emptive punishment of North Korea and diplomacy combined with sanctions. North Korea, long isolated from most of the world, has been living under harsh sanctions and restrictions for decades. But those sanctions have done little to inhibit the ambitions of North Korea's young dictator, Kim Jong-un, who has proven to be both unpredictable and aggressive.

As recently as Wednesday, Pence has committed the U.S. to an "overwhelming and effective" response to Pyongyang's widely disseminated goal of weekly testing of rockets, missiles and heavy weapons.

Earlier in the month, the United States and South Korea engaged in annual drills and exercises meant to test the readiness of both militaries and sharpen response times to potential threats—on land, by sea or in the air—from north of the 38th parallel. North Korea typically offers harsh words for the exercises, which it describes as a rehearsal for invasion of the North.

The aircraft carrier USS Carl Vinson is moving toward Japan to begin joint maneuvers with Japan and North Korea as early as this week.

Officials in both Australia and New Zealand have—through diplomatic channels and publicly—requested that China, North Korea's only effective ally, attempt to exert greater influence over its patron nation by insisting that Pyongyang tamp down its missile testing and its nuclear ambitions.

Related Thursday Review articles:

Missile Test in North Korea Ends in Immediate Failure; Thursday Review staff; Thursday Review; April 16, 2017.

North Korea Rocket Engine Test May be Key Step to ICBM; Thursday Review staff; Thursday Review; March 22, 2017.