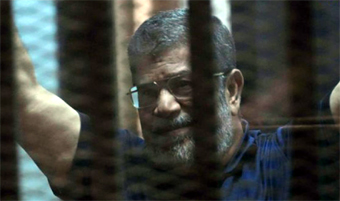 Photo courtesy of Reuters
Egyptian Court Sentences Morsi to Death
| published June 16, 2015 |
By Thursday Review staff
A high court in Egypt has sentenced former President Mohammed Morsi to death, charging him with inciting the 2011 Islamic uprising and related prison break which brought him dramatically to power. Under Egyptian law Morsi and his attorney's will appeal the ruling.

Along with Morsi, the court also confirmed death sentences for other top members of the Muslim Brotherhood, some of whom were instrumental in Morsi's ascension to power.

Morsi took power in elections after the mass uprising and demonstrations of 2011, but was overthrown by the Egyptian military two years later in a power struggle between Egypt's moderate forces and those aligned with the extremist group Muslim Brotherhood. The moderate forces, which were led by current president Abdel-Fattah el-Sissi, then arrested or detained thousands of people believed to have participated in the public demonstrations. Since then, Egypt's government has cracked down on dissenters.

After a careful consultation with Islamic religious leaders empowered to consult on legal matters, the death sentence was confirmed by judge Shaaban al-Shami. Under Egyptian law all sentences of death require validation by a high-ranking judge, and automatically trigger a series of appeals. Morsi would be the first chief executive in modern Egyptian history to receive a sentence of death for a crime.

Still at issue is the disposition of the previous Egyptian president, Hosni Mubarak, whose presidency more resembled a dictatorship. Though many of the charges against him have been dropped and some of the legal cases dismissed, Mubarak may still face charges in a retrial over his responsibility in the deaths of protesters.

Morsi appeared in court in a blue prison jumpsuit and was encased in a metal and safety glass booth. More than a dozen other defendants appeared as well but were not allowed contact with Morsi, who was kept isolated. Those defendants were found guilty of conspiracy, and among the most serious charges was the attempted murder of police officers and security forces during a coordinated and militarized operation to break open at least three major Egyptian prisons. The violent prison attacks resulted in tens of thousands of prisoners escaping (Morsi was among those who escaped), and sent Egypt into a period of chaos and lawlessness. According to the court, thousands of those who escaped were hardened murderers and radical Islamists, some of whom made their way to Syria and Iraq, and some of whom—the judge said—may have merged with Hamas and became instrumental in the 2014 Gaza/Israel conflict.

Morsi had been previously convicted of murder in the deaths of scores of protesters in 2012 when mass demonstrations were held at the gates to the presidential palace.

The convictions may complicate the foreign policy of numerous countries who support Egypt despite the often violent tug-of-war that has now been waged for years between the authoritarian military forces and the radicalized Islamic groups. Morsi's death sentence may also trigger more violence in Egypt as citizens on both sides of the complex divide find frustration with the court's actions.

Related Thursday Review articles:

ISIS Militants Take Ramadi; Thursday Review; May 18, 2015.

Yemen's Collapse: Will it Impact Oil Prices?; R. Alan Clanton; Thursday Review; March 27, 2015.