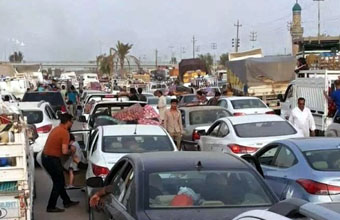 photo courtesy of IB Times
ISIS Militants Take Ramadi
| published May 18, 2015 |
By Thursday Review staff
U.S. and Iraqi-led attempts to degrade and destroy ISIS have taken their biggest setback in a bloody war now approaching one year old.

In a coordinated and well-planned assault, heavily armed Islamic State militants overran the city of Ramadi this weekend, forcing Iraqi units into a mass retreat, spurring more than 8500 people to flee the area, and leaving some 500 people dead. Among the dead are both Iraqi soldiers and Ramadi residents caught in the crossfire of the heavy fighting. Others among the dead may have been killed in deliberate executions.

The ISIS victory came despite a deep investment of U.S. air power and a mixed-forces coalition of Iraqi regular army and security forces, Shiite militias, and heavily-armed Kurdish fighters. U.S, and coalition warplanes hit ISIS targets in scores of key strongholds, but the air attacks had little effect of the renewed offensive by the militants.

Iraqi officials and military spokespersons vowed to retake the city soon, but it is not clear whether there are enough on-the-ground forces to mount the sort of offensive necessary to retake the provincial capital. Many Iraqi units were in mass retreat, despite declarations from top Iraqi commanders and the Iraqi prime minister that forces remain at their posts.

The current round of fighting ramped up during April as ISIS, newly re-energized and moving rapidly, began its heaviest assault in and around Ramadi. During April, according to United Nations reports, U.S. intelligence experts and some official Iraqi statements, more than 100 thousand people evacuated the city out of fear of an ISIS take-over. More fled the city in the early weeks of May, and the estimates of 8500 evacuees represents those who fled just in the last several days.

There are widespread reports that a large contingent of Shiite militants are preparing a counter-offensive, but some U.S. analysts and United Nations observers say that any such attack could trigger wider sectarian fighting between Sunnis and Shiites in Iraq. Other analysts suggest that the only way to counter the forward thrust of ISIS's latest advances would be with the use of substantial ground forces, which would almost necessarily include large numbers of Shiite fighters to counter the primarily Sunni-inclined Islamic State.

Ramadi was the scene of fierce fighting between U.S. forces and militants in 2003-2004. According to some military experts, the fighting in Ramadi in 2003 and 2004 was among the most intense and bloody since the U.S. and South Vietnamese forces battled the North Vietnamese for control of the city of Hue in 1968.

By comparison, the fighting in the days before Ramadi's weekend loss to ISIS was equally intense, and included heavy artillery bombardments, intense building-by-building fighting, and trucks and cars laden with heavy explosives, detonated at police stations, military compounds and security checkpoints. Many witnesses who left Ramadi over the last few days say that there are bodies still left unattended in the streets, and the ISIS militants were summarily executing hundreds.

U.S. officials say publicly that Ramadi can be retaken, and Secretary of State John Kerry has indicated that Ramadi's loss will not affect American policy in Iraq. Critics of the war, meanwhile, question whether U.S. and allied airpower will be enough to push ISIS back. ISIS has grown dramatically in numbers just within the last six months, operating with—by some estimates—more than 65,000 soldiers in the field in Iraq and Syria.

Related Thursday Review articles:

Centcom Reveals Battle Plan for Mosul; Thursday Review staff; Thursday Review; February 20, 2015.

Jihadi John Identified?; Thursday Review staff; Thursday Review; February 26, 2015.