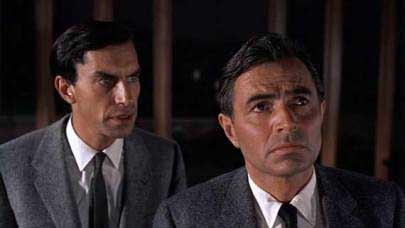 Landau (left) with James Mason in North by Northwest/Courtesy MGM
Martin Landau, "Ed Wood"
Oscar Winner, Dies at 89
| published July 17, 2017 |
By Keith H. Roberts,
Thursday Review contributor
Actor Martin Landau, who earned an Academy Award for his portrayal of Bela Lugosi in the Tim Burton film Ed Wood, died this weekend at UCLA Medical Center in Los Angeles, according to Landau's agent and publicist. He was 89 years old.

Though Landau's highest acting honors went for his uncanny role as the Hungarian-born Lugosi—playing alongside Johnny Depp and Jeffrey Jones—he may have been best known for his regular role on the highly popular drama and intrigue television show Mission: Impossible, in which he played Rollin Hand, a master-of-disguise among a team of top-secret covert operatives. Mission: Impossible ran for 76 episodes and garnered numerous awards, including Golden Globes and Primetime Emmys.

Landau collected three nominations for Outstanding Lead Actor in a Drama for his work on Mission: Impossible during the 1960s. Later, in the 1970s, Landau became a regular on the sci-fi TV show Space: 1999.

Like many Hollywood regulars, Landau's career had its ups and downs. Though he remained active and working almost continuously from 1957 until his death, his roles ranged from small to medium parts for years at a time. He made hundreds of guest appearances on shows through the early and middle years of TV, from Gunsmoke to Bonanza, from The Rifleman to The Big Valley, from the Outer Limits to the Twilight Zone. During much of that time he also accepted roles in scores of movies, including second-tier roles in well-known films such as North by Northwest, Cleopatra, The Hallelujah Trail, and They Call me Mister Tibbs.

Landau became a household name with his part on Mission: Impossible, a show which highlighted the exploits of a special team of U.S. covert operatives known as the IMF (Impossible Missions Force). The job of the IMF team, as the show's title implies, is to execute particularly difficult assignments on behalf of U.S. and U.S.-allied foreign policy. Landau's fellow cast members included Peter Graves, Barbara Bain, Greg Morris, Steven Hill, Leonard Nimoy, and Leslie Ann Warren, to name but a few.

The program, developed and produced by Desilu, proved extremely popular despite its plot complexities and seemingly dense themes. Landau's character, Rollin Hand, is the team's master impersonator, make-up artist, and all around chameleon, able to slip into the role of either a person invented for the purposes of the team's mission, or in many cases into the persona of a "real" person from within the context of the target of the IMF operation. The unique role gave Landau maximum opportunity to showcase his acting skills week-after-week, and his character soon become a staple of a show with a sometimes shifting cast and sharply divergent plots.

Though Mission: Impossible rarely presented a direct Cold War conflict between the United States and the Soviet Union, despite the fact that the program was produced and aired at the height of the Cold War, the plot frequently involved high stakes interventions between East and West, between the interests of Washington versus those of Moscow (or Beijing), and between the proxy states and pawns on both side of the chilly conflict. Many of the episodes set in third world or banana republic countries involve the toppling of regimes with subtle or not-so-subtle alliances with Russia or China, while still others involve corruption among top government officials in those same countries.

Mission: Impossible gave Landau an opportunity to deploy a range of accents, inflections, and dialects virtually unthinkable in any form expect comedy. According to Landau in interviews years later, the show also helped him to sharpen his timing, delivery, and his patience with working with unusual make-up and costuming.

The popularity and crtical success of Mission: Impossible also landed him a key role a few years later in the British sci-fi TV series Space:1999, which depicts a group of colonists living in a large scientific and research settlement on the moon. The program ran for two seasons, and again teamed up Landau with actress-wife Barbara Bain. The show's premise: after decades of storing nuclear waste and discarded nuclear weapons on the Moon, a massive chain reaction and explosion sends the Moon hurtling out of its orbit and into deep space. Like Mission: Impossible, and like its older kindred sci-fi show Star Trek, which had by that time become massively popular in reruns, Space: 1999 had an open-ended plot and unbounded possibilities—alien civilizations, new planets and stars, strange astrophysical phenomena, creatures benign and ruthless, as well as human drama.

Though originally conceived and written for a completely British cast, producers in the U.K. insisted that the show's developers include at least a few Americans as an insurance policy for good ratings in the States. Space:1999 also drew heavily and overtly—but with great affection—upon the technical skills and special effects of both Star Trek, and the Stanley Kubrick sci-fi masterpiece 2001: A Space Odyssey. This gave the show a slick, well-crafted appearance to hard-core sci-fi fans who appreciated its fidelity to the laws of physics, as well as its overall production quality. The show ran through 1977, when, ironically, the steamrolling power of George Lucas's new sci-fi adventure swashbuckler film Star Wars transformed much of the movie-going public's taste in science fiction.

Landau's career then drifted, even foundered, and he accepted smaller parts in movies or guest roles on scores of TV shows. The shows he touched included Columbo, Murder, She Wrote, The Twilight Zone, Buffalo Bill, and the made-for-TV comedy-film Harlem Globetrotters on Gilligan's Island.

In 1988 the opportunity to restart his career came alongside Jeff Bridges in the Francis Ford Coppola film Tucker: The Man and His Dream, a biography of the colorful engineer and car designer Preston Tucker. Landau won high praise for his role as Abe Karatz, collaborator and financial guru to Tucker during the long, difficult run-up to the roll-out of his revolutionary new car in 1947-48. Landau earned a half dozen awards and nominations, including a Golden Globe for Best Supporting Actor.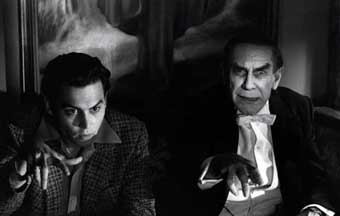 Then, in 1994, Landau struck gold, almost literally. Cast by director Tim Burton as the down-and-out, over-the-hill Hungarian-American actor Bela Lugosi in the dark-comedy biopic of 1950s low-budget director Ed Wood, Landau's transformation was chilling, heart-wrenching, and astounding. It became the definitive role of Landau's career, and earned him more than a dozen honors, including an Oscar for Best Supporting Actor, as well as a Golden Globe, a Saturn Award, a Screen Actor's Guild Award, and a Chicago Film Critics Award. Some film critics at the time remarked at how easily Landau filled the screen while working alongside Depp.

Many movie buffs noted that it was ironic that Landau won so many honors for portraying Lugosi, the famous Dracula actor who so long sought validation for his performance skills but for whom the Oscars and the Golden Globes remained elusive. Ironic also was the overall quality of the film Ed Wood, as well as the performances of Depp, Jones and especially Landau: in the strange but real-life world of Hollywood in the 1950s, filmmaker Edward Wood had been a fringe player with below-average skills. His Plan 9 From Outer Space, now a cult classic, is generally regarded as the worst science-fiction movie of all time, and Wood is frequently voted Worst Director of All Time by a variety of serious and not-so-serious critical groups. (Plan 9 was released in 1959, a couple of years after Lugosi's death; Wood cobbled together bits and pieces of his own film footage of an aged, frail Lugosi, and worked those brief scenes into his movie, then used a "double" whose face remained concealed to round out the missing shots of the character written-in for Lugosi).

Ed Wood rebooted Landau's career in the same way that Pulp Fiction had jumpstarted the work of John Travolta and in the same way that Boogie Nights would later alter the trajectory of the maturing career of Burt Reynolds. Landau's performance as Lugosi also became one of those stellar but strange moments in film history—a case of art imitating life better than life itself, much in the same way that George C. Scott became a better Patton than the infamous general, and much in the way that Anthony Hopkins easily absorbed the role of Richard Nixon.

Landau, who had trained under the tutelage of Lee Strasberg (Hyman Roth in The Godfather Part II), later taught acting and screenwriting himself in collaboration with director Mark Rydell (On Golden Pond; The Cowboys) and writer Lyle Kessler (Gladiator).

Related Thursday Review articles:

Shaken Not Stirred: Reflections on the Death of Roger Moore; R. Alan Clanton;Thursday Review; May 24, 2017.

Bill Paxton, Star of Apollo 13 and Twister, Dies at 61; Thursday Review editors;Thursday Review; February 26, 2017.