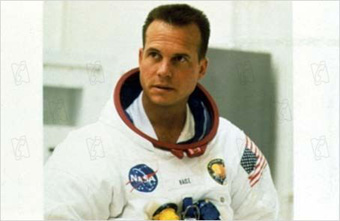 Image courtesy of Universal Pictures/Imagine Entertainment
Bill Paxton, Star of Apollo 13 and Twister, Dead at 61
| published February 26, 2017 |
By Thursday Review editors
Bill Paxton, star of such blockbuster Hollywood films as Titanic, Apollo 13, and Aliens, died unexpectedly after complications due to surgery on Sunday. Paxton had just celebrated his 61st birthday the day before.

Born in Fort Worth, Texas in 1955, Paxton received accolades for a variety of powerful supporting roles in major movies, playing Morgan Earp in Tombstone (alongside Kurt Russell and Val Kilmer), astronaut Fred Haise in Apollo 13 (alongside Tom Hanks, Gary Sinese and Kevin Bacon), and as Hudson in Aliens, the James Cameron-directed sequel to the original Alien in which he starred alongside Sigorney Weaver, Michael Biehn and Lance Henriksen. Paxton was currently starring in the primetime TV series Training Day.

Paxton also starred in Twister (alongside Helen Hunt and Carey Elwes) (1996), True Lies (alongside Arnold Schwarzenegger and Tom Arnold) (1994), and U-571 (2000), in which he played sub commander Mike Dahlgren in a World War II adventure tale of American and British sailors attempting to capture a German Enigma code machine in a daring commando raid at sea.

Paxton also played in 2014's Edge of Tomorrow, alongside Tom Cruise, and in Predator 2 (1990) alongside Danny Glover and Gary Busey. Paxton also portrayed John Paul Vann in the made-for-TV mini-series A Bright Shining Lie, about the earliest days of American involvement in Vietnam and based on the book by Neil Sheehan.

His family released a statement early on Sunday acknowledging his passing, though the statement did not explain what kind of surgery Paxton had undergone, nor if he had been suffering from any serious form of medical condition.

Among his highest honors: Screen Actors Guild award for Best Supporting Actor for his role as Fred Haise in the fact-based Apollo 13, generally regarded as one of Ron Howard's best films and one of the best movies based on the real life exploits and challenges of NASA astronauts. Paxton also received dozens of nominations for Golden Globe Awards, Emmys, Cable ACE Awards, and Saturn Awards (for science fiction).

Based on the huge popularity of Apollo 13, as well as the made-for-HBO mini-series From the Earth to the Moon, Paxton did voiceover work on several I-Max films produced for NASA and shown at the visitor's center theater at Cape Canaveral, Florida.

Two of his earliest films were the comedy Stripes (1981) (alongside Bill Murray and Harold Ramis), in which he plays a soldier, and The Lords of Discipline (1983), based on the novel by Pat Conroy, in which Paxton plays a cadet major at an elite military academy.

Related Thursday Review articles:

Miguel Ferrer, Dead at 61; Keith H. Roberts; Thursday Review; January 20, 2017.

Bill Nunn, Do The Right Thing Actor, Dead at 63; Keith H. Roberts; Thursday Review; September 26, 2016.