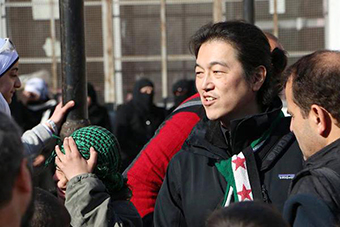 Image courtesy of UNICEF
We Are All Kenji Goto
| published February 2, 2015 |
By R. Alan Clanton
Thursday Review editor

While a record-breaking number of Americans were watching the Super Bowl and its seemingly endless chain of pre-game shows on Sunday, millions in Japan were mourning the death of Kenji Goto, the Japanese reporter who was murdered by ISIS militants days ago.

National grief was accompanied by the start of nasty political recriminations, including opposition complaints in Parliament that Prime Minster Shinzo Abe did not do enough to secure the release of Goto—and another Japanese man named Haruna Yukawa—and that Abe's government was ill-prepared for the dangers posed by ISIS and other radical Islamic groups. Abe's political opponents point to previous statements by ISIS and al Qaeda that the groups intended to target Japan—an economic and military ally of the United States, the United Kingdom, and other western countries—for terrorist attacks.

Japan's worst terrorist incidents came nearly 20 years ago, when terrorists used sarin gas to attack commuters on Tokyo's busy, crowded subway system. But Abe's opponents say that the threat from ISIS was not only genuine, but present and imminent based on intelligence and the nature of recent statements from ISIS. Many in Parliament worried aloud that Japan would now become a prime target for acts of terrorism, and that Japanese citizens will become targets worldwide and on all continents. And some complained that Abe's recent commitment to provide non-military assistance and intelligence support in the fight against terror has, in fact, backfired—making Japan a principal target for extremists.

Debate now rages in Tokyo over how to respond, and what role Japan will play in what has become an increasingly worldwide battle against radical Islam. Japanese law enforcement and security officials have increased police presence at airports and train stations, and have boosted security at hundreds of public areas out of concern that the murders of Goto and Yukawa might prompt lone-wolf attacks in Japan, or inspire cellular terror operations like the ones seen recently in Paris (or the terror plots apparently foiled in Belgium days after the Paris attacks).

In its most recent videos, ISIS has vowed to make maintaining security for Japanese citizens "a nightmare," and has promised it will exact a high price for Abe's commitments to anti-terror campaigns. But despite the political fallout, Japan's grief remained the major story for the Asian nation of more than 127 million people.

Kenji Goto, who simply wanted to report firsthand on the humanitarian crisis wrought by Syria's long, bloody civil war, had waited for the birth of his youngest daughter before leaving Japan for the Middle East last fall. Despite a genuine belief that his nationality would help him to remain a neutral party in a region which has already seen the kidnapping and gruesome execution of American and British journalists and aid workers, Goto was abducted in early November by ISIS militants. Within only a matter of weeks, he had become yet another pawn in the deadly game now routinely played by ISIS.

Goto was no stranger to regions torn by war, terrorism and humanitarian struggles. In his career as a journalist, he had reported from violence-plagued countries as diverse as Sierra Leone, Rawanda, Somalia and Afghanistan. His writing—like that of his American colleagues James Foley and Stephen Sotloff—often approached these war-ravaged subjects from the standpoint of the tragic effects on the people and the transformative effects on the social fabric.

Goto had a particularly close interest in the welfare of children, and the inevitable rise in the orphan population, of areas decimated by war and sectarian conflict. Among his other awards and citations, in 2006 he received the Sankei Book Award for his children's book he authored for Japanese audiences; title: Daiyamondo yori Heiwa ga Hoshi: Kodomo Heishi Muria no Kokuhaku. Translation: We Want Peace, Not Diamonds: The Confessions of Child Soldier Muria. Goto's other journalistic work included reporting firsthand on the imminent dangers posed to girls and those who sought to operate schools in Afghanistan, where Taliban and al Qaeda militants have been known to kill teachers and students. He also reported on the effects of AIDs in towns and villages in Estonia.

Kenji Goto's wife, Rinko Jogo, said her husband was a brave reporter who just wanted people to see the human side of war and conflict, often in the most personal of contexts; thus, his desire to travel to often dangerous regions.

"I remain extremely proud of my husband," Jogo said, "who reported the plight of people in conflict areas like Iraq, Somalia, and Syria."

Goto was a sort of one-man media operation. After his graduation from Tokyo's Hosei University in 1991, he worked in TV news gathering and video production, quickly sharpening his skills and honing his journalistic instincts. Seeking his own path, he later founded his own press and media company—working sometimes part-time alongside non-profit groups and humanitarian organizations (including UNICEF). He developed an affinity for reporting on the plight of refugees in war-torn areas, and the struggles of children in areas of extreme conflict or violence.

Already a seasoned reporter by his late 20s, at age 30 he converted to Christianity and became a member of the United Church of Christ in Japan, the largest protestant denomination in Japan and a member of the World Council of Churches.

Aside from his desire to report more from Syria, Iraq and the border areas of Turkey, Goto had travelled back to the Middle East last October to intervene in the situation surrounding fellow countryman Haruna Yukawa, who had been kidnapped by ISIS that summer. But his on-the-ground attempts to broker a deal resulted in his own capture. The abduction of the two men remained mostly out of the spotlight for people worldwide, until the start of a six-day tour of the Middle East by Prime Minister Abe and a contingent of about 100 other Japanese officials and business leaders. On that visit, Abe stressed that Japan was deeply committed to the worldwide fight against terrorism and radical violence, and said his country would earmark billions in non-military funding for that battle. Japan's commitment, Abe said while in Egypt, would start with approximately $200 million.

Within hours, ISIS responded to this as a challenge, and posted a video showing both Yukawa and Goto—dressed in the now familiar orange prisoner's garb of all ISIS hostages—kneeling alongside a black-clad, hooded militant. In the video, ISIS demanded $200 million in exchange for both Japanese men, and it said if its demands were not met, it would kill the two men. Intelligence officials say that the militant in the latest videos is the same British-accented militant spokesman used in other ISIS videos, a man now sometimes called Jihadi John (and one of an estimated 500 British nationals now fighting among the ranks of ISIS in Syria and Iraq).

The death of Goto now leaves the fate of Jordanian pilot Muath al-Kassasbeh in an uncertain place. Complex and tense negotiations in late January failed to produce a trade—the life of the pilot in exchange for a Jordanian woman charged with terrorism in Amman. Goto was used as a proxy and a pawn in the deadly standoff.

Goto's tragic murder now also raises questions about the safety of journalists worldwide, especially those who seek to bravely report on humanitarian struggles in war-torn areas. American journalists James Foley and Stephen Sotloff were each abducted, then, used as pawns and as attention-getting leverage by ISIS militants, who eventually made good on their chilling threats to execute those reporters by beheading. In Paris earlier in January, heavily-armed masked gunmen stormed the offices of the satirical magazine Charlie Hebdo, opening fire and killing a dozen people, including the editor, his bodyguard, two cartoonists, and a policeman outside. The Charlie Hebdo attacks were the start of five days of violence and terror in Paris, which ended with an attack on a kosher market and deli and the death of five more people.

ISIS and al Qaeda have issued threats to journalists before, and ISIS has taken credit for several recent cyber-attacks against television stations and newspaper websites in the United States and in other countries. ISIS does not regard the profession of journalist as necessarily a badge of immunity from its frequent attempts to capture the world's attention and dominate headlines through acts of extreme violence, and its beheadings of British aid workers shows it to be unconcerned with the traditional wartime boundaries between civilians and combatants.

This weekend, Abe expressed grief and outrage over the latest murders.

"I feel indignation over the immoral and heinous act of terrorism," Abe told reporters, "When I think of the grief of his family, I am left speechless. The government has been doing its utmost to secure [Goto's] release, and we are filled with deep regret."

Related Thursday Review articles:

ISIS Murders Kenji Goto; Thursday Review staff; Thursday Review; February 1, 2015.

Charlie Hebdo, 3.2 Million Copies Sold Out; R. Alan Clanton; Thursday Review; January 15, 2015.