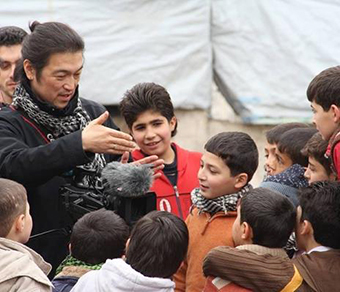 Image courtesy of Christianity Daily
ISIS Murders Kenji Goto
| published February 1, 2015 |
By Thursday Review staff

The terrorist army known as ISIS has apparently murdered another of its foreign hostages after more than a week of tense negotiations and back channel diplomacy. Another in a series of gruesome videos was posted on the internet which shows the beheading of Japanese journalist Kenji Goto.

Goto's fate was linked for most of a week to complex, sometime oblique negotiations over a possible trade: the life of a Jordanian pilot Muath al-Kaseasbeh, whose plane crash landed in ISIS-controlled territory, and a 44-year-old woman named Sajijda al-Rishawi, an al-Qaeda operative who was caught in an attempt to detonate an explosive device in an apparent suicide mission.

Goto was used as a pawn in the back-and-forth talks as Japanese officials sought to find a way to save his life; al-Rishawi has been sentenced to death in Jordan for her role in a previous terror attack in 2005 in Amman, when massive bombs exploded at several hotels, killing 60 people.

The life of the Jordanian pilot became the sticking point, as Jordan demanded some form of proof of life before it would agree to a swap. Jordan and Japan were engaged in tense, behind-the-scenes negotiations, using Iraqi and Syrian tribal leaders and other go-betweens. Some in Jordan have stated publicly that they fear the pilot has already been murdered, and that ISIS therefore was unable to provide evidence that he was alive. Others worry that ISIS is simply seeking to raise the stakes in its ongoing hunger for bigger and more dramatic headlines—dead or alive, al-Kaseasbeh would allow the militants to maintain control over the events and dominance over media attention.

In Japan there was anger, outrage and sadness over the apparent death of Kenji Goto. Goto has travelled as a journalist to report first-hand on the Syrian civil war, the fractious rebel groups in Iraq and Syria, and the humanitarian disaster that four years of war has wrought in the region. Friends back in Japan say that Goto had been hopeful that his nationality might shield him from harm.

In the video, released by ISIS over the weekend, a same black-clad, hooded militant with a London-multi-ethnic accent—the same man, authorities believe, who has been featured in other ISIS videos—delivers the grim presentation before Goto is killed. But this latest video makes no mention of the Jordanian pilot, which worries intelligence experts who fear that he is either already dead, or that his life will again be used as leverage in future demands by ISIS.

In mid-January, ISIS has originally demanded that Japan pay $200 million in cash in exchange for the lives of Goto and another Japanese man, Haruna Yukawa. Yukawa has been abducted sometime in August 2014, but was apparently murdered by ISIS later in January when Japan was unable to craft a deal for his life. The fate of Goto and Yukawa has been front page news across all of Japan and in Japanese communities worldwide.

The crisis over the Japanese hostages began the same week that Prime Minister Shinzo Abe was on a tour of the Middle East. Travelling with a delegation of about 100 Japanese business leaders and government officials, Abe had assured Middle East leaders that his country would support the war on extremism and radical terror—as exemplified by ISIS and al Qaeda. ISIS linked Abe's commitment to fight radicalism to the Japanese hostages in its custody, and demanded that Japan pay $200 million in cash—or the hostages would be killed.

This weekend, Abe expressed grief and outrage over the latest murders.

"I feel indignation over the immoral and heinous act of terrorism," Abe told reporters, "When I think of the grief of his family, I am left speechless. The government has been doing its utmost to secure [Goto's] release, and we are filled with deep regret."

Related Thursday Review articles:

ISIS Murders One Japanese Hostage; Thursday Review staff; Thursday Review; January 25, 2015.

Crisis Over Japanese Hostages Heightens; Thursday Review staff; Thursday Review; January 21, 2015.