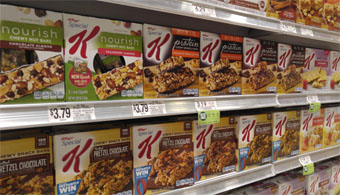 Images courtesy of Thursday Review
Kellogg's Recall Impacts Cookie and
Brownie Products
| published June 15, 2016 |
By Thursday Review staff
As a result of possible peanut contamination, cereal and snack maker Kellogg has recalled millions of products this week in the hope of avoiding problems with customers experiencing allergic reactions.

The recalls com after one of Kellogg's biggest suppliers, Grain Craft, found small traces of peanut oil on some of the equipment used to handle wheat flour. The quantity of peanut residue discovered was very small, but enough to raise a red flag for consumers who might have severe allergies to peanuts or peanuts products.

Kellogg's recall will impact several of its cookie, brownie and snack product lines, including several of its subsidiaries, such as Keebler, Famous Amos, and Murray brands of cookies and treats. To alleviate confusion over which products are affected—Kellogg's stresses that none of its popular breakfast cereals are impacted, nor any of its granola bars—the company has posted a full list on its website.

Though the small traces of peanut contamination may mean little impact for most adults, more at risk are children with higher levels of allergic reaction. Consumers have been urged to check the website carefully, and to not consume any of the items listed if peanut allergies are present within the household.

Kellogg's recall comes only days after several other food companies who depend on Grain Craft, including Hostess and Frito-Lay. Like Kellogg's, both Hostess and Frito-Lay stress that the products impacted are limited to specific items, but suggest that for clarification consumers should check the list of affected products and brands on their websites. Frito-Lay, for example, says that the only product line impacted by the recall is its Rold Gold Pretzel subsidiary.

The Food & Drug Administration says that consumers who do not have peanut allergies will not be affected by the foods, nor is it necessary to examine the list of items being recalled.

Grain Craft said that the cross-contamination occurred in the shipping and distribution phase of its manufacturing, and says it has taken immediate steps to prevent such contamination from occurring again.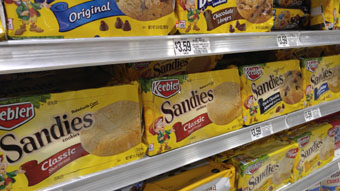 Among the affected products listed on Kellogg's website: Keebler's E.L. Fudge cookies, Keebler's cookie doughs, Keebler Sandies, Keebler Animal Crackers, Famous Amos Chocolate Chip cookies, Famous Amos Chocolate Chip Pecan cookies, Murray brand ginger snaps, Kellogg's Special K Mini Brownies, and Mother's Brand Chocolate Chip cookies. The Kellogg's website lists some 17 recalled products, and includes instructions on how to identify them by date and batch number.

Related Thursday Review articles:

Wegmans, Publix, Top List of Favorite Grocery Stores; Keith H. Roberts; Thursday Review; April 14, 2016.

All the Tea in China; Michael Bush; Thursday Review; February 18, 2016.