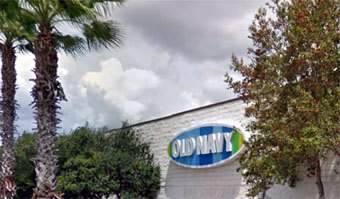 Image courtesy of Google Earth
Gap, Old Navy:
Profits Drop, Again
| published May 10, 2016 |
By Thursday Review staff
Gap stores—and the parent company's related brands, such as Old Navy and Banana Republic—have had one their worst quarters in a decade. Falling sales have prompted the retailer to sharply lower expectations of investors.

Gap Incorporated reported its fifth consecutive quarter loss this week, fueling Wall Street speculation about the future of the retailer and its specialized divisions. Old Navy, once the lynchpin of the profit machine for Gap, saw its worst results, though Gap and Banana Republic fared little better. Old Navy saw sales dip by about 6%; Gap lost roughly 3%. By percentage, Banana Republic performed the worst, with an 11% drop in sales—though its share of sales is the smallest of the combined company.

Some fashion and retail analysts blame poor management of new lines and new products for the profit losses; others suggest that Old Navy, Gap and Banana Republic—like the mainline traditional retailers JC Penney, Sears, Kohls, Belk—are losing too much ground to online retailers and web-based sales, a segment of the economy which has grown substantially in the last several years.

The prevailing view is that Gap has driven away shoppers by failing to upgrade its products in line with consumer tastes, and as a result many of its most loyal shoppers have moved on to new products online.

In either case, the damage is deep with a collection of retailers once among the most profitable in the U.S., and a staple at shopping centers and malls from coast to coast.

Gap officials have suggested that the 47-year-old company may begin looking at underperforming Old Navy and Banana Republic locations with an eye for downsizing. Many of those store closings could come as early as this year, but will most likely impact overseas retail storefronts first.

Stock prices for Gap have fallen about 12% since the start of 2016.

Related Thursday Review articles:

Wegmans, Publix Top List of Favorite Grovery Stores; Keith H. Roberts; Thursday Review; April 14, 2016.

Sears, Kmart to Close 68 Stores; Keith H. Roberts; Thursday Review; April 24, 2016.