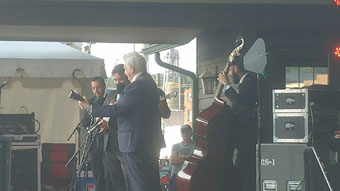 images courtesy of Earl Perkins
Bluegrass Music, Quilting, and a Cannonball Bank
| published July 28, 2018 |
By Earl Perkins, Thursday Review features editor
Summer weather across much of the American South and parts of the Midwest is mostly sweltering, with the heat index exceeding 100 degrees and often chasing 80 late into the evening. However, certain pockets are known for mild conditions, especially the mountainous regions of Southwest Virginia where I recently visited. You probably won't see 100 percent humidity with people passing out from heat exhaustion if you're bound for the Blue Ridge Mountains, the Shenandoah Valley, the New River Valley and gorge, the Great Smokies or the Appalachians. Those over toward the New River area brag about paddling, hiking, biking, golfing, fishing, floating, music and food, but that describes what much of the region offers.

I have a special affinity for the area around Hillsville and Galax, and it turns out I may be just one person among a sizable crowd, according to Derrick Davis, program director for local station WBRF and host of Radio From the Ridge.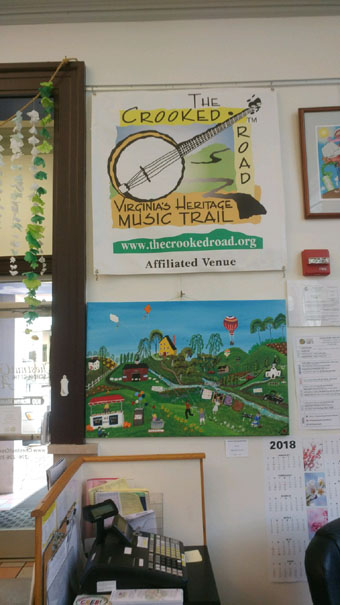 "There is something interesting going on around here all through the year," he said in a recent interview. "We have lots of bluegrass and old-time music fans around here, but they come from all over for the festivals. Then there's The Crooked Road (Mountains of Music Homecoming), driving through the mountains, the arts and crafts, all the history and then we have lots of outdoor recreation."

Just a few miles east of I-77, Hillsville is a fairly small town, but it has its distinctions. Among them: a semi-annual flea mass market, one of the largest on the East Coast, with in excess of 600,000 attending a four-day event a couple years ago. Galax is a modestly short drive west of 77, and features several churches which can trace their founding back to the nineteenth century.

But getting back to my visit, Del McCoury headlined HoustonFest at Felts Park in Galax, which is held annually the second week in June. Now a bluegrass legend and winner of numerous International Bluegrass Music Association awards, McCoury played guitar and sang with Bill Monroe's Bluegrass Boys back in '63, which paved the way for his creation of the Dixie Pals. However, six decades as a high-profile performer have not slowed McCoury, considering he played New York City the night before landing in Galax, and then was quickly bound for the Grand Ole Opry stage in Nashville, Music Capital of the World.

McCoury, a worldwide ambassador for bluegrass, calls attention to the American genre through DelFest, a Maryland music festival named in his honor. Also recipient of a lifetime achievement award from the National Endowment for the Arts, McCoury is rightfully proud of his sons who front The Travelin' McCourys, a new generation of artists who honor his legacy with a new twist on old favorites. The family was heavily involved with HoustonFest's Bluegrass Boot Camp, a stringed instrument event held during the festival which allowed interaction and guidance from several headliners.

Wayne Henderson and the Virginia Luthiers, Carson Peters and Iron Mountain, Flatt Lonesome and the Church Sisters were also high-profile artists included in the weekend festivities.

Henderson, a renowned acoustic guitarist who played Carnegie Hall, toured internationally and received a National Heritage Fellowship award at the White House, is even more widely known for building guitars for his dear friend, the late Doc Watson, along with Eric Clapton, Tommy Emmanuel, Peter Rowan, Gillian Welch and countless others. For the past seven years, Henderson has shared his studio and trade with his daughter, Jayne. She graduated with a degree in environmental law and faced hefty student loan debts, so she asked that her father make a guitar to help defray expenses. He urged her to make it herself, and with his encouragement and guidance she's carrying on the family tradition. They work out of Henderson's studio near Derby, a wide spot in the road in rural Southwest Virginia.

Peters, a rising star hailing from Mt. Airy, North Carolina, debuted at the Grand Ole Opry with Ricky Skaggs several years ago. Their rendition of "Blue Moon of Kentucky" brought down the house, and can be accessed via YouTube. Flatt Lonesome is a young group known for its hit "You're the One," performed to an enthusiast crowd at the 2015 IBMA Awards show in Raleigh. The Church Sisters are a Galax-based duo that released its initial album in the spring, known for fine gospel tunes and a successful Grand Ole Opry debut. Billed as A Celebration of Song and Service, HoustonFest honors late local volunteer firefighter, soldier and musician Houston Caldwell, helping raise funds for the Galax Volunteer Fire Department and local youth music education programs. Last year the headliner was Ricky Skaggs and Kentucky Thunder, along with well over 30 bluegrass, old-time music and youth acts, playing on four stages. Skaggs, named a 2018 Country Music Hall of Fame inductee in late March, has played and hosted shows at the Grand Ole Opry for decades. Stellar performer Dottie West, fiddler Johnny Gimble and Skaggs are slated to join just 133 other greats as they participate in a full medallion ceremony at the Country Music Hall of Fame and Museum's CMA Theatre in October.

It's not that simple to explain my appreciation for bluegrass music, but when it comes to the shows, they stand out from many modern concerts in that there is usually no alcohol, and just a clean, family-oriented atmosphere. Just show up with your lawn chairs and blankets, and you are ready to go.

Then there are early country musicians, who cared so much about their craft that they would go to almost any length to reach performances. Many traveled almost the whole year, riding in cramped cars on long, two lane roads in nasty weather. Many even gave their lives in plane crashes and vehicle wrecks through the years, trying to please fans and honor commitments.

Little Jimmie Dickens, born amid the frigid coal fields of southeastern West Virginia in 1920, was the youngest of 13 children and knew he didn't want to work the coal mines like the rest of his relatives and neighbors. A childhood marked by poverty, sacrifice and music would drive him to become a country superstar and Grand Ole Opry fixture much of his life. Dickens helped keep country music alive as rock 'n roll attempted to stamp it out in the '60s, touring relentlessly with two electric guitars, two steel players and more volume than Elvis Presley or Chuck Berry. He made it to 94, working the Grand Ole Opry until just before passing away just three years ago.

Back then, he would stuff up to six band members in his Cadillac Fleetwood, which made the ride extremely uncomfortable. You know its bad when passengers are using window cranks as pillows, and then Walter Haynes, a 6-foot-3 steel player, snatches up the footrest and heaves it out the window in a feeble attempt to take a nap. Well, of course his pay was later docked for a replacement, but that certainly didn't stop Haynes from continuing the ritual on future trips.

But I digress. Getting back to the Galax homecoming event, the Galax Old Fiddlers Convention highlighted more than eight decades of fiddle competition, with awards including $20,000, plus trophies and ribbons. On-site camping, a dance pavilion dedicated to flatfoot and square dance, coupled with youth activities and concessions, rounded out an incredible weekend for visitors. One of June's biggest celebrations, designed to promote the Appalachian region's musical and cultural heritage, is The Crooked Road's Mountains of Music Homecoming, held each June for a week. A 330-mile driving route through the scenic mountains of Southwest Virginia, The Crooked Road covers nine major heritage music venues and more than 50 traditional music jams, concerts and festivals. The European Fiddle and African Banjo were brought to the region by original settlers, and their sounds have echoed across the mountains for several generations.

There are many major venues throughout the region, allowing visitors the opportunity to absorb breathing musical traditions which resonate with profound historical and cultural significance. You might want to visit most of the places, or just pick a few and come away with an appreciation for the region -- whether its the Rex Theatre, Blue Ridge Music Center or the Old Fiddler's Convention, all in or near Galax, or possibly the Birthplace of Country Music Museum in Bristol or the Floyd Country Store. For such a small town, Galax and its residents have created tons of things which attract visitors, A Cruisin' and Groovin' car show plus music, Independence Day Parade, the New River Trail 10K Run, the Memories on Main antique car show and Smoke on the Mountain, where the Virginia State BBQ Championship is held. I almost forgot Blue Ridge Backroads Live at the Rex Theatre, Friday night concerts held throughout the year, with area and regional headliners, and occasional big-time stars (John Conlee, The Southern Gentlemen,Carson Peters and Iron Mountain, Crooked Road Ramblers, Wayne Henderson, etc.)

I highly recommend the Blue Ridge Music Center's Roots of American Music Concert Series, which typically runs from May through October. Although some people bring motor homes, lawn chairs and blankets suffice for many, with a huge stage and gorgeous mountain as a backdrop. Like the flier says, Celebrate Music in the Mountains and Free Live Music Daily! There is a charge for many of the acts, but season passes are available, along with access to the Roots of American Music Museum, midday mountain music, hiking trails and exhibits, plus tour bus and RV parking.

Then there is always the Wayne C. Henderson Music Festival and Guitar Competition at Grayson Highlands State Park in Mouth of Wilson, "Always the third Saturday in June, rain or shine!" You can only imagine the crowd when Ricky Skaggs, and his wife, Sharon White, are the headliners, along with the Gibson Brothers, a traditional bluegrass and gospel group with a storied career spanning four decades. The Jane Kramer Band, Richard Smith and Rachel Eddy, along with Wayne Henderson and friends, rounded out the day's entertainment at the 24th annual event.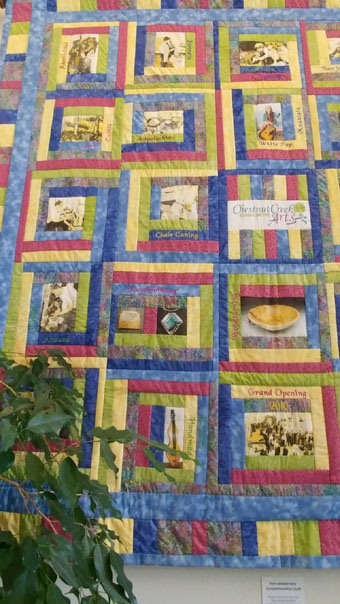 However, you are certainly not forced to appreciate bluegrass music to enjoy the area, because many visitors just drive the Road, stopping when they see something they like it or searching out various events and cultural experiences -- a winery tour here, or some craft beer operation there, etc. Free is the price of admission for many activities, but I found great values every time I was caused to part with a few dollars. Woodworking shops, quilting exhibits, farmer's markets and opportunities to taste locally-prepared foods, along with numerous historic exhibitions and concerts.

Originally established as a railroad town, Galax is billed as the Gateway to the Blue Ridge Mountains, offering numerous quaint downtown shops and restaurants. Then there's the New River Trail, a 52-mile hard-packed gravel hike that follows the former double-track route of the North Carolina Branch of the Norfolk & Western Railroad from Galax to Pulaski.

Visiting the Galax visitor's center and the Rex Theatre, which is directly across the street, are important area stops, but this last time I found a real gem down on the corner—the Chestnut Creek School of the Arts. Over the last couple decades, the Southwest Virginia economy took major hits, with textile and furniture plants steadily closing, and the railroad pulling up its tracks. But in 2004, the City of Galax and the Arts Council of the Twin Counties (Carroll and Grayson) began developing Chestnut Creek. At that time, the steering committee and concerned locals drafted a set of goals, including a dream to broaden the human experience and enrich the lives of individuals through the arts with skilled teaching for all ages and skill levels. Anchored in the former First National Bank Building at the corner of Main and Grayson streets, they have done that and so much more.

Promoting the cultural heritage of Southwest Virginia, several groups have fostered artistic and individual growth through performing and visual arts classes, heritage and contemporary crafts, and traditional music. Numerous incredible displays, events and performances are planned at the headquarters, but many can be appreciated at venues throughout the area, according to Harley Brewer, volunteer coordinator for Chestnut Creek.

"We have art and traveling shows, which are voted upon, and many of the winners are displayed here in the lobby and all over the building," he said. "We have studios for glass and jewelry, and several classrooms upstairs. We even cleared out this area for musical performances, and almost 70 people fit in here (at the last performance)."

You could tell many things change constantly in the building, which makes it almost new on a daily basis. Art work, instruments, pottery and quilts, hanging from walls or visible in display boxes. Brewer understated the instrument display area—the craftsmanship and look were incredible, including guitars, fiddles, a banjo and dulcimer, several made by Jeff Sebens, who teaches how to build and play instruments. There were also numerous pieces of furniture and quilts displayed in the former bank, according to Executive Director Christina Pollins.

"This room was the bank president's office, and these large glass windows were designed so you could see who was robbing the bank, and what type of car they were driving," she said.

The bank was established in 1907, but although it was an incredible design for the time, the architects did not consider how the new cannonball safe, custom built by Mosler Safe Co. of Hamilton, Ohio, would find its way inside the structure. Until a special ramp could be built, the bank evidently did its business on the street in front of the building, finally allowing the heavy and cumbersome safe to be brought indoors. The safe's final resting place was on the mezzanine, adjacent to the bank manager's office.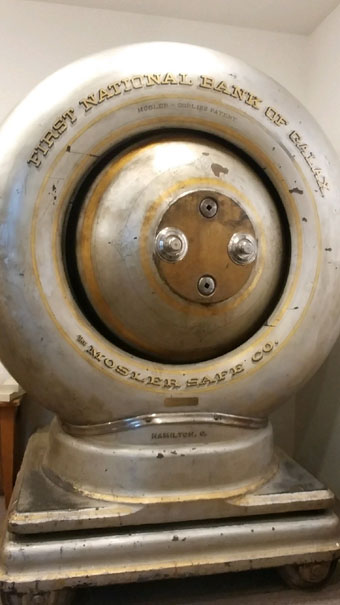 Mosler was one of the world's premier safe builders and the cannonball was designed to specifically discourage dynamite blasting. The theory being that dynamite is considered less than subtle, thus destroying whatever is in its proximity when it goes off—including money. The safe, furniture, a large painting of the former bank president and several other items were prominently displayed by the Arts Council and staffers. The layout gives a historic and original feel to the bank, which easily melds with newer crafts and displays, giving a feel similar to a cross between a school and living museum. There were many objects in the bank when the City of Galax took possession of the property, eventually encouraging Chestnut Creek to bring the building back to life.

However, if you haven't narrowed your potential vacation to the area I suggested, consider installing the AAA app, which allows you to find scenic drives, track your journey, save money, get a good night's sleep, rent a car, find your next car, apply for an auto loan, seek severe weather warnings or share photos from your successful trip.

If all else fails and you break down anywhere, you can of course receive help from AAA Roadside Assistance. Feel free to get started by texting MOBILEAPP to 99513 for a download link.

Related Thursday Review articles:

Tokyo Tops List of Biggest Cities; Thursday Review staff;Thursday Review; February 25, 2017

Who Stinks Now? The Cubs, The Indians, and a French Historian; Earl Perkins;Thursday Review; October 27, 2016