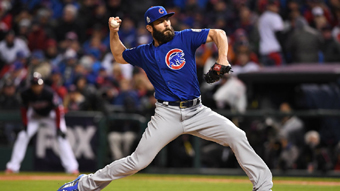 Image courtesy of NPR.org
Who Stinks Now? The Cubs, The Indians, and a French Historian
| published October 27, 2016 |
By Earl Perkins, Thursday Review features editor
Jules Michelet, 19th century French historian, had writer's block. One of Europe's greatest scribes of all time found himself needing just a bit more inspiration.

He discovered breathing deeply while walking through public urinals and latrines helped give him a better feel for corruption in pre-revolutionary France, as apt a primer on some forms of politics as one might find. It took just three short decades of long-hand writing to compose the History of France, and Michelet then emerged as the cornerstone of all revolutionary historiography. He was the first historian to use and define the word Renaissance, which denotes Europe's drastic cultural break from the Middle Ages.

I think it's an easy segue from Michelet's subject matter to the other night's two-ring circus they called the third presidential debate at the University of Nevada, Las Vegas. After all, Michelet certainly inspired me as I sought quality television programming. I pondered tuning in to the final debate, but immediately rejected it out of hand, along with several hundred other questionable choices. Although as Americans we're deciding on what is arguably the most significant elected office worldwide, I could not stomach the thought of wasting time watching those two candidates bloviate again.

People screaming at each other while ignoring whichever moderator is unfortunate enough to draw the short straw was not the sort of fare that caused me to follow politics with extreme zeal for several decades. But I did find it interesting that the leftists claimed victory again, just like those on the right. Politics as we know it in the United States appears to be in free-fall, and "civics," whatever that used to be, seems deliberately banished from the conversation. The smell was bad, and getting worse.

I took momentary control of politics by changing the channel.

Sports is going down the drain too, just at a slightly slower pace than the remainder of our universe. I settled into an easy chair and turned to Game 4 of the National League Championship Series, and although I was saddened by the outcome, it was far superior to the alternatives. The Chicago Cubs beat the Los Angeles Dodgers like a Zildjian drum set.

Losing 10-2 at Chavez Ravine was an inevitable conclusion, although the hometown crowd raised a rousing chorus of boos early on when the Jumbotron replayed a close call at the plate that was obviously missed by replay officials in New York City. That would have made the second consecutive year Major League Baseball would have owed an apology to Los Angeles, but one run proved of little consequence in the game's outcome.

The Cubs' win knotted the series at 2-2, and upon returning home to Chicago's Wrigley Field, they finished off LA's finest 4-2, unceremoniously escorting Dem Bums into the off-season. The former Brooklyn Trolley Dodgers would bow out of the series semi-gracefully, just as they do almost every time they reach the post-season. Bet you haven't heard that moniker in awhile. It's a pejorative term coined by Manhattanites, describing denizens of New York City's most populous borough, where they stacked the latest immigrants for several generations.

A smidge of bitterness may be bubbling to the surface, which I may explain away by noting I was destined to play for the Dodgers. Born in 1958, the same year they moved West, my earliest memories were of listening to their baseball games on a small transistor radio—even before President John F. Kennedy was returned to his maker.

Yes, I had grand plans of making it to The Show. However, there was little calling for right-handed weak-hitting second basemen who insisted on throwing left-handed. And I am also still waiting for that final growth spurt. No, the scouts never came calling, and I was forced to pursue other avenues for remuneration.

On the other hand, I am beyond thrilled to see Chicago's Finest represent the National League against the American League's Cleveland Indians in the World Series. The Cubs stand on the brink of overcoming a losing streak which dates back to the time of Roosevelt—Theodore, not Franklin. Cleveland is poised to break its own losing streak only half as old.

Most sports fans have either turned their back on baseball or never saw the attraction, making America's Pastime an afterthought when compared to more glitzy and action-packed contests, or gladiatorial combat. Younger generations demand constant action, which football and several other sports anxiously provide. Frank Deford is welcome to call football America's Game, but I will always associate this nation with baseball. I never lost my love for the game, and that might be why I've felt a sense of melancholy for several few weeks.

The great Vin Scully retired following the regular season as decades of broadcasting baseball games, and now I suddenly feel old. I thought maybe I'd always be young, or maybe marginally middle-aged—so long as Vinnie's voice graced the radio waves. He began his career with the Brooklyn Dodgers in 1950, and moved west with the team when it relocated to Los Angeles in 1958. The Dodgers' ownership convinced its hated cross-town rival, the New York Giants, to move its franchise to San Francisco, giving both teams a built-in rivalry.

Voice of the Dodgers for 67 years and a well-deserved Hall of Famer, the silver-tongued Scully painted such detailed pictures of games he called that listeners were transported to the venue in their minds. Some people remember hearing music their parents played for them while in the womb, but I believe my earliest memories were curled up in my bed clutching a transistor radio being enthralled by Scully's call on KFI. That would be 640 on your AM dial, but No. 1 in your heart.

And now that I've gone off on another tangent, I'll be ok whether the Cubs or Indians win the Series. The Cubs have not won the championship since 1908, while the Indians haven't worn the crown since 1948. Chicago has just too much fascinating history, and much of it inextricably entwined with baseball. As of this writing, the series is tied with one game apiece. Meaning, it can still go either way. Someone's losing streak ends with the championship that has eluded them for decades, the other team starts planning its return next year for total victory.

My favorite story concerning the Cubs is the famed Billy Goat Curse. Reaching back to 1945, one William Sianis, owner of the Billy Goat Tavern, decided it would be a fine day to take in a World Series game between his beloved Cubs and the hated Detroit Tigers. The tavern owner and the namesake of his business were asked to leave the confines of Wrigley Field and its ivy-covered walls. Evidently, there was an extremely strong odor emanating from the goat, which led stadium officials to eject the two patrons.

But you know how fickle fans can be. On the way out the gate, Sianis apparently told Cubs owner P.K. Wrigley his team would never return to the Series or win it so long as his animal was not allowed into the stadium. Well, the Cubbies eventually lost the '45 Series, while Siannis and his goat left this world long ago. The story goes that years later Sianis sent Wrigley a telegram, which said, "who smells now?"

Who smells now? An apt summary of the petty arguments bandied so relentlessly by Donald Trump, Hillary Clinton, Gary Johnson and others. Meanwhile, the Cubs have returned from the century long drought, and only time will tell if the ticker-tape parade wends its way through the streets of Chicago or Cleveland.

Related Thursday Review articles:

What Happens in Vegas: Final Debate May Change Few Minds; R. Alan Clanton; Thursday Review; October 20, 2016.

Sex, Drugs, And Politics in Virginia; Earl Perkins; Thursday Review; August 12, 2016.