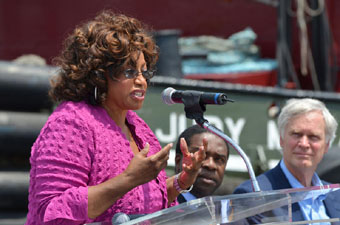 Image courtesy of WJCT-TV/PBS
Awaiting the Verdict:
A Tale of Two Corrines
| published May 7, 2017 |
By Earl Perkins and Alan Clanton,
Thursday Review editors
More than a week into the testimonies of witnesses in the trial of former U.S. Representative Corrine Brown in federal court and two competing narratives have emerged—an unsurprising situation when charges of corruption and fraud are involved.

Federal prosecutors have told a story of an elected official with her hand deeply in the till, seduced by easy money, lining her own pockets with cash, lavishing gifts upon family and close friends, hosting elaborate expensive parties and expensive wingdings, and—most notoriously—operating a fake educational charity which raked-in more than $800,000 but awarded just one scholarship. Among the other 22 charges now levelled at the career politician: wire fraud, mail fraud, falsifying tax returns, and conspiracy.

Assistant U.S. Attorney A. Tysen Duva fired the opening salvo a week ago, on the opening day of the trial, by charting the manner in which Brown—over a seven year period—diverted approximately $141,000 in cash directly into her personal bank account. The money came from a variety of sources, including the charitable work; the cash allowed Brown to maintain a lifestyle well beyond her means. Other documents show that Brown allegedly benefitted from another $70,000—a 49-page report tracking how the cash flowed from various sources into Brown's personal bank account, and all without a hint of disclosure or tax implication.

Prosecutors say they have Brown cold on all 22 counts, and they intend to send her to the slammer for 350 years.

But in a courtroom, there are always two sides to such narratives, and Brown's defense team worked feverishly and ingeniously to convert the energy of the charges against her into ordnance to toss back at the prosecutors.

It is a dramatically different tale in which Brown—having placed so much unlimited trust in her close aides and allies Ronnie Simmons and Carla Wiley—now finds herself the scapegoat for their conspiracies and nefarious financial crimes. Brown, both in her own words and the words of her defense team, was hoodwinked, bamboozled and otherwise betrayed by her once loyal comrades who took advantage of her goodwill and her charitable nature, as well as her longstanding reputation as an effective legislator.

In court last week Brown seemed at times confused, befuddled, emotional, even breaking into tears. At times she came across as lucid, flatly denying many of the most damning allegations she now faces. At other times she merely seemed a shell of her former self, disheartened by the disloyalty of close aides and confused by the evidence and its wide implications. Brown says she has made it through the legal ordeal and personal depression thus far with equal parts professional counseling and hard-hitting medication.

Brown has for more than a year called the feds' case little more than a political witch hunt, authored and engineered by her political opponents and fueled by rogue elements of the FBI and Justice Department. She and her attorneys have also said that to save skins, Simmons, Wiley and others have thrown Brown under the bus, shamelessly using their scripted testimony to place her at the center of various schemes for which she had no knowledge. In exchange, Simmons and Wiley have received lighter sentences.

Simmons and Wiley have each pleaded guilty to their respective charges of fraud, corruption and conspiracy. Called as witnesses over the last several days of trial, offering examples of how the charitable organization at the center of the brouhaha was used as a front to raise money, cash which was then siphoned off at will by Brown to fund her lavish lifestyle. Brown's attorneys—along with her defenders in public—say that the trusting Brown is the obvious victim of the system of plea bargaining.

Starting last Friday, federal prosecutors delineated an extensive list of the exhibits they intended to present in their case against the long-time Northeast Florida Congresswoman, who was first elected to serve in the Florida legislature in 1982, and was then elected to the U.S. House of Representatives in 1993. Brown has been a fixture in northeast Florida politics and a continuous presence in the community for decades.

If all goes as planned, jurors may convene as early as Monday afternoon with the goal of reaching a verdict in Brown's case. The 22 counts are a complex mix of charges, and it is possible—legal experts argue—that the variables could produce enough uncertainty to send Brown to prison for as little as five or six years. On the other hand, if jurors are persuaded by the prosecution's evidence, Brown could get hit hard with the maximum sentence. Much will depend on instructions given to those jurors explaining how to define and categorize the multitude of charges. Jurors may make a decision within hours, but experts believe that under such circumstances deliberations could take days, perhaps longer.

At the core of the prosecution's case is a charitable organization called One Door for Education, a non-profit established for the seemingly noble purpose of raising cash and distributing it to financially challenged young people in the form of scholarships and college grants. The charity raised more than $800,000, but apparently awarded only one scholarship, to one student, in the amount of roughly $1,500. Much of the remaining money was syphoned off to pay for a lavish and luxurious lifestyle—shopping sprees, premium tickets to concerts and sporting events, parties and entertainment, car payments, credit card expenses. Worse, the charity was never properly or legally incorporated or registered in any of the states where it operated—notably Florida and Virginia.

With cash flowing indiscriminately back and forth from charity to personal bank account, prosecutors say, Brown was thus forced to conceal the material facts of her financial web—falsifying tax returns and conspiring with others to hide the transactions, some of which were in cash. One associate, Von Alexander, testified that Brown would occasionally hand Alexander a blank, unsigned check with the One Door logo, then direct the aide to fill in the particulars. Prosecutors also brought in the work of FBI and IRS agents—gumshoe work which illuminated how Brown and her colleagues routinely channeled the money from One Door donations into cash for Brown's personal slush fund.

Parallel to her mounting legal problems throughout 2015 and 2016, Brown also faced the challenge of a massive redistricting move. Her once deeply reliable Congressional district, the borders of which stretched in a complex and elaborate path from the north side of Jacksonville to Palatka, from parts of the Ocala National Forest and Gainesville into the upper reaches of greater Orlando, had been crafted after the 1990 census to provide political access to African Americans living in a long geographical tract of north and central Florida.

But that reliably Democratic district—drawn by a GOP controlled legislature and supported even by some of her Republican colleagues in neighboring Congressional districts—ultimately faced a court challenge by those opposed to its serpentine boundaries and its overtly gerrymandered political shape. In some places, to retain the requirement of "contiguous boundaries," the district was only a few hundred feet wide.

A complex legal fight ensued, and in 2016 the district was radically redrawn, reshaping her political footprint into a new district which now stretches from north Jacksonville westward to Tallahassee. Partly as a result of that redrawn district, and coupled with a steady drip-drip of negative press concerning her mounting legal problems in federal court, Brown lost to Al Lawson—a seasoned and well-respected political pro who, in essence, billed himself as a moderate-to-liberal able to avoid the sort of drama associated with Corrine Brown's decades-long stint in the spotlight.

Brown has long maintained that her legal problems and those 22 charges of corruption, mail fraud and wire fraud, and tax evasion are the result of a longstanding and relentless political vendetta by those opposed to her policy views, her community efforts, and her success as a Democratic Party loyalist—a strange conspiracy indeed when one considers that the Feds became involved in her alleged financial shenanigans during the administration of President Barack Obama and a Justice Department helmed by Loretta Lynch.

Often accusing the media and reporters of being unwitting (or willing) pawns in that ongoing battle, Brown has a penchant for lashing out at journalists and TV personalities who ask uncomfortable questions or challenge the former congresswoman's interpretations of the facts. As recently as ten days ago, Brown came across as arrogant and dismissive during a studio interview with investigative reporters with News4Jax. And at times she seemed oddly defiant despite the uphill legal challenge she now faces.

On the issue of jury composition, a matter of legal business which took up a hefty share of last week's proceedings, Brown—like her attorneys—insisted that jury selection may have already skewed the trajectory of her case in court.

"Every attorney will tell you racial makeup matters because there are different perceptions in life," Brown said. "All due respect to white folks, you know, (but) some white folks think black folks should be held to a higher or different standard, and may not have that compassion and understanding. Minorities may see it a little different way."

No stranger to controversy throughout her 24-year career representing Northeast Florida in Congress, the lifelong Democrat characterizes the Justice Department's case as a "witch hunt," and has remained defiant and unrepentant since her indictment, and unapologetic even after her November 2016 election loss was attributed by the political pros to be the result—in part—to the apparently airtight case brought against her by prosecutors. She has also been dismissive of the possibility of 350 years in prison.

"If someone killed an entire community, they wouldn't get 350 years," Brown said. "I know if my attorney was here he would not want me to talk about it. But the point I just want to make is this is part of the criminal justice system, and so many people come up to me and say 'they are going to give you 30 years versus 300 years if you don't plead out.' There is something wrong with that system."

In court, Brown has attempted to deflect the issue of her tax returns, blaming any errors or mishaps on staffers who were charged with preparing her taxes. As a congresswoman, Brown said, she would have been far too busy and with too conflicted a schedule to have properly supervised the preparation of her taxes. Mistakes were made, but did not reflect a deliberate attempt to defraud or falsify taxes. Likewise, Brown's failure to register One Door as a proper charity in the states where it operated was an administrative snafu—a simple omission—and neither an attempt to conceal One Door's financial records nor a tool for conspiracy.

If they win, the Feds intend to seize the longtime politician's assets. Here too Brown is dismissive.

"What assets?" she asks. "You tell me which ones. My house? My old cars? Come on!"

Related Thursday Review articles:

Corrine Brown's Legal Troubles Deepen; Earl Perkins; Thursday Review; July 12, 2016.

Corrine Brown's Indictment; Earl Perkins; Thursday Review; July 23, 2016.