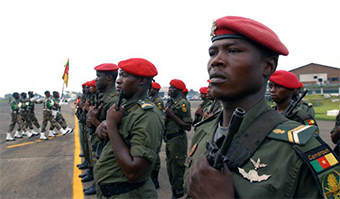 2014 photo courtesy of U.S. Army/Department of Defense
Cameroon Confronts Terror Army
| published January 17, 2015 |
By Earl Perkins
Thursday Review features editor
Much of the world sits about and dithers when terrorists threaten and make demands, but the central-west African nation of Cameroon has seen fit to actually do something when attacked, according to the Wall Street Journal and the Associated Press.

Cameroon's government announced Tuesday that its military killed 143 militants from the Islamic extremist group Boko Haram, following a five-hour firefight early Monday at a military camp in Kolofata, said Information Minister Issa Tchiroma Bakary. Neighboring countries have been drawn into Nigeria's five-year Islamic uprising, which has killed thousands and driven 1.6 million people from their homes, including across borders into Cameroon, Niger and Chad. Kolofata and the military camp are located in Northern Cameroon near its mountainous border with Nigeria, which allowed militants, carrying heavy machine guns and Motorola two-way radios, to sneak in under cover of fog and darkness, according to Bakary.

"It is by far the heaviest toll sustained by the criminal sect Boko Haram since it began launching its barbaric attacks against our land, people and goods," he said.

He said a Cameroonian corporal from the antiterrorism battalion was killed and four other soldiers were wounded, but gave no further details. No independent corroboration of facts was available concerning death tolls, because the military action occurred in a remote border region where foreigners are commonly abducted for ransom.

Thousands of citizens in Cameroon have fled the area as Boko Haram has made the area a second front in its battle to establish an Islamist state. A clearer indication of the carnage came from residents who fled the area before the battle.

"Only very old people are now in Kolofata," said Oumarou Garba, a grocery owner who fled 15 miles on foot and motorbike to the town of Mora. "We see Boko Haram determined to carve out a caliphate in Cameroon (a former French colony), as it is doing in Nigeria."

The Islamist militant group has emerged from the sprawling poverty of Nigeria's northeast, threatening its own citizens and all others in the region, according to its purported leader, Abubakar Shekau.

"You will taste what has befallen Nigeria," he said on a YouTube video threatening neighboring Cameroon. He then fired an assault rifle. "Your troops cannot do anything to us."

Cameroon military authorities are taking the video and its threats seriously and are studying its authenticity, according to a senior defense ministry official. The nation had launched its first airstrikes against the group in December.

Thousands have died in the neighboring Central African Republic amid fighting between a Muslim rebellion and Christian militias. French and United Nations peacekeepers have watched al Qaeda allies seize a string of towns recently in Mali.

On Thursday, Cameroon President Paul Biya has appealed to unnamed foreign powers to supply African nations with more help in their struggle against fundamentalists, saying, "A global threat calls for a global response." Neighboring Chad sent a large convoy of troops and equipment to its southwest border with Cameroon in an effort to provide immediate assistance. The government of Chad has also agreed to send more troops if needed.

The country's two former colonizers, France and Germany, have lent varying degrees of support, along with the United States and China.

Boko Haram is using a violent military and expansionist model similar to ISIS in Syria and Iraq. It sends its militant armies into towns and villages in waves of motorized attacks, often killing citizens indiscriminately, in many cases bombing and burning the residential and business structures.

The group is also responsible for hundreds of kidnappings, including the abduction of as many as 180 young girls from a school in Nigeria last year. Boko Haram, which translates loosely as "No Western Education," has also murdered teachers and school administrators in both Nigeria and Niger.

This week, the human rights organization Amnesty International published before and after satellite images showing towns which had been attacked by Boko Haram militants. The photos appear to show massive devastation, including evidence of widespread burning of structures.

Related Thursday Review articles:

Amnesty International: Images Show Evidence of Carnage; R. Alan Clanton; Thursday Review; January 17, 2015.