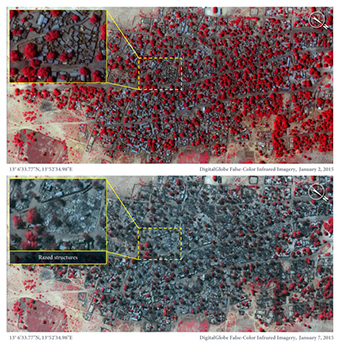 Satellite images courtesy of Amnesty International/Google Earth
Amnesty International: Images Show Evidence of Carnage
| published January 17, 2015 |
By R. Alan Clanton
Thursday Review editor
Though very few in an official capacity can verify the actual numbers, human rights groups and aid groups working in Africa—as well as some intelligence agencies—believe the as many as 2000 civilians were killed in the towns of Doron Baga and Baga in Nigeria.

Satellite images released by the human rights agency Amnesty International purport to show the extent of the scorched-Earth devastation, with as many as 3500 homes or structures destroyed or partially damaged, and what appears to be areas of mass graves and body dumps.

The towns were apparently attacked and decimated by the militant terrorist group Boko Haram, which may have employed hundreds of its heavily armed jihadists to wipe out the towns. Boko Haram also took control of a small military base in the area, seized the weapons and vehicles, and used the newly-acquired firepower to make the job of genocide easier over the course of several days.

Boko Haram has been called the ISIS of Africa. Witnesses who survived the ordeal—some of whom escaped in small boats and canoes across nearby Lake Chad—say that the killing was brutal and indiscriminate.

The government and the military of Nigeria dispute the total number of dead, claiming that the incident was exaggerated by civilians opposed to the government. The Nigerian army says that the actual number of dead does not exceed 150, and that fewer than 300 structures were damaged or destroyed.

But the high-resolution images provided by Amnesty International seem—at least upon first inspection—to support the claim of the survivors that thousand died and many thousands of homes and structures were levelled in the attacks, which came in early January of this year. Amnesty International says by simply comparing the before and after satellite photos of the towns, one can easily see the extent of the devastation and killing.

Witnesses say that the Boko Haram extremists assaulted the towns blitzkrieg-style, racing into neighborhoods with scores of weaponized Jeeps and SUV's, trucks, and even armed motorcycles. The militants opened fire indiscriminately with automatic weapons, machine guns, rifles, and handguns, while other fighters tossed hand grenades and other explosives into homes and buildings. Some of the radical Islamists also used rocket-propelled grenades to damage or destroy heavier structures. Scores of people were shot in the back as they fled on foot. Those who attempted to escape by boat or canoe were fired upon as well, and some militants used heavy weapons in an attempt to kill those fleeing across the lake.

According to the United Nations, roughly 13,500 Nigerian refugees have arrived in Chad over the last few weeks, almost all of them fleeing the violence as Boko Haram continues to expand its territorial ambitions, ignoring borders and with a general disregard for civilian lives. Boko Haram is likened by many military and foreign policy analysts to ISIS: a large, structured terror army with a central command-and-control, and with little concern for traditional territorial or political boundaries. Like ISIS, it moves quickly, often spreading abject fear in its path. Its tactics include mass murder, rape, kidnapping or abduction of girls and women, the murder of men who do not immediately convert to its extremists interpretations of Islam, confiscation of possessions (such as vehicles and equipment), and the imposition of a radical form of Islamic law. Boko Haram also opposes all forms non-Islamic education, and is known for its violent attacks on school and teachers; the name Boko Haram translates as "Western education is forbidden."

Boko Haram now controls a vast area of more than 21,500 miles, much of it in Nigeria, but also in some pockets of the neighboring nations of Niger and Cameroon. The militant army also controls many of the border checkpoints between Nigeria and its neighbor to the north, Niger, and its neighbors to the east, Cameroon and Chad. The border between Nigeria and Chad is actually drawn though the center of Lake Chad, but some Boko Haram militant units have used the lake to attack villages and towns in other countries.

All four countries—Niger, Nigeria, Cameroon, Chad—have borders which intersect in Lake Chad, which has placed the shrinking lake whose waters have receded at the center of the violence and bloodshed.

Starting last year, Boko Haram has clashed numerous times with the police and the army of Cameroon, and it made no secret that it seeks territorial gains in both Cameroon and Niger. Political pressure has grown in both Chad and Cameroon to find a solution—military or otherwise—to the threat coming from Boko Haram, and Chad has offered military assistance to its neighbors in the fight against the terror group.

According to an article posted this week on the Voice of America website, journalists and reporters in the Chadian capital city of N'Djamena watched as a column of trucks, tanks, personnel carriers and armored vehicles—loaded with several hundred Chadian troops, made its way onto the roads leading to the battle front. Chad has offered military assistance to Cameroon and to Nigeria. Cameroon, for its part, has sent thousands of troops to confront Boko Haram, but many military analysts worry that Cameroon's efforts will not be enough to stop the rapid, violent advance of Boko Haram.

Cameroon's President, Paul Biya, has called for all African nations to develop and implement a unified plan to confront Boko Haram, and he has repeatedly warned that without such an integrated military and political approach, many of the countries of Africa will face disruption, fragmentation and social chaos in the face of radical Islamic groups. Several African countries have agreed to support the fight against Boko Haram by sending troops and military equipment, but none have given a specific commitment. Journalists in N'Djamena say that the column of troops seen leaving the Chadian capital for the south appeared to be up of 300 or more soldiers.

Cameroon has fought heavy engagements with Boko Haram as recently as this week. One firefight, according to Cameroon's military, resulted in the death of 143 Boko Haram militants and scores of wounded among the troops of Cameroon. The militants were also heavily-armed with seemingly large reserves of ammunition and supplies, meaning—according to some military and intelligence analysts—that the jihadists are receiving funding from outside sources.

Intelligence and military analysts say that if unchecked, Boko Haram may continue to push outward in its goal of territorial expansion and the formation of an Islamic state based on its radical interpretation of Islamic law.

Boko Haram's control of large areas of Nigeria has spawned political problems for Nigerian President Goodluck Jonathan, who may face a difficult campaign for re-election this year.

Related Thursday Review articles:

A New Revenue Stream for ISIS?; Thursday Review staff; Thursday Review; December 15, 2014.

Battling ISIS: Will Air Power Be Enough?; R. Alan Clanton; Thursday Review; November 17, 2014.