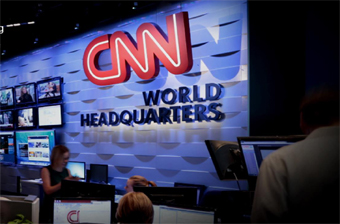 Image courtesy of CNN
Three CNN Reporters Resign in
Wake of Russia Story
| published June 27, 2017 |
By Thursday Review editors
Three CNN staffers were asked to resign from the cable news network this week after it was revealed that the journalists and editors promoted an unsubstantiated news story alleging ties between a top Goldman Sachs' executive and a major mover and shaker among Russian investors.

Forced out were editor Eric Lichtblau, writer and editor Lex Haris, and reporter Thomas Frank—all of whom participated in developing an investigative piece alleging that the U.S. Senate was probing whether a former Goldman Sachs executive, Anthony Scaramucci, engaged in a private meeting with Kirill Dmitriev, an executive with Russian Direct Investment Firm (RDIF) during the period just before President-elect Donald Trump was inaugurated. Scaramucci served as a top official for the Trump transition team.

The CNN piece alleged that the Senate Intelligence Committee was looking into the Scaramucci allegations as part of its widening probe into Russian hacking, Russian interference in the 2016 elections, and Trump's son-in-law Jared Kushner—a key White House player—who met with executives of the Russian state bank in December 2016. The CNN report also indicated that there were close financial and transaction links between the Russian bank, once the target of harsh U.S. sanctions, and RDIF. In short, the story alleged direct links and meetings between Scaramucci, RDIF, and the Russian central bank, known as Venesheconombank.

On Friday, CNN retracted the story after it was discovered that the allegations were based on only one anonymous source. Furthermore, CNN quickly conducted an internal investigation, and found that the journalists and editors intentionally or unintentionally bypassed specific CNN guidelines and reporting standards.

Lichtblau and Haris were editors of a recently-launched investigative team—dubbed CNN Investigates—created by the cable network as a mechanism for probing into complex stories and allegations of corruption. Media watchers say that the reporters and editors, while working on the Scaramucci story, overstepped by implying direct links between the key players—links for which may or may not be true. Furthermore, there is no evidence that the Senate Intelligence Committee is looking into Scaramucci in connection to the Russia probe.

After retracting the story over the weekend, CNN asked for the resignations of the three journalists. Scaramucci, who had earlier said he had done nothing wrong in connection to the Russia-Trump link, said that he regarded CNN's withdrawal of the story—along with the resignation of the reporters—as sufficient "apology," calling CNN's actions after the story a "classy move."

In an editorial conference on Monday, CNN senior editors stressed to other reporters that the retraction was not a confirmation that the article was wrong, but merely reflected the fact that the three journalists and editors had not followed a careful procedure to vet and fact-check information which arrives via anonymous sources. CNN policy regarding such articles requires that stories be carefully vetted, and in many cases screened by senior editors and attorneys.

CNN's official statement was that the Scaramucci story "did not meet CNN's editorial standards and has been retracted." CNN also removed all web-based references and deleted all links to the original article.

All three of the dismissed journalists had previously starling track records as reporters. Haris was the editor previously in charge of the CNN.money unit. Lichtblau won a Pulitzer Prize for reporting in 2006 while working for the New York Times. Writer Thomas Frank had previously worked for Newsday and USA Today, and later accepted assignments which took him to the front lines of the Iraq War. All three have been widely respected by colleagues.

In a statement, Haris took the brunt of the blame, and offered praise for CNN.

"On Friday, CNN retracted a story published by my team," Haris wrote. "As Executive Editor of that team, I have resigned. I've been with CNN since 2001, and am sure about one thing: this is a news organization that prozes accuracy and fairness above all else. I am leaving, but will carry those principles wherever I go."

Related Thursday Review articles:

Bill O'Reilly Shifts to Podcast; Thursday Review editors; Thursday Review; April 24, 2017.

Flynn Lied to Federal Investigators in Russia Probe; Keith H. Roberts; Thursday Review; May 22, 2017.