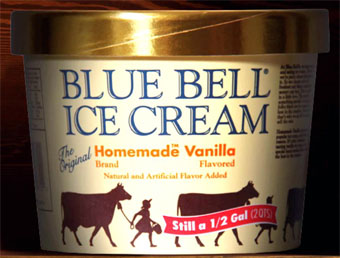 Image courtesy of Blue Bell Creameries, Inc.
Recall Forces Blue Bell to Lay Off Thousands
| published May 16, 2015 |
By Thursday Review staff
Recalls can cost U.S. business tens of millions—even hundreds of millions of dollars—each year, and cause millions of Americans who own cars or computers to return to the place of purchase. IN the past ten years food recalls have caused entire plants and distribution centers to close down, the list of tainted products can range from produce like tomatoes and lettuce to products that have come in contact with peanut oil or toxic cleansers.

But the economic impact of such events can often spill over past the value of the products and the cost of pulling items from shelves.

Blue Bell Creameries—based in Houston but operating other giant ice cream and dairy facilities in Alabama and Oklahoma—is the latest company to be affected by a mass recall of its food, in this case ice cream products tainted with an agent which triggered a listeria outbreak in a dozen states. Blue Bell recalled all of its products, in every state—one of the largest mass product removals in U.S. history. The cost of that recall—now in its third week—may exceed $220 million, by some estimates.

But the worst impact will be jobs. Blue Bell president and CEO Paul Kruse announced this week that company is now forced to lay off nearly 3000 employees nationwide. Roughly half of that number will be in the form of furloughs—1,400 to be let go on a temporary basis until the company can return to normal production and operations. Another 1450, about half of them part timers, will be cut loose permanently, with the remote possibility that some can return to work in the future. Those on furlough will receive a reduced pay check.

It is the largest layoff in the company's history.

Blue Bell pulled all of its product line from all U.S. grocery stores and convenience stores, and closed down its two biggest operations so that a clean-up—managed by the company but supervised by state and Federal officials and spread out over three states—could begin immediately. The company has offered no firm timetable for how long the clean-up operations will take. A recent check with an official with a Publix supermarket in Florida indicated that the grocery store chain had received no word on when Blue Bell products would be returning to shelves.

According to a media statement by the U.S. Food and Drug Administration, Blue Bell is cooperating fully with state and Federal health and safety agencies in the massive clean-up, and that there is a high level of interaction between the company and various agencies, including in native American reservations and lands in Oklahoma.

"Integration between federal, state, local, territorial and tribal agencies," says the FDA statement, "is key to the success of our U.S. food safety system. The FDA has been working with its partners in Texas, Oklahoma and Alabama throughout the investigation and supports agreements like the ones signed between Blue Bell Creameries and [those states]."

The listeria outbreak affected scores of people nationwide, but Blue Bell products have been linked directly to at least ten of those confirmed cases, prompting government and company officials to begin the recall.

Employees working clean-up operations will continue to remain on payroll but will receive a somewhat reduced rate of pay and lower hours. Blue Bell officials hope to begin recalling those on furlough as soon as the company returns to full operations.

Related Thursday Review articles:

Heinz & Kraft Will Form Food Behemoth; Thursday Review; April 4, 2015.

Can Popeyes Stay Ahead of Fast Food Decline; Thursday Review; March 10, 2015.