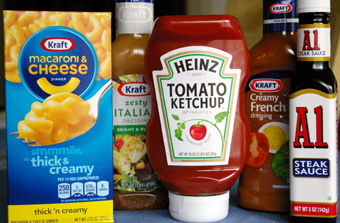 Photo by Thursday Review
Heinz & Kraft Merger Will Form Food Behemoth
| published April 4, 2015 |
By Thursday Review staff
Get ready for some serious realignment in the food industry, with the possibility of price increase at the grocery stores.

No, we are not referring to the California drought—now in its third year—which will eventually drive up the cost of more than one hundred staples of U.S. grocery stores and markets. The sustained drought, the worst in California history, has already affected the price of lettuce, strawberries, oranges, lemons, blueberries, onions, grapes, and a score of other produce items, and the drought's ripple effect will eventually find its way into scores of other food items. The West Coast is thirsty for rainfall, and by some estimates California alone needs more than 1 trillion gallons of precipitation to return to normal.

The drought will cost everyone in the U.S. more, and will shift massive amounts of food spending toward overseas markets.

But a major merger in the works may also shake-up the way you see prices at the grocery stores. A massive marriage between H.J. Heinz Company and Kraft Foods will form the world's fifth largest food company, and the third largest in the United States. The merger, negotiated and managed by Lazard Ltd. and Centerview Partners, sealed a $46 billion deal, and becomes the biggest merger of two food industry companies in history (topping even the massive merger of Buy-Lo and Winn-Dixie). The short version is that Heinz will buy Kraft.

Why the big merger? The traditional packaged food companies are under market assault worldwide, and especially in the United States as the evolving taste of increasingly health conscious consumers makes all those packaged products less popular. Especially hard hit have been the big cereal and breakfast food makers like Kellogg, Post and General Mills, all of whom have seen either slumping sales or flatlined profits. Kellogg has taken the worst beating, watching as its sales have fallen and its stock price has plummeted.

Kraft and Heinz each represent a place on the troubled spectrum of packaged food makers, as each has seen its share of the market decline in the face of shoppers who buy healthier products. Even those iconic staple products—such as Heinz ketchup and Kraft mayonnaise—are not enough to make up for the loss.

Both companies are mega brands with lots of subsidiaries. Among Kraft's largest holdings are Oscar Mayer, Velveeta, Jell-O, Claussen, A-1, Philadelphia Cheese, Planters Nuts, Lunchables, Kool-Ade, Capri-Sun, Maxwell House, and a majority stake in the Cracker Barrel restaurant chain. Heinz, aside from its world famous ketchup and steak sauces, also owns Lea & Perrins, Classico Sauces, Ore-Ida, Bagel Bites, DeliMex, TGI Friday's Frozen Foods, Wattie's Foods, Weight Watchers, and Weight Watchers Smart Ones. Both companies also provide extensive sales to hundreds of major restaurant chains with products ranging from ketchup to mayonnaise, from steak sauces to condiments.

According to the press release by Heinz, if the deal is approved by Federal regulators, the new parent company Heinz will pay shareholders of Kraft a cash dividend of $16.50 per share. The new company will be named Kraft-Heinz, and will be headquartered in both Chicago and Pittsburg. The sale of Kraft to Heinz is contingent upon approval by Kraft shareholders.

Both companies hope that the newly formed giant can reduce redundancies in product lines—a logical and reasonable goal, though consumer advocates have already sounded the alarm that with competitiveness eliminated, prices of some products will inevitably rise. Another concern by economists and business analysts: the potential for thousands of jobs to disappear. Kraft may be on the losing end of any such major overhaul, and downsizing could send thousands of its Chicago-area employees into unemployment lines.

Kraft has had a variety of issues, minor and major, over the last few years—not the least of which is a pushback from consumers looking for healthier diets for themselves and for their kids. Health advocacy groups have long complained about the high levels of sugars and sodium in packaged foods, and Kraft has been targeted as one of the biggest culprits. Kraft has seen its market share eroded by smaller, independent brands, and by producers of natural and organic food products. Many of Kraft's most fierce competitors make it a point to compare their healthier products to those of the Kraft food line, where heavy processing and the inevitable addition of preservatives and food coloring make those items easy targets.

Kraft is also known by business analysts to have problems with bloating in middle and upper management. The investors who helped facilitate the merger with Heinz, including Warren Buffet's Berkshire Hathaway and 3G Capital—heavy stockholders in Heinz—plan to start making Kraft profitable by cutting the fat from management up and down the food chain, pun intended.

Worse, Kraft has been dogged recently by misfires and blunders, including a March recall that effectively declared a quarter of a million multi-package cases of its famous macaroni and cheese dangerous; packages may contain small fragments of metal from a thin sheet of stainless steel which was accidentally shredded in the processing stage. Though as of the end of March there were no injuries or health problems officially reported, the incident was a costly setback for Kraft. A similar episode occurred in 2011when Kraft was forced to recall roughly 137,000 cases of Velveeta Shells & Cheese single serving cups when tiny pieces of wire and aluminum cleaning brushes were similarly caught and shredded in the machinery.

Heinz management, and its major investors like Berkshire Hathaway and 3G hope to end such fiascos and put the Kraft division back on track.

But consumer advocates worry mightily about the effect on food prices. Grocery prices have been rising steadily over the last two years, the result of two consecutive severe winters in the United States, severe drought in California, and pest related setbacks to crops in Central America. Though expected to rise even more last year, a seven month drop in oil prices actually helped keep many grocery prices in check as processing, shipping, distribution, and even store overhead costs fell. But now that California's drought is reaching the start of its worst season yet, those grocery prices are certain to begin to inch upward again.

Related Thursday Review articles:

Can Popeye's Stay Ahead of the Fast Food Decline?; Thursday Review staff; March 10, 2015.

Oil Prices May Drop, But Food & Coffee Will Cost More; Thursday Review staff; December 28, 2014.