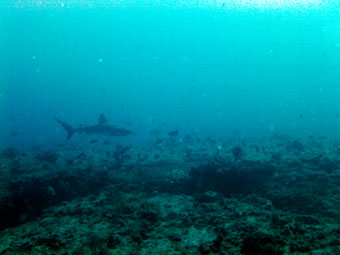 Photo by Lisa Whitten while diving at Jupiter, Florida
Beyond Shark Week
By Lisa Whitten | August 10, 2013 |
Thursday Review Contributing Writer
You hear it everywhere. All week long. "Shark Week"! Discovery channel is not in my channel line-up or I would have been tuned in. Missing "Shark Week" is not a big deal for me.

Yes, years ago I went to the opening show of "Jaws" and along with everyone else it scared me away from the beaches. I went to the beach, but for years did not get in the water. Fast forward to to the 21st century and my introduction to scuba diving. Of course, I only went diving in the Florida springs. No sharks there.

After a couple of years of being unable to dive I took the next step and became an Advanced Open Water (AOW) diver. My first dive after getting AOW certified I went diving at Epcot in "The Living Seas." This was my first saltwater dive, and my first dive with sharks present. Ok, so it was a somewhat controlled environment. Before the dive we went behind the scenes to learn more about "The Living Seas" and some of the animals they had in the tank. Very interesting.

Since that dive I went on a few ocean dives and have decided that I prefer it over spring diving. I've now dived in Hawaii and several times in Jupiter, Florida. The view is beyond amazing.

In November 2012 my local dive shop offered a course on Shark Awareness by Professional Association of Diving Instructors (PADI) in conjunction with Project AWARE. By that point I was curious about sharks, so I joined the class. Another ocean animal I enjoy seeing are stingrays. They are a closely related to sharks. Neither has bones, only cartilage.

There was also a segment on identifying different species of sharks. Reef sharks, Tigers, Lemon, Nurse, Great White, Hammerhead, Bull, and the list goes on. There are about 500 species. They range from a small (six to seven inches long) all the way up to 40 feet in length.

From a diver's point of view we learned about shark behavior. Keep your eye on sharks--they will generally find you boring and leave you alone. Don't get too close to a shark and don't get in the shark's way. Give the shark room to move away from you. They are curious when divers are present in their home. Contrary to popular belief humans are not on a shark's menu and they normally do not attack people. However, there are risks. If you go into a shark's territory then you have to follow their house rules. Even then, shark attacks are rare, and an even smaller percentage of those incidents are fatal.

Some shark species can take up to 20 years to reach maturity and breed only every two to three years. Humans are overfishing sharks: at the time I took that class The International Union for the Conservation of Nature (IUCN) listed 30% of sharks in the threatened or near threatened categories. Sharks are being caught, in some places illegally, for their fins for exotic fin soup. Sharks are often finned and then tossed back into the ocean alive, only to die later. Sharks are disappearing from our oceans before they have a chance to re-populate.

With no known natural predator (other than man) sharks maintain the balance in the ocean. Sharks protect the vegetation from over-feeding by feeding on the species that consume the vegetation. They also clean up the ocean by removal of the injured and diseased. They do not clean up after us humans and can be harmed or die from our trash we leave behind. They can get caught in plastic bags, old nets and other discarded items. Dive groups will organize and have clean up dives to pick up trash others have left behind.

I am looking forward to my next dive and hoping to see sharks as well as eels, Goliath Groupers, sting rays, and turtles. Diving is hard work just to get in the water but the dive is relaxing and well worth the effort. It is a whole other world down there!