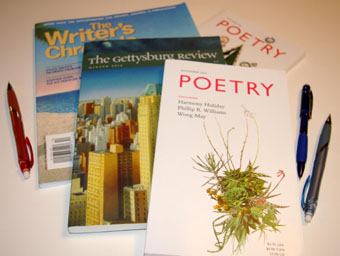 The Reader's "After Thanksgiving" Diet
By R. Alan Clanton | published Saturday, November 30, 2013 |
Thursday Review Editor
Feeling bloated and overstuffed after your Thanksgiving feasts and leftovers? Forget your bad eating habits—perhaps your reading diet can help improve your well-being. For those many Thursday Review followers and readers who enjoy quality content in old school, printed form, we can suggest the latest issues of the following literary mags:

The Writer's Chronicle (December 2013 edition): this publication, the official journal of the Association of Writers & Writing Programs, has grown over recent years into a substantial, weighty forum for ideas, tools and resources for authors and poets. The December issue includes some rich material, such as an interview with poet Linda Gregerson, an article by Stephanie Coyne DeGhett explaining the power of picture postcards to create compelling narrative and story-telling; and a look at the poetry of Stephen Dunn, whose device of "ice traveling" explains why the shortest, most convenient route to self-expression is not necessarily the most interesting or compelling.

Poetry, an always-handsome literary mag which has been celebrating over 100 years of publishing some of the very best contemporary poems and poetry discussion, includes in its December issue works by Wong May, Hannah Sanghee Park, Phillip B. Williams, Todd Boss and Daniel Tiffany. The December edition also includes a fascinating essay by Jen Bervin on the "envelope" poems of Emily Dickinson. Poetry is published by the Poetry Foundation.

The Gettysburg Review, Winter 2013 issue, contains its usual remarkable mix of poetry, fiction and essay. The new edition includes poems by Margaret Gibson, James Haug, Sandra Beasley and Dorothy Barresi; short fiction by Leslie Pietrzyk, Robert Glick and Robert Oldshue; and essays by Rose Fitzpatrick and Therese Halscheid. The Winter 2013 edition also features a striking and handsome cover, detail from the oil painting "Hudson's Half Moon," by Leigh Behnke.


Do you have a favorite literary magazine, art journal or writer's magazine you consume regularly? Let us know about your reading diet and we'll publish your review here! Simply email us with your short perspective and comments at thursdayreview@aol.com.