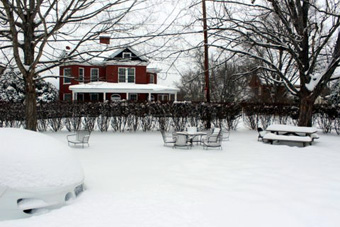 18 inches of snow in Virginia/photo by Kelly Harris
Winter Storm Kayla: What to Expect
| published January 31, 2016 |
By Thursday Review editors and staff
Although residents of these states may consider themselves hardier and sturdier when it comes to extreme winter weather, some places in the Great Plains and Midwest U.S. will face more heavy snow and dangerous ice this week—just one full week after more than 20 states were hit with record-breaking snowfall.

A large swath on the central U.S. is facing Groundhog Day blizzard conditions this week as a new, massive winter weather system moves across the continent with its long range eyes of some eastern states.

Winter Storm Kayla, which was forming over the Pacific at the same time that Winter Storm Jonas was dumping more than two feet of snow in a dozen east coast states, is now making her way east as well. Residents in many parts of California—even Southern California—may see snow, as will lots of folks in the Rocky Mountain States. Residents of Nebraska, Kansas, Iowa, Minnesota and parts of southern South Dakota are already under blizzard warnings, and heavy snow could land in northern Missouri and parts of Illinois and Wisconsin.

Computer models and meteorologists are somewhat divided on what happens next, and whether some of the same areas hit hardest by Jonas might see more snow as a direct result of Kayla. What is known is that many governors and heads of emergency services crews along the East Coast are watching carefully—hoping to avoid a repeat of the severe weather which affected some 80 million Americans in late January 22. Some parts of Pennsylvania, Virginia, Maryland, Delaware, North Carolina and New York are still digging out from what is left of heavy snow, and in many low-lying areas flooding has become a serious problem.

Kayla could cause more travel disruptions and more flight cancelations, especially in the West and across the Central Plains, and snow and ice is expected to be a factor in what could be another two-to-three day stretch of airport shutdowns and highway closures.

Winter Storm Kayla is being driven by some of the same factors which produced Jonas and its punishing impact. Meteorologists point to an unusual convergences of El Nino factors—which push the jet stream substantially south of its usual path—and more incoming polar air pushing down from northern regions and bringing super-cold arctic temperatures. Low pressure systems add lots of moisture to the mix as the weather pattern moves steadily eastward, thus converting the storm into a snow-producing machine. In that sense, Kayla may prove to be a slightly less catastrophic sibling to big brother Jonas.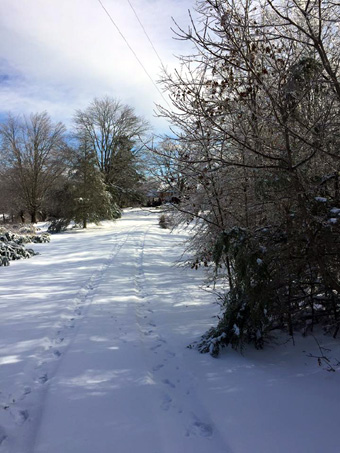 Snowy road in South Carolina
photo by Carol & Tony Barnes
Unlike Jonas, which moved very predictably and according to most computer models and weather predictions, Kayla's intended path has lots of uncertainties and variables, including the question of just how much snow can be expected from this unusual February blizzard—the possibly biggest since the infamous "Groundhog Day Blizzard" of 2011, which wreaked havoc in the Plains States and the Midwest. Forecasters suggest that even a slight variation in both path and jet stream movement could quickly alter the amount of snow which will fall, and may determine if the storm impacts Chicago and Cleveland, or whether it diverts or dilutes before hitting the biggest population centers.

Though much of the snow from Winter Storm Jonas has now melted, many areas are still reeling from the damage. The storm was directly responsible for 15 deaths, and may have cost billions in combined property damage and lost revenue. Jonas caused the complete shutdown of several major airports, including New York's LaGuardia and JFK, each of which recorded record amounts of snow, and Washington Dulles, which also saw the most snow ever on its runways and taxiways.

Jonas also buried some parts of some cities and towns, such as New York, Baltimore, Philadelphia, Washington, and Arlington (VA) in more snow than ever previously recorded, and the storm forced the closures of large sections of I-95, I-76, and I-85.

Kayla may bring snow to Iowa as early as Monday night, perhaps even as caucus-goers are a still voting in the state which holds the first-in-the-nation contest for the nominations of the two major parties.

Some areas in the path of Kayla may see wind speeds in excess of 20 miles per hour, with gusts as high as 40. Federal and state officials in the areas most likely to be impacted are advising motorists and citizens to remain vigilant and informed about weather conditions. Airports in Chicago, Minneapolis, Denver and Kansas City could see flight delays and even some cancelations.

Related Thursday Review articles:

Winter Storm Jonas Clean-Up; More Storms Approach; Earl Perkins & Alan Clanton; Thursday Review; January 27, 2016.

Winter Storm Jonas Shatters Snowfall Records; Thursday Review staff; Thursday Review; January 24, 2016.